If your bedroom is currently less than impressive, then you might consider doing a few upgrades. This can make time spent at home even more enjoyable, especially as the cooler temperatures arrive and more time is spent inside. Unfortunately, doing a full upgrade can really cost a small fortune. These minor but effective upgrades can go the extra mile to help you make your bedroom pop without spending all the money you've been saving.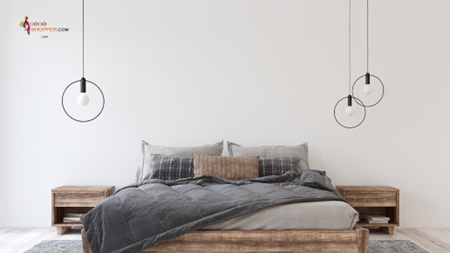 1. Swap Duvet Covers
One simple trick that can totally refresh your bedroom is to swap out your duvet cover. Purchasing a duvet cover tends to be less expensive than investing in a whole new comforter set or even doing anything major to your space. Duvet covers are a great option if you get bored with your color scheme or want to show off a new print in the home. On top of that, you'll find that a duvet cover can inspire you to bring in other new elements that will help spice up the entire room. If you're in the market for a new duvet cover, then you might consider shopping clearance sections first, as this will help you maximize your savings.
2. Declutter
Another major problem that can make a room feel uncomfortable is clutter. May it be things piling up in the room over time or too much décor, having clutter in the room can really transform a space. It can be hard to get rid of items though, especially if you're not sure what is a clutter and what should actually stay. There are many guides to help you with this if you're struggling to get rid of items. Of course, you can also put up shelving if you have items you'd like to keep, but they seem to clutter up the current surfaces.
3. Ditch the Carpet
Carpet can really make a room feel bland. On top of that, it can make it a little tougher to clean up, which might make your room feel less than comfortable. Unfortunately, carpet can also absorb odor, which also isn't great for the appeal of your room. If you live in an older home, you might peel up a piece of the carpet in your space. When you do this, you'll be able to see what is underneath. In some cases, you might find hardwood floors. They may need a little refurbishing, but they may prove to be an excellent asset to your space. If not, then you may need to add in some tiles, laminate, or anything else that strikes your fancy. You can also hire someone to do this, which can be budget-friendly if you shop around and get quotes.
4. Accent Wall
Another fantastic way to breathe a little life into the home is to bring in an accent wall. This wall can be added to any space in the room, but you might take some time to consider which wall you'd like to choose. Once you pick out your wall and clean everything from it, you can then add the wallpaper or paint of your choosing. This will add pizzazz that will draw in the eye while allowing you to show some personality without investing in a lot of paint or wallpaper. An accent wall also allows you to use any color of your choice without making the space feel small.
5. Add Mood Lighting
The lighting you choose for your bedroom can really transform it for the better. However, this doesn't mean that you need to bring in an electrician to truly change the space. One easy way to add a bohemian flare or a touch of romanticism is to add in string lights. These can be draped from the ceiling, hung from the wall, or added anywhere that you can possibly think to add them. If string lights aren't your thing, then you might consider swapping out your light fixtures. This can be a simple task and won't force you to need an electrician. Adding some lamps to the space can also bring a fresh new look to the space.
6. Black Out Curtains
Although it is nice to have a bedroom that inspires comfort and brings out your personality; it is also nice to have a space that actually allows you to lock in as much sleep as possible. That is why you really need some black-out curtains to top off your bedroom's style. These curtains are designed to completely block out the sun coming in from your windows, so you can sleep in on your day off. These curtains will also help to block out heat and cold to help with your energy bills. Apart from that, you'll find that these curtains do come in all shapes and sizes so you can find a look that truly suits your needs.
7. Decorate Headboard
The bedframe quickly becomes the focal point of the bedroom, because it is one of the largest piece of furniture. Replacing a headboard can be pricey, but one way to save some money while switching up the way this focal point appears is to refurbish the headboard. If your headboard is made of wood then you can always paint it, add appliques, string along flowers, and anything else that strikes your fancy. Fabric or wood-based headboards can also be refurbished with fabric, which gives you the freedom to transform it with a variety of colors or prints. If you don't have a headboard, then making a DIY headboard is no problem. You can easily create one using plywood and fabric, but there are many other ways to pull this off too. A simple search online will reveal lots of inspiration and tutorials to help you along the way.
8. Accent Rug
Another way to breathe new life into a room is to add in an accent rug. You will be surprised by how much a rug can transform a room. Not only can you give a room a new look, but a rug can also transform the style of a room. You should consider everything from color and print to shape when you choose your rug. When shopping, you might consider secondhand options before you go for new ones. A little TLC can help restore a rug in no time at all. However, there are many great deals on new rugs that you might not want to pass up. Other than that, there are new options that allow you to choose a rug pad and then purchase thinner rugs that attach to the pad. These can easily be pulled up and tossed in the washing machine, so you don't have to worry about stains.
9. Refurbish Furniture
If you've already got a lot of furniture in your space that you don't want to get rid of, but you also don't like it as much as you used to, then refurbishing it can be your best option. You might consider straining it to a color that you prefer or giving it a coat of paint. Adding a stencil to some furniture can also ensure it looks incredible. Another great option is to swap out the knobs. This is easily done and very cost-effective. You can make your own knobs, or purchase some that are already on offer. If you're not sure how to transform a piece of furniture, you might consider looking online for inspiration. There are many tutorials to help you get the furniture of your dreams.
10. Comfort Accents
One way to always bring a little extra comfort to your space is to add some cozy accents to the home. A snuggly blanket or an accent pillow is always great to help make you feel right at home. These pieces are also easily customizable to help you freshen up your space without spending a lot of money. Consider keeping blankets that are solid colors so you can alternate them to suit your mood. Pillow covers are also a better investment than pillows that have designs printed onto them, as you can swap them without having extra pillows that you have to pack away when you're not using them.
These ten ideas will help make your bedroom all the more comfortable for you, so you can truly feel like you want to spend time in your space. The projects will even add a touch of fun to your redecorating experience as it will give you control over the space you're creating.