Autumn is right around the corner, and if you're looking to update your wardrobe then you might want to check out this year's top fashion trends. This season is packed with fun options that will ensure you feel excited about your wardrobe again. This year, there are so many affordable options to choose from as well, which will help you stay on budget while becoming the trendsetter you desire to be. Apart from that, you'll be able to make some of the clothing yourself, which will help bring a touch of creativity to your new look as you embrace autumn fashion.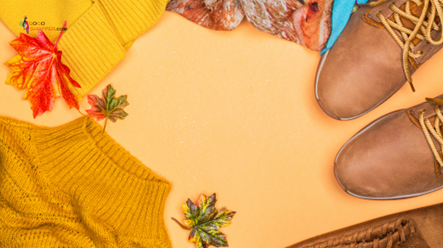 1. Tank Tops
Tank tops are going to be extremely hot this season, which opens up many doors for you. Chance are, you probably have tank tops in your wardrobe from summer, so make sure to utilize these in as many ways as possible to help stretch your wardrobe further. White tank tops are going to be the biggest trend of the season though. Luckily, you can purchase these in bulk packs for very cheap, which will help you save plenty of money. These tanks can be paired with everything from cardigans to blazers, which will make the chilly weather all the better. You can even embellish the top to give it even more style.
2. Cinched Waist
Loose-fitting clothing isn't going to be as hip this season. Rather, a cinched waist for women is going to be where the biggest trends are going to be. There are going to be a lot of these on the market during the autumn months, so you might be able to find some great signature pieces to make your wardrobe thrive. However, you can also transform some of the items you already have in your wardrobe using very simple sewing techniques. You may also be able to use glue to help fasten the elastic to the waistband to create the cinch you desire. There are lots of tutorials online to help you along the way. If you really want to go bold, then coset tops or corset waist accents will also suit your fashion needs.
3. Knits
Knits are a classic part of the autumn style, but this season you'll see them a lot more. Although there will be some modern options on the market, you'll also be able to channel old-school designs to ensure you get the style you love. Thrift stores will be a great place to shop for retro cardigans and other options that feature designs that are fun and pair well with your favorite styles. You can also find a wide assortment of styles in stores, including oversized sweaters which will be incredibly popular this year. If you know how to knit, then you can easily make your own styles to suit your preferred fashion sense.
4. Color Blocking
Another trend that is very easy to follow is color blocking. This requires you to choose solid-colored clothing, which is very easy to find and can be cost-effective. Bright colors are all the more fashionable, which will help you to truly stand out. Apart from that, you will find that mixing colors can be a lot of fun and will help you step out of your comfort zone to ensure that you get everything you need out of your fashion. If you don't have a lot of colors in your wardrobe, then you may consider dying lighter color clothing to help create the wardrobe that will help you look your best this autumn.
5. Lace Up Shoes
Lace-up shoes are a timeless look that is perfect for the cooler autumn months. The great thing about lace-up shoes is they come in all shapes and sizes. So, you can find a nice ankle boot to suit casual settings or a high boot for styles that really show off your legs. There isn't a particular color in fashion this year, so you can keep it simple with brown or black, or you can go wild with prints or vibrant colors.
6. Feather Outfits
Keep things bold this year with styles that showcase feathers. Ostrich feathers are a big deal this season, but you'll also find that you can show off a wide variety of feathers. In fact, the more colorful the feathers you choose, the better. Feathers can be transformed into a wide variety of styles too. You can add them to a top, skirt, pants, or your favorite accessories. You can even DIY these looks at home with tutorials that are easy for beginners to try out.
7. Metallic Bags
Accessories will play a large role in this season's fashion. If you're ready to make a bold statement then you might consider showing off a metallic bag. There are going to be lots of options on the market this season. If you're not interested in shopping for more bags, then there are DIY options that will allow you to have some fun with bags you no longer love. There are plenty of material paints on the market to help you find the right metallic look for your style. You may even consider adding accessories to your bags to truly make them pop.
8. Bomber Jackets
If you want a quick way to show off your fashion sense, then bomber jackets are it. These jackets are going to be everywhere this autumn. The best thing about bomber jackets is they come in all shapes and sizes. There are many variations on the jacket, so you can choose one that suits your needs. Colorful jackets will also be on offer, which can add even more flavor to your style. If you'd like to liven up a bomber jacket in your wardrobe, then you might consider adding some embroidery or accents to the jacket.
9. Cowboy Hats
It's been a minute since cowboy hats were in style in the autumn months. This season, you'll love having the opportunity to rock out your style while showing off a little western edge. You can keep your look simple with classic black felt or straw look, which can go with almost anything. This season, vibrant colored hats will also be in fashion. You can make all of these styles your own to help accent your style. Try adding appliques or embroidery to make the look totally pop. If you can, pair your hat with a matching color to bring even more flair to your overall style.
10. Denim
If you love denim, then you're going to want to engage in this trend as much as possible. Denim can be worn in all shapes and sizes this season, so feel free to deck out your look from head to toe in order to keep your style going strong. If you already have denim in your collection then you shouldn't have to do a lot of shopping, as this will keep you ready for the upcoming season especially since all denim will make your look rock. However, you might consider altering some of your denim to make it stand out all the more. You can always dye your pants to add to the style or to freshen up your look a bit. You can also add patches, appliques, and other items to help create a bold look.
Autumn is going to be a great time for personal expression. These ten trends will keep you feeling chic while allowing you to feel exceptional about your style. These looks will also give you the freedom to customize your look while ensuring you feel incredible about your ability to create fashion pieces that speak to you.