August tends to be a great time for hitting the thrift store. Whether you're looking for items to fill a new apartment for a college student or you just like hunting for treasure, there are many things you should keep an eye out for while shopping in any thrift store. Although there are hidden treasures in many areas of the store, if you're looking for big finds then these are ten sections you should browse whenever you go shopping in a thrift store.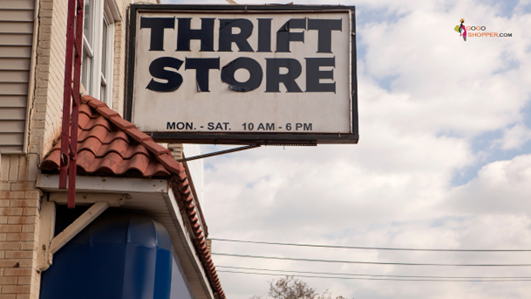 1. Wooden Furniture
Furniture at a thrift store can be hit or miss. However, if you like to put some love into a project then you will find some real treasures to enjoy. Before you purchase furniture at the thrift store, you should check over the piece to ensure there is no major damage to the structure of the furniture. You should also do a thorough check for pests; some pieces might have been infested by termites or bed bugs. Once you have found a good piece of furniture to work with, then you might check out some tutorials for refurbishing. This will allow you to exercise some creativity and may even earn you some income if you choose to sell your project.
2. Frames
You might not think about it, but picture frames are a great option when shopping at the thrift store. When you choose to buy frames from the thrift store, you're more than likely going to find wooden options that will stand the tests of time. These frames can also be refinished with paint, metallic add-ons, or anything else that strikes your fancy. If you're not looking to frame pictures, then you can still utilize the frames for other items. For instance, you can take out the glass and replace it with a mirror, or you can use them to hang up art projects. You may even be able to refinish the frames and sell them for a fairly good profit.
3. Books
Books tend to be in abundance when it comes to thrift stores, which can be a great thing. If you're an avid reader, then you might consider shopping at the thrift store when you plan on purchasing new books. There should be a lot of options to choose from which will help save you a ton of money when shopping for things like books. Of course, if you're lucky, you might run into a book that is worth some money. There are many guides to assist you in figuring out if a book is vintage and worth money, which can help you make the right decisions when it comes to purchasing them.
4. Vinyl Records
Like books, vinyl records are great little treasures that most thrift stores will offer. Generally, you'll find a mixed bag of options available, so each trip to the thrift store might be hit or miss. You may even find a few records that are worth some money. Before you purchase vinyl from a thrift store, you should check to make sure that the record isn't too scratched to listen to. Unfortunately, sometimes records donated aren't in the best of shape. You should also check to make sure the record inside of the cover matches the cover, or else you may end up buying something you don't particularly want.
5. Casserole Dishes
If you've been shopping for casserole dishes in stores lately, then you'll probably know they aren't on the cheap end of the spectrum. That is why shopping for these items in thrift stores is one of your best ways to save some money. You can find a lot of high-quality options in thrift stores, which will help you save money and ensure you have the casserole dish for years to come. You may even find some vintage options that are worth money if you choose to sell them.
6. Glass
Glass isn't something many people think to shop for when they head to the thrift store. However, it is one of the most lucrative things you can purchase if you know what to look for. There are lots of vintage glass products that are worth a small fortune, so if you're lucky enough to find them then you're going to get a large boost in your bank account. There are lots of guides available online to help you figure out which glass you should be shopping for and which glass is just going to look nice in the home.
7. Clothing
Thrift store clothing can be hit and miss. However, if you're looking for cheap options then it will become a treasure trove of clothes to help fill your wardrobe. Vintage clothing is one of the best things that you can look for when it comes to shopping to make a profit. You may find pieces worth an exceptional amount of money if you know what brands and styles to look for. Of course, you may even just find some vintage items that suit your sense of style. You should consider keeping an eye out for jeans and jackets though, as you can find some incredible options for next to nothing. Leather items, like belts, can also be a great find.
8. Purses
Often, thrift stores will get some high-quality purses, which can be a great find for anyone hoping to update their accessory game. If you find a brand-name purse in good shape, then you might even be able to earn some money from your find. Even purses that aren't top-of-the-line brands, can look incredible and may even give you the perfect foundation to customize your own unique purse. If you're not up on purse brands or don't know what to look for, there are many brands to help you find your way.
9. Costume Jewelry
Costume jewelry can add a touch of fun or some extra elegance to your style. If you love to accessorize, then you're definitely going to want to visit the jewelry section in the thrift store whenever you shop. When it comes to jewelry, you should be able to pick out items that you like with your own style in mind. However, you should take a closer look at everything you see. Some items will really come to life with a good cleaning. Many items may even be worth some money when cleaned and appraised. No matter what, the jewelry will bring some fun to your look, especially if you love vintage styles.
10. Luggage
If you tend to be a bit of a globe trotter, you might skip the expensive luggage stores and check what the thrift store has to offer. Generally, you should be able to find luggage in all shapes and sizes. Some of the items may need cleaning up, but with a little love, you'll have a set that will stick with you for years to come. You may even run into some brand-named options that can be fixed up and sold for a profit.
Shopping at the thrift store can be an exciting experience. When you choose to go to a thrift store, you should keep your eyes open while you shop. There are plenty of little gems to discover during your shopping experience, which might leave you with merchandise that will suit your needs or will help you earn a little extra money.