August is practically here, which means it's time for students to head to their dorm rooms to get ready for the new school year. Whether your student is heading to the dorms for the first time or they're in their senior year, these items will be a must to ensure their year is comfortable. All of these items are budget and space friendly, which makes them a must-have for every student you're shopping for. Some of these items may even help your student feel more at home as they settle into their new surroundings.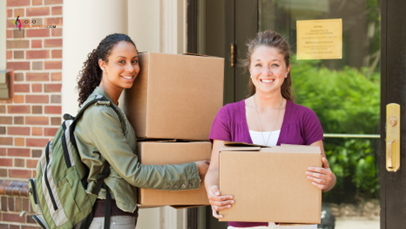 1. Mattress Topper
Let's face it, dorm mattresses are old, used, and not incredibly comfortable. A mattress topper is a perfect way to help your student sleep sounder. Mattress toppers come in a wide variety of designs as well. You can choose one that simply protects the mattress, which is great if you're worried about your deposit or germs that may be on the mattress. However, you will also find cooling options and mattress toppers that will give a mattress a plusher feeling. These can work wonders in so many ways, so make sure you shop around and look at reviews before you pick the mattress topper that is going to head to school with your student.
2. Black Out Curtains
A lot of students love to burn the midnight oil when they need to study. If your student tends to be a bit of a night owl, then black-out curtains can work wonders for the dorm room. These will ensure the dorm is completely black so students can sleep in when needed. It also offers complete privacy, which can also be a plus especially if the dorm is in a busy part of campus. Black-out curtains come in all sorts of designs too, so they can help suit your student's personal style. Plus, these curtains can help block out heat and the cold, which can help with comfort and energy bills if your student is responsible for those.
3. Power Strip
Technology plays a big role in entertainment and education these days. Most students have multiple devices on hand when they are reading, studying, gaming, or communicating with friends. These devices have to be charged at some point, which is why a power strip is a great option when it comes to dorm rooms. A power strip will allow your student to take up just one plug, so there is no battling over charging areas with roommates. You can also choose a power strip that offers USB ports for charging so students can charge their devices while still operating light or small appliances. Power strips come in all shapes and sizes too, so you should be able to find a great match for your student's needs.
4. Book Light
Not all reading will be done on a device. Nor will it be done when it is appropriate to have the lights on. If you want your student to have the freedom to study whenever and wherever then a booklight is going to be a great investment. Book lights are designed in many different ways, so you might do a little research to see which will work with your students reading style and basic needs. You should also consider brightness when shopping, as one that is too bright could harm the eye while still getting on a roommate's nerves.
5. Mini Coffee Maker
If coffee is life for your student, then a mini coffee maker is going to be a great purchase. There are so many on the market and there are bound to be sales during the back-to-school days. A mini coffee maker usually holds enough water to make one cup of coffee, so it can easily be stored when not in use. You can also find reusable capsules to ensure students can save as much money as possible while they're in the dorm. Just having the coffee maker will help curb the temptation of ordering lattes from cafes, which can save a fortune as the school year carries on.
6. Closet Organization
If you've ever lived in a dorm or a small apartment, then you know that closet space isn't always fantastic. That is why investing in items that help to save space in your closet is always a win. To begin with, there are special hangers that allow you to put multiple clothes on them before collapsing the hanger to take up less horizontal space in the closet. You can also find shelving that is easy to install with minimal damage. Storage bins are also a great way to keep organized for a lot less than you'd expect. Keeping the closet in order can help the entire room stay organized, which is why it's a must-have for dorm living.
7. Digital Picture Frame
There isn't always a lot of space for decorating in the dorm room. These days phones can hold a lot of pictures to help ease homesickness, but nothing brings joy quite like seeing pictures on the walls. For students that love to show off pictures, a digital picture frame is a great choice. They can easily send the pictures they love to the frame to help bring them joy. Some frames even allow others to email pictures, which is perfect for those that love to be surprised by new images of family friends. There are many options on the market when it comes to these, so you can shop based on need and budget.
8. Handheld Vacuum
Messes happen, but most dorm rooms aren't large enough to house a full-sized vacuum or even a broom and mop, for tiled spaces. One remedy for these messes is a handheld vacuum. These can actually clean up quite a bit, which will ensure students won't have to wait for a clean-up crew when there is a mess to contend with. When the mess is picked up, students can put the handheld vacuum back under the bed or in the closet for easy storage until the next mess occurs. This is especially great for students that like to snack in their dorm, as it will help them to pick up crumbs with ease.
9. First Aid Kit
There's no doubt about it, every dorm room should have a first aid kit. The first aid kit doesn't have to be anything incredibly elaborate, but it should include basic items to help with injuries that might occur in everyday life. Cleansers, bandages, tweezers, basic medications, and creams are all items that should be included. However, you should take your student's particular needs in mind too. If they have allergic reactions then supplies to deal with rashes, backup allergy medications, and maybe even an EpiPen should go into the kit. You can even find premade kits on sale for a reasonable price, which can save you time and money when preparing for the transition to the dorm.
10. Under Bed Storage
Another place to utilize in the dorm is beneath the bed. If you have a single bed then this is typically not a lot of space, but there are special storage containers that can fit in this area. These bins are great for sheets, shoes, extra books or school supplies, bath products, and more. If your student has a loft bed then there are more storage items to choose from. Making sure the space under the bed is utilized will help bring even more peace to the dorm as fewer items will make it to the floor.
Moving into a dorm can be exciting for most students. However, making sure they have everything they need can be imperative to helping students get settled in. These ten items are just the beginning, but they are a great start to making the dorm feel comfortable and homey so that students will be at their best when it comes to their studies.