Summer can be one of the most fashionable seasons of the year. With clothes gaining vibrancy and people wanting to get out and about, you are certain to find lots of inspiration to help decorate your home. This season, there are many trends that you can easily get behind without spending a fortune. These ten ideas will help you get your place looking fantastic while also allowing you to show off your personality and your ability to decorate without overspending.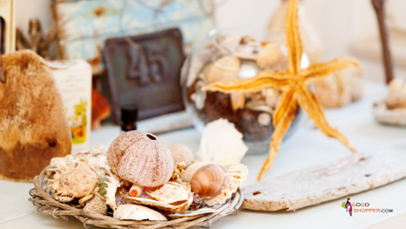 1. Indoor Plants
Bringing the outdoors indoors is a great way to meet today's biggest fashion trends. This season, you're definitely going to want to grab some indoor plants to make your home look fabulous. There are lots of great options to choose from when it comes to adding plants to the home. However, you should always make sure the plants are non-toxic to your pets before you bring them in. Plants also have a way of filtering the air, which will make your home smell fabulous. You can choose planters that bring extra style to your home to add to the appeal. If you like to DIY then you can easily do this with cheap supplies, which will save money and allow you to express yourself.
2. Blue Is In
Blue fans will truly love this season because blue is going to be absolutely everywhere. There are many ways to add some blue to your life, which should help you to enjoy the trend with ease. If you like to get your hands dirty then you might consider painting a few accent walls blue. There are so many amazing colors to choose from too, so you can really have some fun here. If you don't want to make any major changes, then you might consider adding some blue pillows, blankets, or décor items. This can really bring some life to the home and will help you to feel those summer vibes.
3. Curves
This season, it's all about the curves. You're going to find round items just about everywhere, which will make it very easy for you to find the looks you desire. One of the major curvy trends is going to be in furniture. You're going to see a lot of coffee tables, patio furniture, ottomans, and so much more that will definitely suit your needs. If purchasing new furniture isn't on your radar, then there are so many other options. For instance, you might consider curvy décor. Abstract art, sculptures, and paintings are easy ways to do this. You may even consider painting your own décor to add to the trend.
4. Crisp White
It's not Labor Day yet, so embrace your love of crisp white when it comes to your home décor. White is a great way to help make your home look much bigger and can help keep the space cooler if you choose to paint your walls white. If painting isn't on your to-do list, then you might consider bringing in white fabrics. From accent blankets and pillows to reupholstering, white is definitely going to bring out the beauty in your home. You can also use white picture frames, white vases, and so much more to give your home the chic vibes you desire.
5. Vintage Accents
All things vintage are in and will give your home the pizzazz that you desire. Although this might seem like an expensive trend, it really doesn't have to be. As a matter of fact, you can find a whole lot of vintage options in your local thrift store. Some items you might look for are mirrors that offer a vintage vibe. Paint them gold to give them the look you truly desire. Old typewriters, cameras, vases, and other items used as decor can really change up the space. If you want to do a little DIY, then purchase some retro fabrics to reupholster some of your accent pieces. If you don't want to purchase new items, then you can easily transform some of the items you already have into vintage pieces.
6. Metals
Metals are a big hit this summer, which makes it very easy to accent your favorite décor. Metal furniture, décor items, and even picture frames are going to be the best way to bring this trend to life in your home. You can really go wild with this trend without spending a fortune. There are metallic paints that won't cost you a small fortune. These paints can transform basic things into stylish metallic pieces that you'll be proud to show off. You can also find wonderful items in thrift stores to help you enjoy this style as well.
7. Statement Lights
Your lights can really make a difference in your life when it comes to this season's style. Although statement lights have trended in previous years, you're definitely going to find this year's lights are a little different. Typically, minimalistic styles have been in fashion, but this year it's all about making a statement. You'll find bold, colorful options that will help your vibrant personality stand out. If you don't want to purchase and install a statement light, then you might consider purchasing a lamp instead. This will still give the statement vibe you're looking for while also allowing you to swap out the light whenever you get tired of the style.
8. Tropical Accents
This summer, you'll feel like you're on vacation when you enjoy bringing a touch of the tropics into your home. You can accomplish this look in many different ways, which will definitely help you to find a look that suits your needs. One simple way to do this is to bring in faux tropical plants. These will stand the tests of time and will give your home a look that you won't be able to resist. Of course, you can keep things a bit easier by choosing tropical colors and prints to bring into your space. Even accent pieces with tropical designs can help bring even more warmth to your space.
9. Texture
Texture is all in this season, which gives you so many options to choose from when it comes to your personal style. You can add texture to just about anything, which makes this trend very easy. One item to consider is faux furs, which make great accents for pillows, blankets, or even furniture. If you like to keep things a bit more subtle then you may want to consider going with ribbed fabrics. These are great for all-year use, so they will be completely affordable. Fabrics aren't the only option here. You can even utilize textures on the wall if you're looking to take on larger projects.
10. Patterns
Patterns are a big deal this season and probably will be throughout the rest of the year. The good thing about the pattern trend is there is no wrong way to take it on. You can choose simple patterns or those that are incredibly bold. You can also mix and match to help make the patterns stand out even more. Best of all, you can add patterns almost anywhere. From upholstery and pillows to patterns on wallpaper or in paintings. You can really have some fun here, especially if you love to keep things mixed up and unique.
This summer, you can really spice things up with the décor you choose. These ten trends are easy to pull off and will give your home fun vibes that you won't want to miss out on. You will definitely fall in love with at least one of these trends, thanks to the amazing style offered and budget-friendly options.