In many areas of the world, it is already beginning to feel a lot like summer. So, getting in a little summertime shopping might be just what you're looking to do. If you're ready to make your wardrobe fashion savvy for the season then you might want to consider adding a few elements from these ten fashion crazes. If you're on a budget then don't worry, as there are many fashion hacks that will help you recreate some of the top looks on the catwalk without having to spend a small fortune.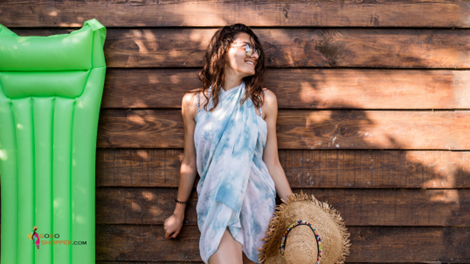 1. Y2K Look
This summer, we're going back in time with the Y2K look. It might not seem possible that this look was big twenty years, but if you were a fan at the time then you're certain to appreciate many of the styles now. One of the biggest things that people will be incorporating into their look is metallic styles. This will work from anything from fabrics to hair accessories and makeup. Luckily, metallic fabrics aren't hard to come by in stores, so you should be able to make some amazing pants, tops, vests, and bags to have you looking cool. Baggy bottoms are also joining the Y2K resurgence, which might be a relief as the temperatures skyrocket. Another fun Y2K accent is anything and everything butterflies, so pull out your old butterfly clips and have some fun.
2. Micro-Skirts
Mini skirts tend to never go out of fashion, but this year the look is being replaced by the bottoms. If you're wanting to show off some leg, then a micro skirt will have you at the peak of fashion this season. You'll see micro skirts in everything from casual and clubwear to bathing suits, so choose what works best for you. The best thing about micro skirts is they are incredibly easy to make. If you have a mini skirt pattern on hand, then just cut the pattern a little shorter and work from that. You can also cut the skirts you already have to be shorter with very little work on your end.
3. Halter Neck Tops
If you love to show off some skin, then you're definitely going to want to jump on this trend. Halter neck tops give you the style of a halter while adding a little extra support, so you don't have to worry about adjusting your top constantly. Halter neck tops are definitely simple to make too, so you can transform a few of the tops you already have in your wardrobe without spending a penny. You'll also find that there are many of these options available in retailers that are more than affordable and can be paired with almost anything.
4. Low Rise Bottoms
Over the past couple of years, high-rise jeans have been all over the place. However, this summer things are changing up and low rise bottoms are going to take the height of the fashion industry. This can be great in the hot weather, especially if you enjoy wearing cropped tops and other summer-friendly looks. You won't have to look far to upgrade your wardrobe with these bottoms. However, you should probably try to avoid just purchasing these items online as it is best to try them on to ensure the fit isn't too uncomfortable or too low for your needs.
5. Statement Suit
All year, it seems that statement suits have been a big deal. As summer arrives, these suits are going to take a bit of a turn to ensure you stay cool. So, to suit trends for this season, you're going to want to look for suits with lighter fabrics and baggier designs. Often, the suits are going to appear to be very oversized, much like they did in the 80s. Another factor to consider is color. You're going to want to go bold if you feel comfortable with it. Vibrant colors are definitely trending for the season so find the styles that look great for you.
6. Bra Tops
Bra tops have been trending all season, but there is no better time to rock them than the summer months. You can use most bras to suit this trend, which makes it very money efficient. On top of that, you will find that you can really accessorize when you enjoy this style. You can embellish bras with embroidery, appliques, rhinestones, fringe, and anything else that comes to mind. You can also pair the bra with a jacket, overshirt, or tank to take the look even further.
7. Fringe
Fringe is another trend that has been hot since autumn. This is another great look for summer though, especially since you can put it on almost anything. One great way to embrace fringe is to add it to one of your old tank tops. Simply mark how short you would like your tank top to be. Then, cut straight up until you meet that mark. Doing this over and over will create a fun fringe look that will keep you cool for summer. This is only scratching the surface though. You can easily put fringe on jackets, boots, tees, shorts, swimsuit, and anything else that you can dream up. If you're not sure you can pull off a DIY, then you will have a wide variety of options to choose from in retail stores.
8. Black and White
Although black isn't really a traditional summer color, this year you'll want to find a way to mix up the black and white in your wardrobe. This trend offers a timeless look that will make you look fashionable with ease. As long as the style keeps things monochrome then you're certain to feel sophisticated and bold. You also don't have to weigh heavy on the black clothing if you're worried about the heat, or the white clothing if you simply don't enjoy wearing white.
9. Platform Shoes
If you like to show off your legs or you just love a bold shoe, then you'll find a lot of joy when you slip on a pair of platform shoes. This season they are in style, so you'll be able to find so many incredible options that you might not know what to do with yourself. If you don't find any options you particularly like then you might just find a color you enjoy. You can always add to the shoes to ensure they show off your personality with ease. Platform shoes tend to be large in size, but you can find alternative options that still give you the look you love without the height.
10. Unique Colors
This season is all about exploring color and finding the options that work best for you. Largely, you will find that hot pink, lime green, and butter yellow are going to be all over the place this season. However, that doesn't mean that other colors are off-limits to you. You should really go for whatever color you like because it is going to help you stand out as a trendsetter this season. You should be able to find numerous options to ensure you get a look that you will love and will make you shine.
Summer fashion is on the racks now so you can prepare for the hot months with ease. These ten ideas will allow you to find the style you've always dreamed of while allowing you to look phenomenal. Best of all, many of the exciting clothing options won't cost you a bundle.