Memorial Day is one of the top shopping holidays of the year and is one of the last major sales before we find ourselves dealing with the holiday rush again. If you're planning on shopping this Memorial Day, then it might help to know where the good sales are. There will be tons of retailers participating, which might take away from your ability to get the deals you desire. These ten retailers are going to provide you with deals in almost every category you desire, so you can grab items before they're gone.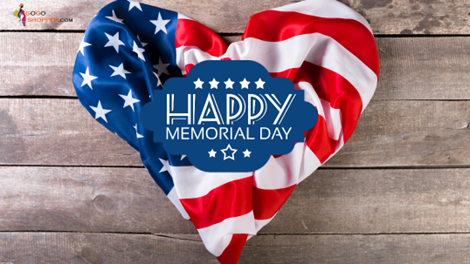 1. JC Penney
JC Penney is known for hopping on all of the big sales, so it's no surprise that this year you're going to find lots of incredible deals across the board with this retailer. To begin with, you'll find that JC Penny is working hard to compete with the mattress sales that tend to happen on Memorial Day. You'll find many mattresses up to 50% off, which makes it the perfect time to upgrade. JC Penney also has 40% off furniture, which is great if you're looking to renovate your home or simply buy some dorm essentials. There will also be a lot of great deals on clothing, home goods, and cosmetics. You might even find a 25% off coupon for other items in the store.
2. Bed, Bath, and Beyond
Bed, Bath, and Beyond is also going all out this Memorial Day. Although the store tends to be known for the linens it has, you might find that the deals it offers are going to be in areas that you might not consider. For instance, you'll find that many tools and appliances are going to be around 30% off. Cooking accessories will also be marked down to half price, which can be a great time to deck out your kitchen. Tabletops will also be on sale for around $100 off. Of course, you'll still find great deals on linens and other necessities that the brand is known for.
3. Michaels
With the summer heat limiting your time outdoors, you might not want to miss out on Michaels's Memorial Day Sale. During this sale, you will find up to 60% off craft supplies, which will provide you with the perfect opportunity to stock up on crafts to keep the kids busy. You will find everything from craft supplies to actual kits to help make it easy for kids to craft. You will also find items like décor to help you make your home seasonal and comfortable.
4. Wayfair
Wayfair tends to be another major player when it comes to holiday sales and Memorial Day will be no exception. This year, the website is really focusing on bedding. You will find low prices on bed frames and foam mattresses so you can create a comfortable space to kick back and relax. There are also many great deals on pet supplies. Pet beds, toys, and other accessories will be up to 50% off. Of course, you will find deals on almost everything that the store has to offer, so make sure to browse around to find the right price for you.
5. Best Buy
Technology is always a hot purchase, no matter what sale you're shopping for. That is why Best Buy tends to be one of the go-to places to check out. This Memorial Day, you're going to find some incredible deals to ensure you get what you need for the season. This year, televisions are going to be a big deal, so if you're looking for an upgrade then this is going to be a great time to explore your options. Phones are also going to be on sale, especially Apple phones. Apart from that, you will find extraordinary deals on large and small appliances. You might keep track of the Best Buy website because some of the deals might appear early and may even sell out fast.
6. Target
Target usually offers some pretty good deals when Memorial Day rolls around. This year, they do have some big plans, but you might want to check out their early deals too. For instance, you can find cheap prices on clothing for all ages, and buy one, get one half off on major toy brands. Technology and books will have plenty of great deals too. For Memorial Day, you'll find that patio furniture is going to be 15% off, which will help you create a comfortable place to hang out. Pet accessories will be 20% off too, so you can make sure your fur babies are comfortable all season long.
7. Macy's
Macy's is planning on offering some major deals across the board too. You will largely find sales on clothing and home goods. However, some of the miscellaneous items that you might need for summer fun, wedding season, and dorm necessities should also be on sale. These markdowns will be around 20-60%, so you should definitely spend some time browsing the website to see if there is anything you may need. On top of the markdowns, you'll find that Macy's will offer additional coupons to help bring down the price even more.
8. Amazon
Amazon is also going to offer some major deals for Memorial Day, and a few early deals. So, make sure to be on guard when it comes to the things you need. One place to begin shopping is the beauty section. There will be a lot of price reductions, but there will also be a 35% off coupon to attach to many of the items as well. This can be great for those that need to stock up on summer makeup or beauty necessities. Consumers looking for LED TVs will be pleased to 40% off some of the best options available. You will also find headphones and other gadgets too. On top of that, Amazon's smart home devices will also be on sale. New this year is Amazon brand clothing and home goods, so you might also browse that section for even more savings.
9. Walmart
If you're ready to find some big sales, then you should check out the savings that Walmart has to offer. They will have lots of rollbacks before the holiday even begins, so watching their website or setting alerts for the app would be wise. Apart from that, you should keep an eye on their clearance section as there are many fantastic deals there that will help you feel confident about your spending. Of course, when it comes to Memorial Day deals, you're going to win big with technology. One of the big deals is an HDTV for under $200. You will also find a variety of other televisions on sale and plenty of chrome books to choose from.
10. Overstock
Overstock is going to be going big as usual, so you'll find deals across the board here. You should be able to find sales in every category, but it might take a bit of looking around to find fantastic options. One of the main focuses the store has is cleaning some of their outdoor supplies. This will encompass a lot of categories though. For instance, you will find great deals on patio furniture as well as outdoor cooking supplies. There will also be discounts on outdoor toys and storage. These deals should help you get set up for summer with ease.
Memorial Day sales are a great way to kick off summer fun and get prepared for everything you need to feel comfortable all season long. These ten retailers are definitely going to help you save a small fortune on their remarkable deals, so make sure you browse their catalogs to ensure you maximize your savings during the holiday.