Living a greener lifestyle has become increasingly important as the years pass. Many people are looking for any way to choose the right products to keep their homes hygienic while still protecting the environment. Unfortunately, the market is saturated in items that claim to be eco-friendly but really aren't. On top of that, many of the items available are incredibly expensive. If you're looking to make the change to environmentally friendly cleaning supplies, then these ten items are definitely going to be a hit for you.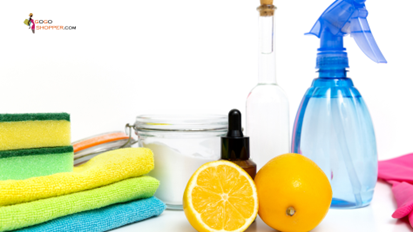 1. Laundry Sheets
Laundry sheets have been on the market for a little while, but they have recently become very popular online. These sheets are great because they allow you to get your clothes clean without forcing you to use chemicals. Best of all, by purchasing cleaning sheets you're actually cutting back on the water used to make your cleaner, which is a huge benefit. Apart from that, the laundry sheets tend to come in compostable packaging rather than the large plastic containers that other detergents come in. These sheets tend to be just as affordable as alternative options and can even be ordered in a subscription, so you don't have to worry about going to the store or even ordering online.
2. Bio-degradable scrubbers
From sponges to other scrubbers that can't be reused, keeping things clean can be incredibly tough. Luckily, there are many scrubbers that are entirely plant-based, which means you can reuse them and when they are thrown away, they are entirely biodegradable. There are also some options that aren't plant-based but are made with sustainable items like bamboo. These can be washed and used for some time, which will still allow you to enjoy a more sustainable life as you clean. Before you purchase a scrubber that you hope to use long-term, you should always put in a little research to make sure you're going to get your money's worth.
3. Grove's Sustainable Cleaning Kit
If you're just starting out with green cleaning, then the entire process can be really confusing and the price of it all can really weigh heavy on you. Luckily, Grove has created a sustainable cleaning kit that is affordable and will give you almost everything you need to clean your home properly. Best of all, it also comes with items that you can use to continue cleaning in an eco-friendly item. One of the most sustainable items is the glass spray bottle that you can use with a variety of their cleaners that just require simple mixing with water. You'll also find a convenient carrying case that is great for keeping everything on track. You'll have to sign up for Grove to purchase, but this will provide you with the opportunity to explore a variety of products that are great for you, your household, and Mother Earth.
4. Seventh Generation Dish Soap
There are quite a few plant-based dish soaps out there, but none seem to be raved about quite like Seventh Generation Dish Soap. This soap is entirely plant-based, which many soaps labeled as sustainable often aren't. Apart from this, it still offers the cleaning power of some of the best soaps on the market. You won't have to do with synthetic smells or dyes that can harm you and the planet. Seventh generation is entirely cruelty-free too and they do use recyclable packaging to add even more to its sustainability.
5. Reusable Paper Towels
Paper towels tend to be one of the most used cleaning products, which can be a bit of a problem considering they're not the best for the environment. Currently, you can find a lot of paper towel alternatives, which can help you keep your home clean without adding to the budget. Most of the options are bamboo-based, so all you do is use them and then toss them in the washer for cleaning. Some of these options even look like paper towels, which can help you feel a deeper connection with your routine. Of course, if you're not looking to invest in something like this right now, then you might just clean up with a rag to help cut waste in the home.
6. Compostable Wipes
There is no doubt about it, Covid-19 amplified the already popular craze of purchasing disinfecting wipes Although these are a great way to help keep the home clean and efficient, they can also contribute to build-up in landfills. If you're flushing these wipes after use, then you're definitely going to find yourself in a bit of trouble because they can block your pipes. Luckily, there are eco-friendly options here. Many brands are offering biodegradable options and more recently options that are safe for the compost, meaning chemicals that won't harm your plants. These are great for everyday clean-up without the guilt. You can also reuse the containers as bag holders and so much more.
7. Pumic Stone
Sometimes, stains are just not going to budge easily. If you're facing this problem, then you might consider going after the stains with harsh chemicals. Unfortunately, this rarely takes care of the problem and can leave you harming the environment and those in your household. If you really want to ditch those stains, especially in the toiler then a pumice stone is going to do the trick. This stone can help grind away the problem without damaging your porcelain, which can save you time and money.
8. House Plants
Air fresheners tend to be another popular item on the cleaning supply list. Most air fresheners aren't the best for your home or the environment due to the chemicals they use. Although there are some safer options to choose from, one of your best options is to use a house plant instead. House plants will naturally filter the air you breathe, so you can enjoy high-quality air that isn't going to do your family harm. A lot of houseplants are very easy to care for as well, so you won't have to fight to fit it into your schedule. If you have pets, then you should put in some research beforehand to ensure you're not getting something toxic to your animal.
9. Vinegar and Baking Soda
If you don't want to spend a small fortune on cleaning supplies, then one of your best options is to go for a timeless combination. Vinegar and baking soda create a chemical reaction that will take care of many of the problems you have. All you have to do is add a little baking soda to the surface you're cleaning. You might start by rubbing it into the surface unless it is a drain. Once you're satisfied with the scrub, add vinegar to the top of the baking soda. This could create a foaming effect. When the mixture stops foaming, simply rinse or wipe it away. You can also add a degreasing dish soap, like Dawn, to the mixture to help with tougher stains or unclogging drains.
10. Steam Mop
If you don't want to use chemicals at all, then a steam mop might be the correct answer for you. As the name implies, a steam mop uses hot steam to clean and sanitize a floor. This allows you to quickly and easily make most surfaces of the home look amazing while ensuring they are hygienic so the whole family can lead a healthier lifestyle. Steam mops are easy to operate as well and require very little maintenance which will mean even less work for you. You can find some amazing deals on steam mops too, but make sure to look at reviews.
Keeping to an eco-friendly routine doesn't have to leave you feeling stressed out, especially when it comes to your budget. These ten ideas will help you meet the goals you've set for yourself while keeping your budget satisfied. With any luck, you will find your sustainability groove that will suit your needs perfectly.