Schools are about to let out for summer vacation, which might leave a lot of parents grasping at straws to find ways to keep their children busy on a budget. With the weather scorching hot, and boredom around every corner, you might be worried about how you're going to keep your kids busy since spending all day outside isn't exactly an option. These ten ideas will help knock out some of the hours of the day on a budget, so kids can make memories and have some fun while doing so.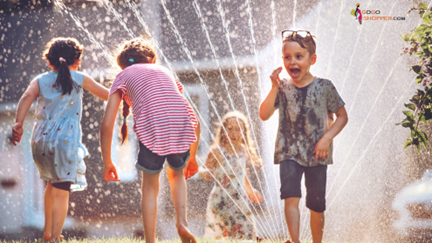 1. Backyard Camping
Although it might be too hot to get outside a lot of the time, the nighttime hours will provide everyone with a much cooler setting. Going camping can be one of the best bonding experiences for a family and can help children disconnect from gadgets and enjoy the world around them. Of course, going off to a campsite can be pricey, especially if you don't have everything you need to camp successfully. That is why a backyard campout is amazing for all. You can sleep out on the trampoline, make a fort with items you have around the house, or simply lay out under the stars. You also have access to snacks and bathrooms without having to worry, which can make everyone feel more comfortable.
2. Join a Summer Program
In most communities, there are a few summer recreation programs that kids can take part in. Usually, the school district or college in the area will organize education and athletic activities for kids to take part in. The YMCA often offers swim classes, craft sessions, and other fun activities for kids as well. Even the parks and recreation service in your community may have a few plans that you can sign up for, including summer sports. Of course, most of these things will help cost a small fee, but kids will have a lot to keep them busy, so you won't have to worry about spending money in other aspects of life.
3. Splash Pads
A lot of communities have started to add splash pads to their parks or community areas. A splash pad is a great way for kids to get outside and have some fun without running up your water bill at home. Splash pads come in a variety of different designs, so you might make sure the splash pad near you is safe for your children to use. Although these are great places to cool down, you should always make sure sunscreen is properly applied and proper clothing is worn, as the water can attract more sun. You should also plan for times when there might be fewer people, especially if it is difficult to keep track of your children during such activities. Since these tend to be free places to keep cool, they aren't as private as many parents might like.
4. DIY Popsicles
Finding ways to cool down can be one of the best ways to bring joy to children during the summer months. Popsicles are one of the best ways to cut down on the heat while offering children a healthy way to snack. Luckily, it is very easy to make popsicles. All you really need is a mold, which can be purchased for fairly cheap at most stores. Once you have your mold, you can fill it with juices, drink mixes, or even smoothies. You can also add in fruit or other treats to make children love the snack even more. Trying out different recipes can add to the fun, which will make children love working in the kitchen all the more.
5. Sprinkler Fun
Playing in the sprinkler is a timeless activity that most kids can enjoy. This activity is cheaper than having a pool and requires very little maintenance. You can also use your child's time in the sprinkler to water your lawn or anything you might have in your garden, so the water isn't wasted. Although running through the sprinkler tends to be a lot of fun, you can still spice it up by adding games to the experience. You can even create relay races that will inspire kids to be more active while they're cooling down in the sprinkler.
6. Butterfly Garden
Gardening is one of the best ways to use the extra space that you have in your yard. If you really want to entice the kids to go outside and enjoy the fresh air, then you might consider planting a butterfly garden instead. There are many different types of butterfly gardens, so you might research to see which butterfly species are in your area. Once you know this, you can choose the plants that you will add to your garden. Before long, you should see an array of visitors that will inspire your child's curiosity about the world. These gardens are great for the planet too, especially since butterflies help to pollinate.
7. Library Trips
The library is a great resource no matter the time of the year. However, during the summer months, they have lots of great things for kids to do. One of the big draws is the summer reading program. Kids are encouraged to read throughout the summer to win prizes based on the work they do. Best of all, kids can pick out new books every time they turn in their reading log, which will inspire them to keep reading. Most libraries will also offer storytimes, crafts, and other activities to help make summer better than ever.
8. Outdoor movies
If watching movies with your family tends to be a fun pastime, then outdoor movies are bound to be a hit for your family. Many communities do offer activities like movies in the park that are specially designed for children. You might look on your local area's parks and recreation website or social media pages to see if there is anything going on. If not, then it isn't hard to create your own outdoor movie theater. In fact, you can make your own projector with tutorials found online. This can be a great backyard activity for the family, or you can invite neighbors to join in on the fun.
9. Explore the Farmer's Market
Summertime is a great time to get out and enjoy the farmer's market. During the summer months there is typically a lot of great produce and plants to be purchased, so spending a morning exploring what the farmer's market has to offer can be a real treat. By doing this, you will be helping your local community as well as giving your family healthier foods that they will love. Of course, the farmer's market is more than just produce. You will find local vendors that supply crafts, beauty supplies, and even foods that will wow you.
10. Outdoor Gatherings
Nothing says summer quite like having a gathering with loved ones outdoors. So, if you're looking for a fun way to keep the kids busy then invite your friends and family over. You can have a cookout with cheap foods that won't harm your budget. You might even ask people to bring dishes and drinks of their own so you can easily save even more money. Relay races, dance-offs, karaoke, movies, games, and so much more are only scratching the surface. So, make sure to schedule quite a few of these gatherings, especially while Covid-19 restrictions are reduced.
If you're worried that summer will be a bust for your kids or might break your budget, then don't stress out. There are plenty of frugal ways for everyone to have some fun. These ten ideas are just a start but will help you plan accordingly so you can truly embrace the season and the time with your children.