Planning a summer vacation on a budget can be a tough feat. So, if you're struggling to come up with fun ideas, then it might be helpful to know that there are a wide variety of amusement parks that don't charge an arm and a leg while still offering plenty of fun things to do. These ten parts will cost less than $100 a person and are located in areas that will allow you to branch out and enjoy other attractions on a budget. So, don't miss out this summer especially if you have been staying in the last couple of summers.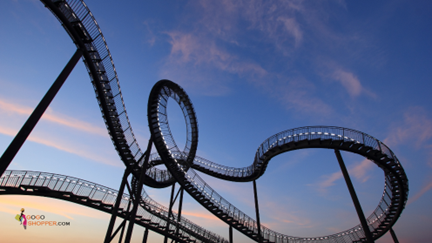 1. Knott's Berry Farm
If you've been dreaming of a California vacation, then you'll be pleased to know that there is a great amusement park just outside of Anaheim that will certainly help you have some fun. Based on the area, this theme park is going to give you a bargain for your money ringing in at just $50 a person. If you live in the area, you can also get a season pass to help you save money all summer long. Knott's Berry Farm offers children's rides, water rides, and the iconic Ghost Rider roller coaster, with many other amazing rollercoasters to choose from. Fans of the Peanuts will love meeting Charlie Brown, Snoopy, and the rest of the crew as well. This park is a great alternative to Disneyland, especially if you don't want to pay the high price or you don't have long to explore the park.
2. Knoebels Amusement Resort
Knoebels Amusement Resort is one of the largest free amusement parks in the country. Located in Pennsylvania, you will find plenty of places to check out when you're not in the park. However, the park does offer plenty of games, shows, rollercoasters, kids rides, and so much more. This park is inspired by fairs, meaning you will have to pay to go on each ride. So, you will have to be careful here to ensure your budget is kept. However, if you're just on board to enjoy the atmosphere and ride a couple of things to kill a little time then this is going to be a great park for you.
3. Kings Island
Kings Island, located outside of Columbus, Ohio is said to be the largest amusement park in the Midwest. This claim draws in many people each year, especially since the location is convenient for many living in the area. Since the park is located near a large city, hotel and other entertainment options are vast. The park itself has numerous roller coasters and a water park that offers over 50 rides. This park is perfect for all ages and interest too, which makes the value even greater. Best of all, tickets are less than $50 a person, which adds to the park's enticing nature.
4. Sesame Place
Families with small children won't want to miss out on Sesame Place located in Pennsylvania. This amazing park is based off of the Sesame Street World which has inspired children for decades. While at the park, children are able to enjoy rides, watch shows, and meet with their favorite characters. Although this park is designed for children, there is plenty to do for adults and older children as well. Best of all, the price is more than affordable at less than $50 a person. Plus, the park is located in a convenient area, so you'll be able to find plenty of other things to do while you're in the area.
5. Six Flags Magic Mountain
There are so many Six Flag theme parks to explore in the United States. However, if you're looking for affordability and fun then Magic Mountain is one of the best options. This particular Six Flags is located just outside of downtown LA, which means there will be plenty to see and do when you're not riding rollercoasters. This theme park also hosts some of the most iconic rollercoasters around, which will make it well worth the trip. There are plenty of water rides, shows, and more to take in while you visit the park. Your tickets will ring in at under $60 too, which is an incredible price for a theme park chain. There are also food deals and season passes to make the price all the more frugal.
6. Nickelodeon Universe
Kids of the 90s through today won't be able to resist stopping at Nickelodeon Universe. This theme is all about your favorite Nickelodeon shows and won't skip on the slime effects. This park isn't exactly Universal Studios, but it will give fans plenty to enjoy as they enjoy a touch of nostalgic. This theme park offers plenty of rides and other attractions to keep you buys all day long, which is incredible considering it will only set you back $40 a person. The theme park is located next to the Mall of America, which will provide you with plenty of activities to keep you busy.
7. Dollywood
Country music fans won't want to miss out on a trip to Dollywood. This park is a little pricier than the other parks mentioned, but the price tag still falls under $100 per person. While at the park, you will find country music, plenty of Dolly Parton goodies, and a variety of foods and memorabilia. You will also find lots of rides and shows to keep you busy for the entire day. Dollywood is located in Pigeon Forge, Tennessee, which provides plenty of other entertainment including river rafting and a Titanic attraction. The park isn't far from Knoxville either, so you can easily shift your vacation to the city after spending the day in the park.
8. Silverwood Theme Park
If you find yourself in Idaho, then Silverwood Theme Park is a great place to enjoy your stay. This park offers a wide assortment of rollercoasters designed to give an adrenaline rush to thrill seekers looking for a good time. Apart from daring rollercoasters, there are also plenty of water rides and pools, including a wave pool. You will also find children's areas that are safe and enjoyable. The park offers plenty of shows and events, as well as restaurants. There is lodging nearby, including an RV park for those that are just passing through. Tickets are less than $30 a person, which makes a trip to the park a steal.
9. Hershey Park
If you find yourself exploring Pennsylvania and in the mood for something sweet, then you might consider stopping by Hershey Park. Yes, this park is affiliated with the world-famous Hershey's Chocolate company. As you can imagine, it has definitely earned its name of the sweetest park on Earth. This amusement park offers plenty of rides to choose from, which is enough to keep you occupied for hours on end. The thing that sets this park apart from other options is the chocolate section. Since the amusement park is connected to the Hershey factory, you can take a break from all of the rides to learn how Hershey bars are made.
10. Busch Gardens Williamsburg
Can't go to Europe this summer, but would love to enjoy the travel experience? Busch Gardens Williamsburg is a great option to help ease your travel bug without spending a fortune. This theme park has a European theme, so you will be able to travel from one country to the next throughout the day. Each country has its own restaurants, rides, shows, games, and so much more. Best of all, the price is more than affordable. You can even purchase a season pass if you're in the area which will help you get even more out of the experience.
Amusement parks are a wonderful way to have fun all summer long. These ten amusement parks will give you the fun you desire without the high price tag of many of the amusement parks, which can transform your summer and the memories that you make.