Are you ready for Mardi Gras 2022? A lot of people are gearing up to go all out for this occasion thanks to the reduced numbers of Covid-19 cases and the availability of vaccinations. If you're planning a party this year, then there are a lot of fun activities to help make your gathering fantastic. Since Mardi Gras is all about fun, you will love having extra activities at your party to keep everyone busy. Best of all, these tips will come in under budget so you can save your money for other activities.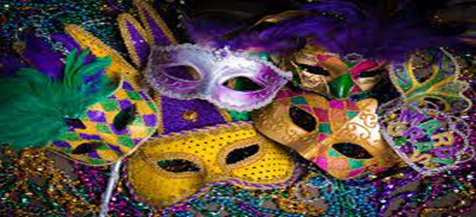 1. Paper Mache Mask
Masks are a big part of the Mardi Gras holiday, but traditional masks can cost a small fortune if you want a nice one. Instead of requiring guests to bring a mask to the party, create a sculpting table so guests can make a mask of their own for future parties. Using paper mache to do this is one of the most efficient ways to go. All you need is scrap newspaper or other recycled paper to get started. Create a glue and water mixture and add some paintbrushes to the table. This will help create the perfect place for creativity to thrive. Once everyone's masks have dried, they can paint them to suit their personality. This craft is a great option for adults and older kids, so you will have an activity that everyone can take part in.
2. DIY Crown
Become the king or queen of your own Mardi Gras party when you create your own crown. There are so many great ways you can create your own crown, but if you're hoping to save some money then you might consider using the recyclable items that you have in your home. Another great way to create a crown without wasting money on materials is to use your Mardi Gras beads. This can help take your look to the next level while adding to your creativity. If you're at a loss for ideas, then there are many to choose from online. You can also discover craft bar ideas so everyone can make the crown of their dreams.
3. DIY Parade Floats
Parade floats are a big part of Mardi Gras if you are celebrating in a larger city. However, if you're planning a small get-together at home or you just want to enjoy a parade then you can easily make your own. You might start by gathering up supplies to make the floats. For instance, an old tissue box makes a great option. From there, add on items that will suit the theme. You can use old toys and other supplies to create a fun look. The entire family or even all of your guests can make their own float and place them together for a big reveal. You can even have a competition to see who did the best job. If you want to go larger scale, then see if your neighbors are willing to decorate for Mardi Gras. If you can get enough people into the mix, you can create a block filled with homes that represent Mardi Gras floats.
4. Make King Bread
One of the big parts of Mardi Gras is the King Bread. So, if you're planning a celebration, people might complain if you don't have some King Bread on offer. Luckily, you won't have to spend a small fortune to make this bread as many of the ingredients can probably be found in your pantry already. If you're not sure where to begin with the bread, you might search around for a few different recipes to get you started. When you find one you like, do a trial of the recipe to see if it suits your needs. You can also find alternative recipes if you have allergies to some of the ingredients, which can help you bake for a larger audience of people.
5. Decorate Cupcakes
If you're not interested in making bread and other treats that are time-consuming, then cupcakes might be the answer to your treat dilemma. You can make cupcakes based on the traditional flavors of the holidays. Once you have your cupcakes ready to go, you can top them off with purple, green, and gold food coloring to add even more flair to the cupcakes. You can also add plenty of masks, beads, and other decorations to make the cupcakes pop. Cupcakes are a great option if you're feeding lots of people too, as they will keep food pre-portioned and they're simple for kids to eat too. If you're worried about presentation, you can also place the cupcakes together and decorate the top for a pull-apart cake that will certainly create fun vibes at the party.
6. Make Your Beads
Mardi Gras beads are a great way to show some love during the holiday while holding up to tradition. Sure, you can purchase bulk beads from stores without spending a fortune, but you might have more fun making your own beads. You can actually do this in many different ways. One easy way is to form beads out of paper mache and then paint them. You can also make them out of colored pasta, which is a fun motor function task for kids. If you prefer to keep things easier, then you might even just purchase beads and string them yourself. Of course, this is only scratching the surface. There are many ways to create Mardi Gras beads, so have fun with the craft.
7. Face Paint
Although masks are a traditional part of the holiday, you will find that there are many ways you can add to the fun. Face painting is a great option that will appeal to so many party-goers. You can create simple designs for kids to appease their needs. You can also come up with more intricate designs for the adults in your life. In fact, you can even recreate the traditional masks that are commonly worn. This can add more appeal to your party and will give people something that won't forget about your special event. Face paint can be fairly cheap to purchase too, which will definitely allow it to fit into your budget.
8. Crawfish Boil
A crawfish boil is one of the best ways to feed a lot of people during your Mardi Gras celebration. Generally, during the time of the celebration, crawfish are in season so you won't have a hard time finding a better deal on them if you can't fish for yourself. Usually purchasing the crawfish in bulk is going to be your best option, but you might be able to find smaller batches at the supermarket. In order to make your meal go further, you should also add in items like corn, potatoes, and sausage. This should create a delicious treat that will make your guests feel right at home.
9. Listen to Music
There is no doubt about it, listening to music is one of the best ways to bring some joy to the Marid Gras celebration. There are so many iconic songs to enjoy, which will help celebrate not only the holiday but also the culture surrounding one of the biggest celebrations in Louisiana. If you're not sure where to begin your musical journey, then there are a lot of amazing playlists you can check out on almost every streaming service. Of course, you can also keep things fun by making up a playlist of your favorite Mardi Gras inspired songs to share with your party guests.
10. Watch the Event Virtually
There is no substitution for the real Mardi Gras celebration. So, if you feel like you're missing out then you can live stream the big event from home. This can be a great way to experience Mardi Gras as a whole, but it will also give you a better idea as to what you would be doing, seeing, and hearing if you were to attend. This can help make planning your own party better. Of course, you can always keep the event streaming in the background of your own party. This can help set the atmosphere while adding more fun to your party.
Mardi Gras can be a hard party to plan during a pandemic, but there are a lot of great options to choose from when it comes to adding some fun to your own party. These ten ideas will help to keep your party fresh and fun for all ages. You may even discover some new traditions that you will want to enjoy year after year.