Earth Day will be here soon, but we're also living in a world where our wonderful planet needs all of the help it can get. If you're looking to save money on Earth Day, there are a lot of different things you can do to lend a helping hand while passing down the knowledge of how to protect the planet to younger generations. These ten ideas will allow you to have some fun while also saving money when it comes to the holiday. After trying out some of these ideas, you might also find some activities that you will want to do more frequently.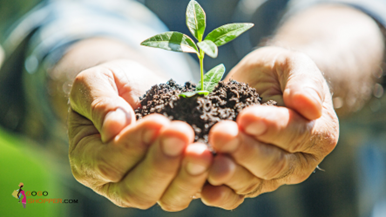 1. Bottle Planting
Plastic bottles are one of the most common items found in landfills. You will find plastic bottles from everything including beverages, soaps, and cleaning supplies. However, we don't have to constantly throw out plastic bottles. There are actually lots of plastic alternatives that you can utilize, but for some households' plastics are a major part of their routine. If you still find yourself bringing in plastics then don't just throw them out. Instead, you can transform them into planters. You can hang these planters on the wall or use them as a traditional planters. You can also use bottles to cover plants when the weather is cold, which can help protect your plants from freezes.
2. Plant Wildflowers
Another great way to treat the planet right is to plant wildflowers. Wildflowers tend to require very little work, which will allow you to easily create a beautiful yard that will also benefit the planet. Wildflowers are important because they help to feed the bees, which allows everything else to grow and thrive. You can find wildflower seeds for next to nothing in stores, so you won't have to invest in a lot to ensure you're helping out. In fact, in some Cheerio boxes, you can even find a few packets of seeds which will make planting all the more exciting for kids.
3. Clean a Park
Cleaning a park is one of the most popular ways to help celebrate Earth Day. This is a great activity that the whole family can jump on board with too. When you choose items to help clean up the park, make sure you keep sustainability in mind. For instance, you should choose reusable gloves opposed to plastic gloves to protect your hands as you clean. Getting out to clean a park can also allow you to enjoy the sunshine and will make it convenient to stop and play when you need a break. If you'd prefer to join a group of people, then there are many clean-up groups you can sign up for online. These events are happening around the globe, so you should be able to find one in your community or anywhere you may be traveling on the holiday.
4. Learn about Animals
Animals play a major role on the planet, so spending some time learning about them might be a fun way to spend your day. You might consider checking out a petting zoo, zoo, or wildlife park if you're interested in seeing animals with your own eyes. There are many virtual tours online that you can check out too if you don't want to go out due to Covid-19. Another great option is to check out documentaries or read books about the animals that you are interested in. This should help you to gain quite a bit of knowledge about the creatures we share the planet with.
5. Discover New Regions
There is way more to the planet than what we see on a daily basis. One of the best things you can do on Earth Day is getting to know some of the other regions that make up our wonderful planet. There are so many documentaries and books that you can enjoy to learn about the world you live in, so this is a great start. Thanks to modern technology, you can always enjoy virtual tours as well. There are many options to help you get to know deserts and rainforests around the world which will give you the experience of travel without leaving the home.
6. DIY Oven
Harnessing solar energy is a great way to help the planet. There are many ways to use solar energy to help power your home and so much more. However, one of the best things you can do to teach children about solar power is to help them make a DIY oven. All you need for this is a pizza box, aluminum foil, black paper, plastic wrap, and tape. Piece together all of the materials and then create your own pizza to cook in the oven. When your pizza is ready to go, place it in the box and leave it outside in the sun to cook. Children can learn how the sun can help create enough heat to help cook the pizza thoroughly. You can also bake other items, like cookies if pizza isn't on the menu.
7. Recyclable Bird Feeders
Putting up a bird feeder can also help to celebrate Earth Day in a wonderful way. You can make bird feeders out of so many things, which will make this activity something special for the entire family. One easy way to make a bird feeder without spending money is to use an old 3-liter bottle. Kids can paint or glue items to the feeder to help improve the way it looks. Once everything is ready to go, you can fill the feeder with seeds and enjoy. Of course, there are more complex options you can enjoy if you're looking for a challenge. There are a lot of ideas online to choose from.
8. Turn off the Lights
Conserving energy is a great way to help out the planet. One way to do this is to simply turn out your lights. During the day, try to keep the power off if you're not using it. At night, only use energy in one room of the house. If you can try to cut power to everything but the necessities during the day. Allowing yourself to spend most of your day outside will make this much easier. So, try to plan as many things outside as you can to enjoy Earth Day. Many people have started having a lights-out day at least one Saturday a month to cut back on the costs of electricity and to help make the world a better place.
9. Start a Garden
Gardening can be great for your home, your budget, your mental health, and the planet. If you don't already have a garden, then now is the perfect time to get on started. You don't have to go all out on this. You might start with simple plants like seasonal vegetables. You can also work with flowers or start to grow fruit trees. Your garden doesn't have to go up all at once either. You can work slowly and build it up over the years to help cut back on the expenditure. You can also work on drip irrigation and compost to help cut back on even more costs.
10. Watch Lessons About Earth
There are so many ideas and lectures about our planet that you could spend days watching them. So, for Earth Day, you might consider picking a few videos that can help you discover new ways to help improve the planet. You might want to start with common lecture services like Ted Talks. There are so many playlists already created here that all you really need to do is point, click, and watch. There are even talks to appeal to children, so you can also help children to improve their knowledge of the planet and everything that can be done to make the world a better place.
Earth Day 2022 can be your best one yet. These ten tips will help you to give back to the planet that provides everything you need to lead a happy and healthy life without spending a lot of your money. With any luck, you will find a fun way to enjoy Mother Nature so you can carry on giving back.