Although the groundhog may have ruled another ten weeks of winter, spring will still be here before we know it. One of the best ways to decorate for spring is to bring in flowers. There are so many ways that you can enjoy flower décor without having to spend a lot of money on your spring decorations. These ten tips will help guide you with simple ideas that you can craft at home without having to purchase too many excess supplies. Before spring even gets here, you should have some great options to greet your guests.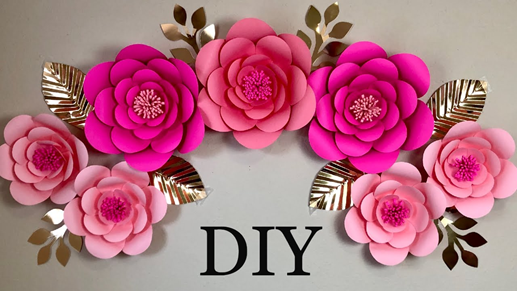 1. Create a Wreath
Wreaths are one of the easiest things you can make with flowers. Wreaths can be simple or elaborate, which gives you lots of room to work with. If you are looking to make an intricate wreath then you will need to purchase a base for the wreath. These can be purchased at dollar stores or your favorite craft stores. However, you can also craft one out of wire or an old hanger. Once you have your base ready, simply weave flowers on it. You can do this with real or fake flowers, but real flowers will have to be changed out more frequently. When your flowers are set, then add the finishing details like ribbon.
2. Pressed Flowers
Pressed flowers can add a touch of beauty to the home, which others will marvel at. You can use pressed flowers in a wide variety of ways too. One easy option is to place a flower in a picture frame. Instead of using cardboard on the back of the frame, use plexiglass or another piece of glass to ensure the flower can be seen with ease. This makes for amazing wall decorations, but you can also use it for a variety of other things, such as coasters. If this craft comes easy to you then you might consider using it to make easy gifts for family and friends that enjoy the beauty of flowers.
3. Traditional Flower Arrangement
Arranging flowers has been a popular craft for many years now. However, not many people know how to do it. There are numerous lessons online to help you with this, which is a great way to pick up new skills while finding an easy way to make décor for the home. Learning to arrange flowers, will allow you to create beautiful arrangements for your home from the flowers that you have growing in your garden. This will make the craft virtually free. Of course, if you like your flowers to last for years, then you can use the same techniques with fake flowers. Once you get the hang of flower arranging then you're certain to find this hobby can also be a great way to make extra money or an easy way to create gifts for others.
4. Floral Chandelier
If you love a little elegance, then a floral chandelier can really change the way your home looks. This is probably one of the more expensive options when it comes to floral décor, but it is well worth anything you put into it. You can make a floral chandelier in many different ways. To begin with, you can start with a simple circular base and then add flowers and lights to the mix. This can then be hung from the ceiling. You can also go a more traditional route with an old chandelier. These can often be found at thrift stores and are easily painted and accessorized. Just like other crafts, you can choose between real or faux flowers, depending on what you need the chandelier for. These are incredibly popular with weddings at the moment, so you can find inspiration by looking at wedding blogs.
5. Living Flower Art
Flower art is a great way to bring personality to the home. You can do this in so many ways, but one of the easiest is to find a shadow box and add soil to it. You can then tightly pack certain plants into the frame and water them gently with a spray bottle. This will work best with succulents, but there are other options to choose from. These are easily hung on the wall as well. Of course, if you don't want to wing the project, you can purchase the wall art or kits to make it so you can be accurate with what you are creating.
6. Indoor Planters
Sprinkling flowers around the home is a great way to bring out springtime vibes. So, indoor planters can take your home to a whole new level. You can make planters out of almost anything, which can help you to utilize your recycling for something amazing. For instance, you can transform an old milk jug into an adorable planter that is great for kids' rooms or even the front door. You can also bring old planters back to life with new paint and other items. Once you have your planters ready to go, then simply add your favorite flowers and they'll be ready to bring on the charm.
7. Add to Décor
Flowers don't have to be the star of the show. In fact, you can use them to highlight some of the amazing works of art that you already have in the home. For instance, one easy thing to do is wrap a flower around a sculpture or you can weave them into a decorative fence or picture frame. There are endless options to help you add floral accents around the home, so look around and see what objects could use a breath of fresh air. You might be surprised by all of the places your flowers can be placed.
8. Window Garden
Creating a window garden is incredibly simple and can be pretty easy to take care of. You can do this by placing small containers of plants in the garden, or you can go all out and secure a windowsill garden to the interior or exterior of the home. These are perfect for planting smaller flowers, herbs, catnip, and other items that you might want to start in the home and then move outdoors. If the garden is inside then you can truly enjoy plants all year long as you won't have to worry about the elements.
9. Centerpiece
One of the best ways to highlight your dinner table is a centerpiece. This can be especially great when it comes to showing off your home's beauty during a dinner party. A centerpiece is exceptionally easy to make, and you can work with items you already have in the home. You can use flowers to work with a candle-based centerpiece, or you can make it all about the flowers. There are lots of great options online to help you find exactly what you need to create the perfect option for any occasion. Best of all, you can use fake flowers so you can keep the décor for years, or you can use real flowers to add a burst of freshness to the home.
10. Neatly Placed Out
Flowers are beautiful without all of the excess add-ons. So, instead of adding to the flowers, simply place them out in various places of the home. You can lay them on your mantle, shelves, and anywhere that they might add a touch of beauty. Of course, you will have to change the flowers out often if they do not have a source of water, but they will bring freshness to the home that you won't be able to resist. When the flowers do dry out, you can transform them into potpourri to add even more joy to the home.
Decorating with flowers can be a world of fun and can help you feel excited about the upcoming warmer weather. These ten tips are only the beginning of all of the wonderful things you can create as you embrace spring's bounty and create a garden worth showing off.