For many families, Thanksgiving is going to look a lot different than it did last year. A lot of families are trying to cram in as much of what they missed out on last year into each celebration, which is why many are considering enjoying a Thanksgiving of tailgating and family fun. If you're worried that tailgating might cost you a small fortune, or that it simply won't work into your Thanksgiving traditions, then these ten tips will help bring you some reassurance. So, grab your favorite autumn essentials and foam fingers, because you will easily be able to embrace a year of tailgating on Thanksgiving.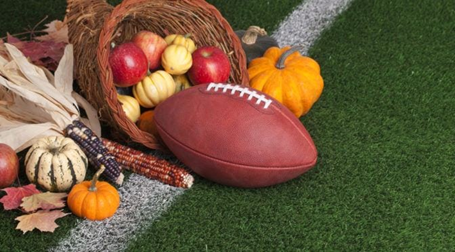 1. Deep Fry the Turkey
Unless you plan on cooking the turkey ahead of time, then you might be wondering how you're going to get your turkey cooked all the way through while tailgating. One of the easiest solutions to this problem is to deep fry your turkey. This actually takes just a couple of hours, depending on the size of your bird, which will allow you to get your favorite holiday meat done in record time. Deep frying your turkey will actually suit the theme of tailgating a bit more than a regular bird might. Of course, deep frying will take a few extra steps like bringing and choosing the best oil for your deep fryer, but it will be worth it when you enjoy the turkey while waiting to cheer on your team.
2. Take to Crock Pots
Cooking items on small burners can be pretty annoying, especially when you have to take turns using the burner. Although bringing along the burner for some dishes is probably a must, you might also consider bringing the crock pots that you have too. This will allow you to cook up things like mashed potatoes, mac and cheese, gravy, and so on. It can also keep dishes warm while you prepare the rest of your food. If you need to make space for multiple items, then use tin foil to separate the dishes you are keeping warm. This will help you to make your feast stretch further without forcing you to use too much propane or deal with cold foods.
3. Grill the Veggies
It wouldn't be Thanksgiving without a lot of amazing veggies. However, cooking them while you're in a parking lot or other non-kitchen environment can prove to be a bit of a challenge. If you're used to taking your grill along for your tailgating events, then this might be the perfect solution to your veggie problem. Simply wrap some of your favorite items in tin foil and you'll be ready to go. There are lots of recipes online that will help you get started. You never know, you might make the change to doing this every Thanksgiving as the flavor of grilled vegetables can be a game-changer.
4. Consider Portability
It isn't always easy to have a meal when you're on the go. Some paper plates and other portable eating supplies will just let you down. So, when you do plan out your meal, your best option is going to be to consider the portable aspects of the food you choose. One of the easiest routes to take is to just make sandwiches with your dishes. You can utilize special rolls to make the sandwiches feel fancier. Of course, you might also consider baking foods into the puffed pastry, for a food pocket that can even be enjoyed while rooting for your favorite team in the stands.
5. Desserts
Desserts can be one of the toughest things to plan around when it comes to making a meal tailgating friendly. One of the easiest routes to take is to transform pies and other items into alternative dishes like turnovers or pasties. This is actually very easy to do as all you need to do is make the filling you typically use and add it to the pastry in a new way. You might also consider making cakes into cupcakes. This can even be done with cheesecake. Of course, items like fudge are also fun to make and can beat eaten on the go without a lot of changes.
6. Warm Drinks
In most areas, the weather is going to be a little crisp for Thanksgiving, so if you're planning on tailgating you might consider having some warm drinks to keep you warm and ready to cheer. There are a lot of options to help you out with this. Coffee is one of the easiest options to choose from. You can brew it in most coffee makers without burning up too much energy. Another great option is hot chocolate as this can be enjoyed by the entire family. Apart from that, cider is simple and easily made in a crockpot. If you don't want to go to great lengths to make these items, then you can always bring along instant mixes and use heated water to make them.
7. Appetizers
With all of the delicious smells going on in the tailgating area, you and your guests might feel too hungry to wait until everything is finished. One of the easiest ways to cut back on hunger is to offer appetizers. You can really keep things simple by offering items that relate to the meal, or you can keep things classic. Chips and dips are generally popular, but you can also create items rolls with dips to bring on the Thanksgiving theme. Appetizers can also be at home before the game, so everyone has something to snack on as all of the food is cooked.
8. Consider a Potluck
You don't have to take on the burden of the entire meal yourself. If you've invited guests to tailgate with you, then one of the best routes to take is to ask others to bring something along. If you can get with everyone before the event, people can plan accordingly so your meal will be better than ever. Of course, if you're tailgating on your own, you might consider joining a network of tailgaters. You can barter food with one another so that the meal stretches further, and everyone has plenty to eat without spending a fortune.
9. Bring Chargers
Since the holiday season will be in full swing, there is a good chance you will want to keep in touch with loved ones while you tailgate. On top of that, you might need forms of entertainment such as your favorite movies or playlists to keep you occupied while you wait for the game to begin. You might also want to keep up with holiday traditions like the Macy's Day parade. So, it is imperative that you keep your charger with you, or else you might be dealing with a dull prep period. It will also save you money if you can't deal without any entertainment and choose to go looking for a charger at a store on Thanksgiving Day.
10. Dress the Part
Dressing up can be one of the best aspects of tailgating, so you shouldn't put it off just because it is a holiday. Instead, consider showing off your favorite jersey, tossing on some face paint, and sporting your favorite foam finger. You might also dress up like your team's mascot. If you want to keep things Thanksgiving-themed, then whip up a fun pilgrim costume and enjoy making your meal dressed like you were taking part in the first-ever Thanksgiving. If you have guests coming to join you then you might ask them to dress up too, so everyone can embrace the fun.
Tailgating on Thanksgiving Day doesn't have to mean you've decided to skip out on the holiday. These ten tips will allow you to celebrate Thanksgiving in new and fun ways that will help you feel like you're getting more out of your year. So, embrace the holiday and the food, because you might want to make this a new tradition.