Black Friday will be here before you know it, which is a great time to get in all of those holiday gifts that are on your list. Black Friday is looking a little different this year though, which has many people scrambling to figure out where they should shop for the items that they need. Many places already have Black Friday deals going, so if you haven't started your deal hunts then there is no better time than today. These ten stores are offering some of the hottest deals, so you can make sure you're ready for all of the best deals.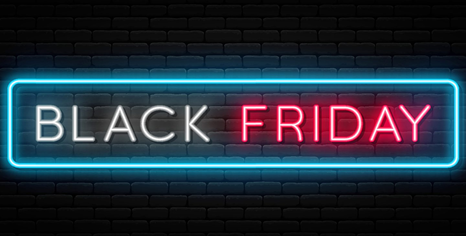 1. Amazon
Amazon has been running deals throughout November, so you may have missed out on some of the low prices. However, there are still lots of items to choose from. Plus, deals for Black Friday and Cyber Monday haven't yet been announced, so there could be some pretty good gems popping up for those that are willing to wait. Of course, when it comes to Amazon, your best option is to stay on top of flash deals. This year, there have been a lot of electronics, bedding, mattresses, clothes, and beauty supplies on offer. Although their toy deals haven't been fantastic, you will find that there are a lot of Amazon products to choose from, which make great gifts but can also help your household run efficiently.
2. Walmart
Walmart has been hosting flash Black Friday deals every Friday in November. That doesn't mean the sales are over though. You will find that Black Friday deals are still happening, which will allow you to show some of the lowest prices of the season. On top of that, you will find that Walmart will continuously be hosting rollbacks. Although deals are offered in-store, you do have a chance to shop the deals early online, so you won't have to deal with the crowds. As Black Friday deals near an end, you will still find that Walmart has plenty in store for the holiday season during the month of December.
3. Target
Another store that is offering deals throughout the month of November is Target. You will find everything from electronics deals to sales on clothing. Although these deals won't vary too much from other stores, Target does have some unique offers. For starters, they are offering a 25% discount on one toy purchase, which can save you a lot of money if you shop wisely. You will also find a buy 2, get 1 free deal on books, video games, and games. This sale actually works for items like Playdoh too, which can save you a lot of money if you're shopping for kids. Apart from that, Target is offering the lowest price of the season deal. So, if you purchase an item today and it's on sale the week prior to Christmas, then you can get a refund for the excess amount that you paid. This deal is available until Christmas.
4. Wayfair
If you're hoping to get some deals on items for your home, then Wayfair is going to be the best place to visit. Wayfair already has lots of deals going, so you may want to look into these sales if you don't want to miss out. Wayfair will mostly likely roll out more deals on the day of Black Friday, as well as Cyber Monday. Currently, you'll find some of the biggest discounts on items that you'll see all year. Rugs and wall art are up to 80% off, while bedding is 70% off. Of course, if you look hard you should also be able to find deals on outdoor items since it is currently out of season.
5. Best Buy
If you're hoping to get electronics, then you might want to check out all of the things that Best Buy has to offer. This season, you will find lots of laptop deals, which will make going back to school in the spring even more enjoyable. Apple will also have a ton of good deals too, which is perfect if you're looking for some of the season's hottest items. Headphones will also be in abundance, which will definitely make it much easier for you to get everyone something on your list. Apart from that, Best Buy is following Target's lead by offering the lowest price of the season deal, which will allow you to ask for a refund if your item goes on sale before Christmas. Best Buy is also doing price matching, which is just one more way to save.
6. Costco
If you have a Costco membership, then you're in store for some pretty amazing deals. Costco is known for its outstanding deals in the television department, so if you're hoping to get the deal you desire without having to be lightning-fast then this might be the route to take. You will find lots of other great electronics on Costco's website and in-store too. One of their big items is going to me massagers, which will definitely bring you comfort for the rest of the year. Blankets are also going to be big sellers this Black Friday season. Of course, Costco will have an abundance of jewelry available too.
7. Sam's Club
Sam's Club is another store you won't want to miss out on when it comes to amazing deals. You'll find that the store does offer some incredible deals on televisions, just like many other stores do. Sam's is also known for its great discounts on Christmas décor during the Black Friday season. Of course, they will offer numerous other deals, many of which will be accompanied by gift cards for added incentive to purchase. If you don't have a Sam's Club Membership, then have no fret. When you purchase a membership now, for $45, you will also receive a $45 gift card, which makes the price of membership practically free.
8. Lowes
Over the last few years, Lowes has really pushed hard to compete with the big names for Black Friday greatness. This season, you'll find some pretty awesome items to keep your shopping list satisfied. While you can find some items that you might want from other stores at Lowes, you should primarily concentrate on items like patio furniture and tools. You should also be able to find some good prices on home security and holiday décor. These items will be available online too, so you don't have to step foot in the store.
9. Home Depot
Home Depot is also offering a lot of great deals to help you get the most out of Black Friday. During the sales, you will largely find things like lawn supplies, which will help you stock up for the next season. This is the perfect time to actually upgrade lawnmowers to ride-on mowers and so on. Of course, you will find deals elsewhere. One of the biggest deals to look into is solar panels. This can help you to charge devices during a power outage, or even just save on your energy bills. Home Depot will be offering electronics and furniture deals too, to ensure you can easily shop for everything you need in one spot.
10. JC Penney
Many people think JC Penney is a place for just clothes. You will find that they now offer so much more. Of course, during Black Friday, you will find that a large portion of their sales will be on items like clothing and shoes. Another great thing to consider shopping for would be jewelry, as their deals will be low without sacrificing quality. Items like backpacks, purses, and other accessories will be on offer. You'll find many home goods like towels and small appliances on sale too.
Shopping around for Black Friday deals might be a bit tough this year because there are so many great options to choose from. These ten stores will definitely help you find some of the top prices around. You will find that many are already offering deals though, so make sure to hurry to catch some of the best prices around.