Did you know that December 1st is a holiday designated for putting up your holiday lights? Even if you don't plan on getting up your lights just yet, you might want to consider a few things before you do plan out your light extravaganza. Holiday lights can be a huge drain on your budget and your energy usage for the month. These ten tips will help you to cut back on spending during the month of December as your lights make the neighborhood glow with all of your festive spirits.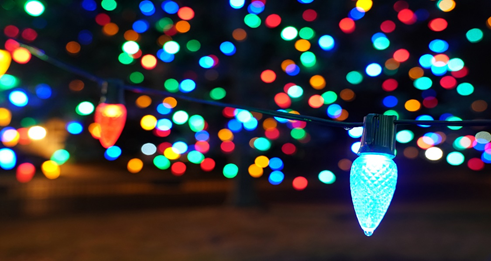 1. Go LED
When you're picking out lights then you should always choose to purchase LED lights. It doesn't matter if you're using stringed lights or individual lights for decorations, LED is going to save you a whole lot of money. Not only do LED lights save you on energy costs, but they do tend to be cheaper in stores too. LED lights don't get hot either, which can help protect your home from accidental fires during the holiday season. Of course, most stores are going to primarily sell LED lights so you might not have an option otherwise. However, if you're still hanging up old lights then now might be the time to make the switch so you can keep your home safer and burn less energy during the holiday season.
2. Consider Solar Power
Believe it or not, but there are a few solar options that don't require you to invest thousands of dollars on panels for your home. There are smaller options that are great for powering small amounts of energy for shorter periods of time. These panels will work wonders for things like outdoor décor without forcing you to spend a fortune on your power bill. The best thing about using solar lights is you won't have to worry about a timer or anything else when you set up your lights. Simply let them run their course and then watch as the solar energy replenishes the next day. You might shop around for deals if you want to go this route. Of course, you don't have to put the panels up when you don't have lights outside. Instead, use it for emergencies or other outdoor activities.
3. Don't Rely on Lights Alone
Lights can be a great way to show off your home's personality. However, if you're hoping to save on money and energy then you might choose to pick out some other elements as well. To begin with, you can use wooden cutouts or other crafts to create a fun look. These can be painted to suit the needs of your home's décor. Then you have a little something extra to draw in the eye, especially during the day. Displays that use solar power or those that don't require power can also help to bring more fun to your yard without forcing you to put lights on everything.
4. Look for Competitions
If you're looking to help offset the costs for your lighting extravaganza, then you might want to consider looking to see if you can sign up for any competitions. A lot of communities will offer small prizes for those that participate, so make sure to ask around the see what is going on during the holiday season. Of course, there are larger competitions you can join in on too. Many are nation-based so you will have to look around to see how to enter the competition. If you do end up taking home a prize, it can definitely help offset the price of lighting up your home while also helping to boost your expenditures for the next year's light décor.
5. Work with Neighbors
When it comes to holiday lighting, you don't have to go it alone. If you don't want to spend a small fortune on lighting up your house, then see if your neighbors are willing to collaborate with you. This will allow you to work towards a bigger theme together, which can help make the neighborhood look better than ever. If possible, see how many people are willing to work with you for a common theme and from there build onto your project. This will allow you to cut back on the lights you feel you need to use as everyone else will be working with you to create a home that will certainly brighten the holiday season.
6. Timer
One of the best investments you can make when it comes to your lights is a timer. A good timer can save you a small fortune on your energy bill, which will definitely help to make the holiday season a lot better. You can set your timer to have your lights on for a few hours each evening. This will allow everyone to see the lights when they are out and about but will turn them off when everyone tends to stay indoors. A timer will shut the lights off for you and turn them on, so you don't even have to worry about it after the initial setup. A timer can also give the impression that you are home if you choose to go away for the holiday season.
7. Know Neighborhood Rules
Before you purchase a lot of lights and décor, it is imperative that you take a moment to learn about your neighborhood's rules. Whether you have an HOA in your area, the city has specific rules, or you just have neighbors that are going to give you a hard time, knowing the rules can save you a lot of money. Generally, if you've lived in a neighborhood for a year or two, you will have a pretty good idea of what your neighbors are going to do and what they will deal with. From there, you might start by asking your HOA about their updated rules. Usually, these will include city policies, so you won't have to inquire there. However, if you don't have an HOA, you might check with the city for regulations. This will ensure you won't waste money on décor, nor will you have to waste your time pulling down items if they don't fit into the rules.
8. Have a Game Plan
One of the best ways to prep for the holiday light season is to make a game plan before you just start hanging things up. Take a little time to draw out what you would like to do before you even begin putting things together. Once you have everything on paper, let it sink in for a couple of days. This will allow you to make last-minute changes without tearing things down. This can help save you a lot of time, but it will also allow you to prevent damage to your items, so you won't have to worry about replacing anything.
9. Safety First
Without a doubt, when you work on your lights, you should always make sure to keep safety in mind. Placing the lights up in the wet weather might not be a great idea, especially if you are working on a ladder or on the roof. You should always make sure your ladder is secure and you have someone outside without you as you begin working. Make sure to use items that work well with your wires too, so you don't have to worry about sparks and other damage to the lights. You should also choose outlets that are water resistant and store them in a place that will always remain dry.
10. Rotate Lights
If you'd like to put a lot of lights up, but don't want to deal with the high cost of energy, then one of the best things to do is rotate the lights. You can still put all of the lights up, but instead of turning them on every single night, you might just turn on a few of them. This will allow you to easily show off your lights, without having to worry about the high price of running them all. Plus, this will actually keep your yard fresh each night, so your neighbors will have to step out to see what is happening to catch all of your decors.
Putting up holiday lights doesn't have to mean you need to spend a fortune. Not only do you not have to spend a fortune on the lights, but you also won't have to worry about spending a fortune on energy costs. These ten tips should help you to find the balance you need to get the job done with less stress.