The holiday season is rapidly approaching, so you might be wondering how you're going to fit Universal Children's Day into your budget. The truth is this holiday doesn't have to cost you a lot of money. In fact, you can spend very little on it as it is largely about celebrating your child and the role they will play in the future of our world. These ten tips will help you map out the day, so you can all have fun and truly enjoy everything about your child and the rest of the children in the world.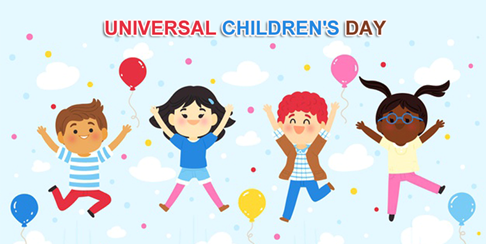 1. Talk About What Makes Your Child Special
One of the best things you can to do celebrate with your child is taking the time to tell them what makes them special. Often enough, we get lost in the motions of the day, so taking some time out to tell your child all of the things that you love about them can help boost confidence while allowing them to know how special they are in your eyes. While going over the remarkable things about your child, you might take some time to come up with activities based on your child's personality. These don't have to be elaborate or expensive. For instance, if your child is creative, then come up with an art project to work on together. It can even be as simple as chalk art outside. If your child has a giving heart, then take them to donate food or clothing. You will be surprised by how this simple task can help your child thrive as they acknowledge their strengths.
2. Cook Their Favorite Foods
Sometimes, giving your child their favorite meal is one of the best ways to show you care on a holiday such as this. Before the holiday arrives, plan out a meal that includes your child or children's favorite dishes. It doesn't have to be a traditional meal either, so if you have mashed potatoes with spaghetti, don't worry about it too much. You can also work with your child's favorite snacks. Allowing them to have some fun with food will brighten their day while ensuring you have celebrated in a fun way.
3. Craft Time
Spending time with your child on Universal Children's Day is a wonderful way to celebrate. One easy and cheap way to make the time pass is to craft together. You can make crafts that appeal to your child's needs or work on items that are actually designed to celebrate the holiday. You will find craft ideas for all of these things online, so you won't have to spend too much time researching or coming up with ideas if you're short on time. Apart from that, you will find that you can easily use items like recycled goods to help you find exactly what you need to create fun projects that will keep everyone entertained for hours on end.
4. Play Together
Playtime is another great way to help you embrace the holiday and your child. Playing together is not only a great way to bond, but it will also help your child to learn and boost their confidence. Playing together will even help you understand your child better, so you can actually shape play to their needs. Of course, you can take turns picking the game to ensure things are lively and that your child will learn how to take turns and respect others' boundaries.
5. Let Them Dress Up
Another great way to celebrate your child is to let them be themselves. For this day, let them dress themselves, within reason. Some children might dress like their favorite characters while others will keep it casual or mismatched. Some children may even want to dress to impress. As long as the clothing is weather appropriate and decent, then let them be. This is a great way to let them show off their personality and personal style, so they can grow and feel confident in themselves.
6. Go to Story Time
You will find that sharing stories is a great way for children to feel celebrated. Many stories will even help children learn more about other children around the world. Luckily, we live in a world where there are many options for children to enjoy storytime. Most libraries will offer storytime on a weekly, or even a daily, basis. So, you might check your local library's schedule to see if there is anything you can attend. Bookstores are also great places to join in on storytime. Many venues might be more likely to host a storytime on Universal Children's Day too. Of course, if you prefer to stay home or don't have a storytime option, then there will be many online options to choose from.
7. Take Part in Events
Universal Children's Day tends to be celebrated in most major cities around the world. So, you might check your community message boards to see if there is anything in the works. Of course, if your city isn't celebrating then you might still find options to choose from. For instance, children's venues might offer discounted rates. There might be musical or story-based events in parks for children to attend. You might even be able to get discounts on food at your favorite local restaurants. No matter what event you attend, it will help you entertain your child for less.
8. Watch Celebrations
Universal Children's Day is celebrated around the globe, which means there are going to be a lot of celebrations that you can stream online. Although this holiday might not be a huge deal in the United States, many Asian countries actually take the day off to celebrate the holiday. This will create a wonderful opportunity for children to learn more about other countries and how children around the world celebrate this special day.
9. Special Activity
If you're looking for educational opportunities to help make the holiday phenomenal, then planning a special activity is a great option for you. There are so many things you can do to get the ball rolling on this activity. To begin with, you might consider taking your child to a museum, zoo, aquarium, planetarium, or anywhere else that their childhood curiosity could be sparked. Some venues will even host a free day, so be on the lookout. Of course, simply taking your child to the park might be a special activity that will allow them to easily have fun and learn on their special day.
10. Small Gifts
The gift-giving season is practically here. So, it is understandable if you don't want to go out and purchase more gifts for your children. However, this doesn't mean that there aren't some small presents that you might want to provide for the holiday. For instance, an educational gift, like a toy, will help your child learn and grow during this special day. A game that you can play as a family might also work wonders and improve the bonding experience. Of course, handmade gifts are always a great choice and will teach your child the value of your work and how much you care about them.
Universal Children's Day is all about the kids, which is why you won't want to miss out on celebrating this day. These tips should help keep your budget low while still allowing you to feel confident about your child's ability to have a blast on this incredible day.