Let's face it, getting healthy isn't always fun. With this summer possibly being less restricted than the last, a lot of people are working hard to take off the pandemic weight or simply trying to improve their health. Salads are one of the best ways to do this, but they can get pretty boring if you're not careful due to the repetitive nature of the salad. These ten ideas will help you to make a salad that you'll actually want to eat. Best of all, the ideas are easy on your budget, will help add diversity to your meal plan, and can actually make your salad healthier.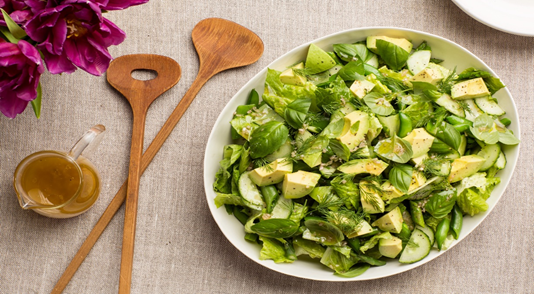 1. Give it Color
When it comes to your diet, one of the best things you can do is add color. So, when you're planning out your salad, try to add in some color whenever and wherever you can. You can easily begin with the vegetables you choose. Adding a touch of purple cabbage, some orange carrots, bell peppers, and tomatoes will create a pretty classic salad that accounts for most of the colors available. However, there are many other ways to get the colors you need. Purple carrots are another option, habaneros can bring a kick to the meal, and radishes will help bring in a beautiful pink and white look that adds a touch of spice. Feel free to experiment here and try out combinations to improve your health and the flavor of your salads.
2. Add Fruit
It might seem a little out of place, but one of the best things you can do with your salad is to add a bit of fruit. This might not be something you've tried before as it isn't as common practice as adding meats. However, a touch of fruit can complement your salad while giving you extra vitamins that will definitely help to boost your health. Apart from that, you'll find that adding fruit is something that can make your salad feel less like a diet and more like something you can enjoy. So don't hesitate about enjoying it. If you're not sure where to start, check out some recipes online. There's more than you can imagine.
3. DIY Dressing
Another way to add some fun to your salad while keeping it healthier is to make your own dressing. You would be surprised by how quick and easy it is to make your own dressing. Best of all, anything you make at home won't have all of the chemicals that store-bought items have. If you have a favorite type of dressing, then you can check out copycat recipes so you get the same great flavor at home. However, there are lots of options you can try out too if you're not set on a certain flavor. You may even find dressings that blow away anything you've had before. There are numerous ideas online, so don't be afraid to seek out new things. You can even ask for recipes in health groups you are a part of it, as you never know when someone is going to offer a recipe of their own that will truly inspire your taste buds.
4. Add Spice
If you're looking for a way to bring some fun to your salad then one idea is to add a bit of spice. This is pretty easy to do, and you can easily customize the spice level to suit your taste buds. One of the easiest ways to do this is to cut some radishes to add to the salad. You might be surprised by how much of a kick these can add, depending on the radish. A classic way to add in the spice is to chop up and add some jalapenos. This not only adds a nice crunch, but jalapenos bring a great flavor and can range from bell pepper spice level to a nice burn that will leave you satisfied. If jalapeno level spice isn't enough for you then go hotter with a habanero, ghost chili, or anything else that strikes your fancy.
5. Experiment with Texture
Texture can make or break a salad, especially if you're feeling bored with them. There are so many ways to bring texture to a dish though. You might start by adding your favorite vegetables that crunch to add a bit of satisfaction to the dish. If you like softer textures then consider beans or a nice feta cheese might be the perfect option for you. Even experimenting with the types of greens you use can change the texture of your salads for the better. So, embrace the texture and find the combinations that work best for your needs and you'll definitely notice your salads going up a notch or two.
6. Skip Going Raw Occasionally
Although the traditional salad tends to be made of raw vegetables, particularly lettuce, you don't always have to stick with the same old thing. If you're feeling bored with your salad options, then consider taking it up a notch by cooking some of the items that go into your dish. You might add in some grilled meats or tofu to make the salad up a notch. Roasted veggies are also a great option that can change the flavor dynamic of your salad. Even some warm beans can take things up a level or two when you're feeling tired of the same old cold salad every night.
7. Utilize Proteins
When you're on a diet, getting an appropriate amount of protein can be a must when it comes to your health. So, don't be afraid to add some protein to your salads to help improve your health and to help keep you full for much longer. When you choose a protein, you're going to want to go with something healthy, or else it might defeat the purpose of having a salad to begin with. Some options to consider are lean meats which can be grilled or shredded to add to your meal. Tofu is another fun option, which can be marinated to add a burst of flavor that will suit your needs. Even beans and nuts can add a layer of protein that will help improve your body's health while giving you something tasty to look forward to.
8. Add Themes
Salads don't have to bore you. Rather, when it comes to making a salad, you might consider adding a theme to the dish. For instance, a Mediterranean theme might have a sweet sauce, roasted bell peppers, and feta cheese. You can create a Mexican salad using seasoned turkey, spicy vegetables, beans, a fresh pico de gallo, and more. There are so many themes to choose from that you might not grow tired of salads any time soon because there will always be something new and exciting to try out.
9. Don't Be Afraid of Grains
A lot of people struggle to stay full after eating a salad. Although protein is a great step in the right direction, you will find that there are other options if protein alone isn't going to do the trick. There are a number of grains that are incredibly good for your body and will help to stabilize your energy while keeping you full for hours. Some of these grains include barley, quinoa, and millet. Corn is also considered a grain and goes well with many different combinations of salads. So, next time you're reluctant to bring grain into the picture, find a grain that is healthy and efficient in aiding your digestion. You definitely won't regret it.
10. Mix Things Up
One of the major issues that people have when it comes to salads is that they get boring. One key to avoiding this is to make a different salad every day. Try to use different types of lettuce, use unique add-ins, and so on. Find the mixtures you like and then play around with them to find a few combinations that you can rotate into your meal plan. This will help keep things exciting while still allowing you to shop in bulk and prepare your meals with ease.
Salads are a big part of many people's diets. These ten ideas will help keep the salads fresh and enjoyable as you keep to your diet and find a healthier lifestyle. After exploring these ten ideas, you might even feel the need to add salad to your life even when you're not on a diet.