Graduation is almost upon us which means if you haven't already started to plan out your child's graduation ceremony then you may already be behind. Luckily, there are a ton of things you can do to keep graduation covid safe without spending a ton of money. These ten tips will help you to plan an experience that will make your graduate feel loved while showing your pride in their hard work and dedication to their studies. Although it still might not be a traditional celebration, you will still get as much as you can out of the amazing accomplishment.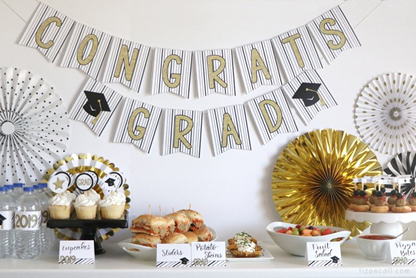 1. Organize a Parade
One of the easiest ways to show some love is to organize a parade. This can help make the news of graduation seem even bigger, especially if there is no ceremony or party afterward. The parade can be organized online and will allow friends and family to drive by the home with signs that show support to the graduate. A parade costs next to nothing too but can create a memory that will last a lifetime. If you want to make the parade more of a community option, then you can create a list of homes to drive by so an entire group of students can feel praised for their big accomplishment.
2. Make a Lawn Sign
A lawn sign is a great way to show pride while still keeping things simple. With a lawn sign, you can acknowledge the big accomplishment to the neighborhood, which will definitely make your graduate feel even more pride. You can make a lawn sign at home if you want to get creative. There are many ways to go about this too, which can definitely help you use what you already have in stock. You can also order a lawn sign from a wide assortment of vendors, so you can simply design the item and kick it back until it arrives in the mail.
3. Create a Video
One way to really bring your student's community into the celebration is to create a video that showcases all of the love and pride surrounding them. This might take a little while to make, so you might get started on it as soon as you can. In order to make the video, ask loved ones to record a special message for your child. Once you have all of the videos in, you can trim them and put them together to create a remarkable keepsake. You can even add inspirational music and special frames to make the video look professional. There are numerous different types of video editing software available, so you can easily find what works best for you and your budget, even if your budget is free.
4. Enjoy a Photoshoot
Your child's graduation photos are something that will stick with them for years to come. So, you might not want to skip out on this process. You can easily recreate a photoshoot at home if you're feeling a little uneasy about covid. However, many photographers are taking numerous safety precautions to help to keep them safe as they work. You might be able to find a great deal doing this, as many people are simply hoping for business. Many people are getting vaccinated though, so if you want to do a group photoshoot, you might be able to gather people up to enjoy the occasion and create lasting memories.
5. Order In
Generally, there is a celebratory meal after graduation, which serves as a way to gather loved ones while showing pride for the accomplishment. If you're in an area that makes it still risky to go to a restaurant, or areas in which parties are restricted, then you might want to consider just dining in. You can order in a fancy meal or a favorite dish. If you still want people to gather, then invite those that aren't at risk and those that won't put you at risk.
6. Recreate the Ceremony
If the school your child attends is opting out of a ceremony or going with a virtual or limited guest ceremony, then there is still an option to help everyone enjoy the celebration. You can recreate the ceremony at home, which might leave you feeling more confident about the experience as family and friends will also be able to enjoy it. If people can't show up for the recreation, then you can host it online to ensure more people can see the moment without all of the static that might occur when filing around a lot of people.
7. Order a Cake
Cakes are a fantastic way to celebrate almost any occasion. They are also very common when it comes to graduations. You can order a cake from almost any bakery, as many even have special options for graduates. Having a cake seems to make the entire graduation feel official, which is why this step might be one of your student's favorites. If you really want to go all out, you might consider getting your student's name and picture on the cake. This can add a sense of pride, but also a sense of humor to the celebration. If you're not feeding a lot of people, the cake can be frozen for later, so it doesn't go to waste.
8. Create a Keepsake
When it comes to graduating, finding a great keepsake for the graduate might be one of the best ways to show you care. You might consider making a photo book to show their growth from infancy to graduation. Another option is to pull pictures from their high school or college experience and them only to the book. Having people contribute can also help make the gift even more amazing. Apart from that, you might consider making a shadow box to show off the student's cap and other favored items from the school.
9. Plan a Trip
Without a doubt, a graduation trip was a common occurrence just a couple of years ago. Now, the idea of traveling anywhere just brings a whole lot of stress and extra precautions. You can actually pull off a graduation trip now though, as long as you are vaccinated. With the immunity, you should be able to travel to most places and you might even be able to get a hefty discount. However. If you're not vaccinated, not all is lost. You can plan a celebratory trip to somewhere nearby as long as you're careful and willing to take precautions. You might consider looking at nearby colleges or just going somewhere that allows you to relax and enjoy the summer.
10. Support Future Plans
One of the most important things you can do for your child is to support their future plans. Even if your child isn't sure where they see themselves in five years, you can still support the small goals that they currently have. This is easily done by sitting and talking with them about their goals. Once you find out what they're thinking, you might help them to brainstorm ways to make the goals a reality. This can actually be a great bonding experience that teaches your child that even though they are now technically grown you are still there to help them make their way in the world. There are many tips about talking with your students about their goals if you're not sure where to begin.
Graduation is one of the biggest moments in many people's lives, so you might want to try to make the special occasion extraordinary even though the world isn't where it used to be. These ten tips are a great start to help you find what you need to show support for the graduate in your life.