If you're looking to amp up your wardrobe but you're on a tight budget, then you're not out of luck. There are a lot of clothing stores that cater to keeping up with fashion trends while keeping the price of new clothing down. Some of the stores will allow you to shop in-store so you can get the full fashion experience, while other stores will allow you to shop online. No matter what your preference is, you definitely won't want to skip out on these six brands as you try to keep up with trends while ensuring your style shines.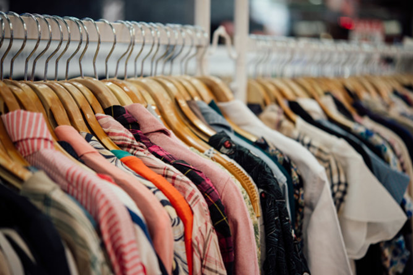 1. Walmart
Walmart is known for having the lowest prices around, so you shouldn't be shocked to find out that their clothing is also going to save you a pretty penny. Walmart has its own fashion line, George, which keeps up to date with trends while offering essentials that you need for everyday life. Apart from fashionable clothing, Walmart clothes are known for being low in price. You can find everything from school uniforms to button-downs for work that will keep you on budget and looking good. Seasonal clothes won't cost you a fortune either, which is also great for keeping up with your body's needs as the seasons change. Children's clothing, especially, will cost mere dollars, which might be essential if you're on a tight budget and your child is going through sizes every three to six months. There are even a few hacks to help you maximize your savings when you shop with the store. You should always aim to shop in-store with Walmart though, as many of their deals can't be found on the website.
2. Target
Target is dedicated to making you feel like a trendsetter without having to pay the price tag for such looks. The store actually rotates designers, so you're always getting a fresh look and vibe with the season. The clothes on offer are slightly pricier than Walmart's but you'll still find them more than affordable. Target caters to all sizes as well, which makes it easy to shop. Apart from keeping things fashionable, you'll find that their children's line actually caters to children with sensory processing issues, so most of the clothes will be comfortable for most children. They also keep up to date with the most popular characters.
3. Old Navy
Another great option is Old Navy. Although you're not going to find items as cheap as you would at Target or Walmart, you're still going to find some stylish deals. Even if their regularly priced items aren't on sale, you can still save big time at Old Navy. For instance, if you browse through the clearance section, you will find some major deals that will definitely make you want to shop until you drop. If you don't mind shopping out of season, then you will also be able to save quite a bit of money as seasonal clothes tend to hit the sales rack even before the season is over. The store is notorious for offering big sales on their denim line, as well. However, a lot of people love to shop Old Navy because you can actually stack up to three coupons in some instances, which can help you save some major money.
4. Shein
Shein is a newer sensation that seems to be a big hit with people that love to look stylish but don't want to pay the high prices. You're not going to find a store for this company, so everything is done online. Unfortunately, when it comes to this store, you may find that sizes vary and shipping takes a little longer than you might like. However, when you shop with the store, you'll get great clothes at a low price. If you're not happy with your order, returns are free, which makes it easy to shop guilt-free. The store also has good reviews, so you don't have to worry about getting ripped off.
5. Ross
Ross is another great option if you prefer to shop in-store. Ross gets in top brand items that are out of season or have slight flaws. Most of the time, you can't even notice the flaws, which makes the item even greater of a purchase. Of course, when shopping at Ross, you should always observe clothing to make sure zippers work and the item isn't discolored. Other than that, you'll probably find that most items are just a batch of clothing that didn't sell well or those with minor flaws like tags clipped awkwardly.
6. Clothing Under 10
The name pretty much says it all when it comes to this store. Again, this is going to be a store that you will order from online, so shopping here might bring a little trial and error until you figure out which size works best for you. The website does have a lot to offer though when it comes to variety. This store does cater to a younger generation, which makes it a great option for students that might be on a tight budget, to begin with, especially if they're in the market for clubbing or casual looks.
7. 6PM
This is another brand that caters to a younger crowd but still offers a lot of amazing deals. You will find an exceptional amount of clothes on this website which will suit a lot of different personalities. The best thing about 6PM is they do work with different sizes too, so you'll be able to find something special without feeling frustrated by your options. This website is great for showing off the latest fashions and always seems to have fresh new looks to choose from.
8. Kohl's
Another great option when it comes to shopping for clothing is Kohls. This store is great for in-store and online use, but you won't always find the best prices when you shop there. Rather, you should always wait for Kohl's to offer a sale in order to get a good price. These prices tend to be on the competitive side, so you should be able to get quite a bit on your budget. One of the best things about Kohl's is they offer you Kohl's cash for every purchase. This can be used at a later date on almost any item in the store or on the website, which will help you save a lot of money in the long run.
9. JC Penney
JC Penney has been around for generations and is known for helping families find amazing looks that suit their budget. Decades ago, you could walk in the store or order from a catalog. Today, you can still walk into some stores, although many have been closed, the catalog is now online and in easy to order fashion. JC Penny may have some high prices to offer, but if you can hold out for a sale then you will find some of the best savings around. The brand is dedicated to bringing you quality as well as looks that you will love to show off. One of the best times to shop with this brand is during Back to School Days, but you will also find Black Friday deals that people have stood in line for hours for.
10. TJ Maxx
Similar to Ross, TJ Maxx is a great option for clothes that might not have made it off the shelves. You will find a lot of brands that will suit your needs for a much lower price. The great thing about TJ Maxx is you can actually find the deals online and in person. The store is always getting new things in too, which will help you catch the biggest trends. Some shoppers even offer pointers to help you max out your savings. TJ Maxx also has sister stores like Home Goods and Sierra, which will help you find some of the best savings around too. You can even navigate to their page from the TJ Maxx website.
Finding amazing deals on clothes isn't as hard as you might think. In this day and age, so many stores cater to consumers' needs by finding the best deals on clothing to offer to them. These ten stores will offer you plenty of great options so you can enjoy your style without having to say goodbye to your entire splurge fund.