If you're looking for a fun way to blow off some steam while exercising a little creativity, then karaoke might be the best way to go. Unfortunately, with the pandemic currently happening, going to a karaoke bar may not be the best of ideas. Spending time in small places while sharing a microphone with others may be a recipe for disaster. So, it might be time to set up your own karaoke room, may it be temporary or a permanent addition to your home. These ten tips will help you to create a budget-friendly karaoke space that will allow you to truly enjoy yourself.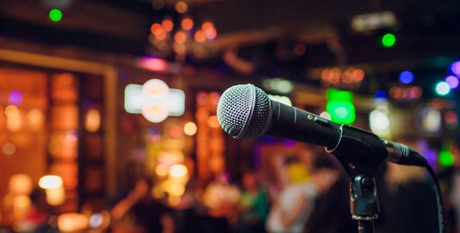 1. Grab an App
When it comes to having fun with karaoke, one of the cheapest things you can do is to download an app. There are so many on the market right now that you might have a hard time choosing. Luckily, there are websites designed to help you find the perfect app for your needs. You'll find a huge assortment of rankings and more, which will make it so much easier for you to choose the right option based on your taste of music, phone type, and so on. There are numerous free apps to choose from too, which will allow you to enjoy your favorite activity without spending a small fortune.
2. Consider a Machine
If you're really into karaoke, then you may want to just invest in a machine. This will allow you to truly enjoy the quality of music you desire while also providing you with a microphone to help amplify your sounds. Karaoke machines also allow you to add in the music you actually want to listen to, so you can get more out of your machine. Karaoke machines range in price too, which will allow you to easily choose something that will work for your budget. You can check out reviews online so you can find what works best for you, which will definitely ensure you get your money's worth. A karaoke machine can last for quite some time so make sure you choose something that you feel comfortable working with and a brand that you trust to offer updates in the upcoming years.
3. Decorate
One of the best things you can do is make space your own. Try to add some of the decorative items that you have around the home to add some flavor to your style. One of the most traditional things you can add to the room is a disco ball. This will help you to set the mood while allowing you to feel like a superstar as you belt out your favorite song. If you're not a disco ball person then you might want to consider working with other forms of light, which can help set the stage for your hobby. Lighting isn't the only thing to consider. You may want to enjoy setting up the furniture to make it feel like a karaoke bar or add images or posters to improve the feel.
4. Connect to TV
When it comes to maximizing your love of karaoke, hooking your machine up to your TV can do amazing things for your karaoke experience. The TV makes a great teleprompter so you can keep up with the lyrics and enjoy the experience of singing every song on the right beat. Some TVs and machines will even allow you to set up images or videos in the background to add to the joy of the experience. Apart from that, you can always broadcast items from your phone to your TV, so even if you don't want to put a lot of money into the experience, some apps will allow you to do so.
5. Soundproof
If you're going to have a karaoke room, then it might be wise to soundproof the room before you get too into your mini-concerts. Soundproofing is actually incredibly easy to do, especially since you can use items you probably have around the house. One of the easiest ways to do this is to take egg cartons and place them on the wall. You can use anything you please to do this. If you want to cover up the look, you can easily do so with posterboard or other supplies that are cheap and easy to find. Apart from that, there are tiles you can purchase that simply stick to the wall and are decorative You can also use blankets and other similar items to help cut back on the sound that leaks through the house.
6. Consider a Mini Fridge
When it comes to singing and dancing for hours straight, nothing helps to soothe your throat quite like a cold drink. One of the easiest ways to set up the home for success is to simply get a mini-fridge. You'll have access to all of the cold drinks you can find while ensuring you don't have to stop the fun. You don't have to go all out in order to get the experience though. There is a wide assortment of options to choose from though. For starters, you can get a single-use fridge, which won't cost more than $20 in most cases. There are also small fridge options that won't set you back more than $100. This will allow you to always have cold drinks available too, which can free up some space in your actual refrigerator.
7. Seating
A place to sit can definitely be important when it comes to your karaoke space. The seating can create a great atmosphere for your guests and yourself. One of the easiest ways is to make the seating look and feel as if you are in a concert if you want the whole rock and roll vibe. If not, then add seating in comfortably so everyone can sit and enjoy the fun together. It doesn't really matter what kind of chairs you choose, because you won't spend a whole lot of time in them. However, if you're looking to create a specific vibe then you may want to consider shopping second-hand stores and so on to help you save some money on seating.
8. Add Costumes
If your karaoke setting isn't feeling as fun as it should, then you might be missing an important element. Costumes are one of the best things you can bring to the table when it comes to karaoke. All you need to do for this is come up with some fun ideas and create the costumes. You can make masks, sew gowns, create capes, and so on. If you have a lot of fashion pieces in your closet, then you may also consider adding some items to the costume bins. Hats and scarves are always a great choice and can help bring a character to life. You may also consider adding in items you find at a thrift store or old Halloween costumes.
9. Consider a Stage
When it comes to putting on a brilliant performance, a stage is one of the best ways to get you in the right mindset. You might be surprised to find just how easy a stage can be to make. This doesn't mean you have to go all out and make a huge stage to show off your moves. This simply won't work for most homes. However, a small platform might have you prepared to enjoy your songs all the more. You can easily make it out of scrap wood and customize it to suit your needs. There are lots of tutorials online that can help you find the best option for your needs while making it easier than ever to build it on your own.
10. Black Out Curtain
Creating an atmosphere can be hard if you find yourself dealing with sunlight beaming in from the window while you try to belt out lyrics. Since many people enjoy karaoke at night, you may still crave this when it comes to your karaoke time at home. One of the easiest ways to get this effect any time of the day is to grab some black-out curtains. These are easy to spot in most retail stores and will allow you to enjoy a darker environment without actually blacking out your windows. These curtains can actually help block out the heat and the cold too, which will add even more benefits to your space.
Designing a karaoke space can be a great thing for your home. These spaces can allow you to blow off some steam while ensuring you feel comfortable and excited to have some fun. Luckily, none of these tips will set you back a lot of money either. Even if they don't work out for your space, they should allow you to easily get some ideas for your space.