The Easter season is upon us again, which means planning around the pandemic to create some form of normalcy. If you're not sure how you can enjoy the holiday this year, then there is absolutely no reason to worry as there are lots of great ways to have some fun without exposing yourself to a lot of people. These ten ideas are just the beginning, so you can easily get the holiday comfort that you crave while helping the kids have fun.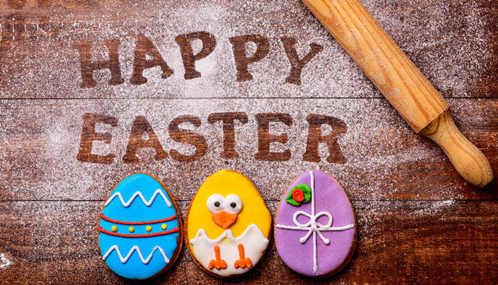 1. Drop off Meals
Usually, Easter mornings are filled with family as they gather together to share a meal. This holiday might look a little different especially as you prepare your food and eat with just your immediate family. There is a way to share the meal without exposure though. Simply have everyone in the family make a signature dish. From there, drop off the dish at each individual house. You'll have to make more than usual, but it'll be worth it when you all get to share in the same meal. You can even video chat to share the meal with each other. Of course, you can expand this to just dropping off food if you don't plan on sharing a meal with anyone. Consider dropping off plates to households that won't have enough this holiday or share with the elderly that might not be up for cooking.
2. Send Cards
In the past, you may not have mailed out cards to celebrate the Easter months. This year, you might change your mind. Cards are one of the easiest ways for you to share holiday cheer when you can't spend it with the ones you love. You can actually purchase Easter cards in bulk, so you don't have to spend a small fortune on them. However, you can even sit down and craft handmade cards, which is always a great way to get children involved too. These cards will help the family bond while showing those you love that you're still there for them. You might enjoy the process so much that you'll feel inclined to keep it up even when everyone can get together.
3. Weave Easter Baskets
Easter baskets are a great way to enjoy the holiday for kids. Although they aren't expensive to purchase, you may find that making your own Easter basket can be a fun way to help your kids get even more out of the holiday. Making a DIY Easter basket doesn't have to be intimidating though. Rather, you can have a lot of fun with it and can even design the craft to be age-appropriate. You can also make these baskets out of a wide variety of things including paper, to suit your needs. If you do choose to pick an intricate basket to make, you might begin before the Easter holiday just to make sure that it will be complete in time for egg hunts. There are many Easter basket tutorials online, so if you're not sure where to begin then searching for one that interests you is a great first step.
4. Dye Eggs
Dying eggs is a common practice when it comes to the Easter holiday. However, if you have young kids then you might be hesitant to dye eggs. Luckily, there are many methods that you can use to help kids have fun while keeping your tables and counters from being dyed in the process. When kids are really little, you can place the dye in a mason jar and add an egg to it. Young children can shake the jar, swish it around, roll it, and so on. If kids are at the toddler stage, then you can place an egg in a whisk to allow them to enjoy the process of dipping the egg in many colors. If you don't want to purchase dye, you can also make it at home to ensure kids have fun without having to go on a shopping trip.
5. Hire an Easter Bunny
For kids, the Easter Bunny is a pretty big part of the Easter fun. While kids would normally see the bunny for photos at the mall or at a community event, they won't have the opportunity to this year. So, if you're looking to add a special moment for the kids, then you may want to hire an Easter Bunny. This will allow you to enjoy the holiday while seeing the excitement in their eyes. Hiring an Easter Bunny for a few minutes to an hour shouldn't cost a lot. You can even ask the bunny to stay outside and hide eggs and so on to ensure everyone's safety. If you don't want to hire a bunny, then you might consider renting or making a costume and asking a friend or relative to dress up. Of course, if you live in a close-knit neighborhood then everyone might want to chip in to hire a bunny for the block.
6. Easter Crafts
Without a doubt, pulling out the craft supplies is one of the best things you can do during the holidays. Easter is no exception. You can enjoy a wide variety of crafts that revolve around spring, chicks, bunnies, and more. You might ask the kids to color Easter egg printouts or create their own Easter bunny. You can really have fun with this holiday as it is easy to shape crafts around the items that you have in the home. Of course, you will find that there are plenty of craft ideas online to help you enjoy the holiday too. When you're finished with your crafts, set them up as home décor which will make the holiday even more magical for kids.
7. DIY Floral Centerpiece
Setting the table for Easter can be a great tradition but adding all of the final touches can be pricey. Plus, it can be tough to shop for the right items during the pandemic. Instead of purchasing a floral centerpiece, you might want to stop and take the time to make your own. You can begin by picking flowers from your garden. From there, arrange them to suit your needs. If you're not sure how to do this then you can easily choose a tutorial to help you create the artistic aspect of your centerpiece. This skill can come in handy throughout the year anyway, so you might find that you're doing yourself a favor simply by learning this craft.
8. DIY Candy
The Easter holidays are filled with candy and you can find just about everything you need to fill Easter baskets with joy. However, if you want to have a little extra fun this season, then you might consider making your own candy. Chocolate is one of the easiest items to make and can easily be started in the crockpot if you're shy on time. If you have molds, especially spring-inspired molds, you can make all sorts of fun designs, including large Easter Bunnies. Of course, you can also make all sorts of rock candies and taffies if you find the right tutorial to do so. After exploring the art of candy making, you may never want to purchase candy again.
9. Hide Eggs Everywhere
Generally, children have the option to attend Easter egg hunts at church or other community events. This year, they may not be as lucky. However, that doesn't mean you can't create an Easter egg hunt that they won't soon forget. For starters, you can hide the eggs throughout the yard. However, you can easily find that you can enjoy hiding the eggs around the house too. There are so many hiding places you can utilize that the kids might actually be busy all day long. Of course, you might want to keep plastic eggs in the house, just in case someone forgets where an egg is hidden. If you have older kids, then you may want to create a map that offers clues to add even more fun to the hunt.
10. Keep Traditions
One of the best things you can do during any holiday while the pandemic is still going is to keep up with tradition as best as you can. This might take thinking outside of the box in some cases, but it will definitely help out in the long run when it comes to your mental health. To begin with, if you make a point to get dressed up for Easter then do so. Dress like you're going out and have fun with your style. You'll feel fresher and ready to take on the day. If you attend church, then see if your church is having an Easter service they are broadcasting online. If not, then are lots of options to choose from online. You will also find that you can enjoy meals as a family through video chats. You can even enjoy chatting with loved ones on the phone to help satisfy your need to socialize. This should help you feel better about Easter until you can actually enjoy the holiday the traditional way.
Easter doesn't have to be a holiday that comes and goes like last year. Make sure you embrace the holiday and have plenty of fun because you won't get the year back. These ideas should help you enjoy the holiday on a budget, while you're stuck at home.