Did you know that March is National Craft Month? If you didn't, then you might be happy to know that this month is the perfect time to celebrate cheap crafts. With warmer weather on the way, you have a lot more wiggle room when it comes to crafting indoors or outdoors. This month may be the perfect time to enjoy crafts that will not only suit the season and your fashion sense but also your budget. So, this month, take some time to show off your creative side while having a little fun. These ten ideas only scratch the surface of what you're capable of enjoying.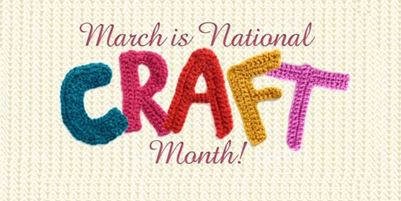 1. Tie-dye
With warmer weather on the way, if you're looking to bring some fun to the outdoors then tie-dye is the way to go. This craft is pretty simple to do as all you need is a form of the dye. You can purchase this from any store, but a lot of people will use Kool-Aid or food coloring to do the trick too. Once you have your dye set up, place rubber bands on some fabric and then dip it in your favorite colors. You can use anything from t-shirts to white sheets that you have on hand. When your items dry out, take off the rubber bands and discover your stunning new design. There are also ways to make tie-dye on paper if you're looking to make this craft even cheaper.
2. Denim Accessories
This season, fashion is loving denim and everything that it brings to the table. So, you might want to add some denim crafts to the month if you're feeling like adding to your fashion sense. There are so many things you can do with old pieces of denim. For instance, you can take a worn-out pair of jeans and add patches or paint on them to bring them back to life. You can even dye a pair of jeans darker if you're not enjoying the worn-out color. If you have a pair of jeans that aren't wearable, then you might want to scrap the denim for other things. You can use the denim as patchwork to liven up another pair of jeans. You can also remove the back pockets and sew them together for a cute purse that everyone will love. No matter what you choose to do, you're bound to have some fun with your look.
3. Faux Flower Displays
You can't keep flowers looking great all year long. Nor can you clip flowers from your garden if they haven't started to bloom yet. So, this season, you might go the extra mile and create some amazing faux flowers. These flowers are actually incredibly easy to make. You can make cute options by using fabric petals strung together with a button. You can also go all out and learn how to make paper flowers. There are many options that you can just buy flat out though. Once you have the flower portion of your project figured out, then you might consider the display element. You can add them to a vase, which you can make and decorate yourself. You might also consider making 3D art with them. No matter how you choose to work, you'll have an awesome display that doesn't require a drop of water.
4. Birdhouse
This month, a lot of birds will probably be heading home for the warmer months. If you love to have the birds in your yard, then you might consider making a birdhouse. You can do this out of so many different things, which opens up a lot of opportunities to have some fun. One of the easiest things to do is build a birdhouse out of scrap wood. All of the pieces are very easy to cut and often can be glued together as opposed to nails. You can find lots of tutorials online to help you with this. Of course, you can also make birdhouses out of some unconventional items too. You will find that the more creative you get, the more fun you have. So, find some cool ideas that suit your personal tastes and go with them.
5. DIY pillows
If you love your pillows to stay up to date with the season, then you're going to have a whole lot of fun with this craft. All you will need is fabric, fluff, and some thread. Simply cut out the fabric in the shape you desire and sew it together. You can find discounted fabric almost anywhere, or you can use items that you already have laying around the house. Other than that, you might find those old t-shirts also make great pillows and will help you hold onto the items you love without just leaving them to sit in your closet for ages.
6. Paint Planters
The planting season is on its way, which means you're going to need some planters to add to the magic. You can have a lot of fun when it comes to planters though, as they are generally a blank canvas. You can even purchase them in bulk if you really want to go all out to decorate. Once you have your planter, use acrylic paint to create a fun design. You can keep it simple with a solid color, polka dots, and so on, or you can go all out by making the planter look like a cartoon character or even paint it to show off a classic work of art. When your masterpiece is complete and dry, seal the paint and get ready to plant your favorite fruits, vegetables, and plants.
7. Mosaic
Mosaics might not be the best option for younger artists, but if your older child or you are looking for a great stress reliever then this is a great opportunity to blow off steam. Mosaics tend to take a lot of work, but you can create them in a number of different ways. The cheapest way is to cut out magazine pieces. You can draw out the image you would like to create and then add the magazine pieces to help bring the image to life. If you want to add more life to your art or go a more traditional route then you can work with stones or even broken-up tiles. When you're finished with your work, which might be some time from when you began, you can display it almost anywhere as your guests will certainly be in awe.
8. Origami
If you're stuck indoors then origami is a great craft to get into. This hobby allows you to make a wide assortment of things from paper, which makes it pretty cheap to enjoy. Origami isn't as easy as it sounds though. You might find yourself working on a shape for quite some time before you master it. However, there are lots of tutorials to help you achieve what you desire. You may even find that the kids can't get enough of crafting paper planes while they learn origami, which will make the hobby even more rewarding.
9. Walking Tiles
When it comes to making a pathway in your yard, you won't be able to resist some homemade waling tiles. You can make this in a wide assortment of ways though, so you can customize the craft to suit your needs entirely. Walking tiles can easily be cast in cement. Then, you can paint the tiles to suit your needs. These are perfect for handprints and other fun ideas that represent your family. You can also buy tiles from most home improvement stores to get you started with ease. No matter how you choose to get your tiles started, the real star of the show will be the amazing things that you paint on them.
10. Online Class
If you're not sure what craft you should try out then don't fret. You can easily take an online class to find new options for you. There are so many online classes right now and many of them are actually free. It is just a matter of finding what you're looking for and giving it a try. You may not be able to enroll in live classes for free, but you can find a huge selection of prerecorded classes that will get you where you need to be. Some libraries and other public facilities and small shops are also hosting live classes at no cost to you. You can find courses for adults as well as children too, which will definitely make your life easier.
This month, you can really get those creative juices flowing, especially if you're self-isolating. These ten ideas should keep you busy for a while, but there are so many other things that you can try, which will allow you to get the most out of National Craft Month. You never know, you may find something you are truly passionate about as you try new things this month.