With the groundhog predicting an early spring, you might want to start planning your spring fashion options. This season, it's going to be incredibly easy to spend a small fortune on clothing. However, many of the fashion trends are actually easily created with items you already have. These ten trends can help you make the most of your fashion sense without forcing you to alter your budget. With any luck, you'll be able to grab a few items that will help you create the perfect spring look to suit your personality. You may even be able to help your fashion choices move into the summertime months, so you can get even more out of your wardrobe.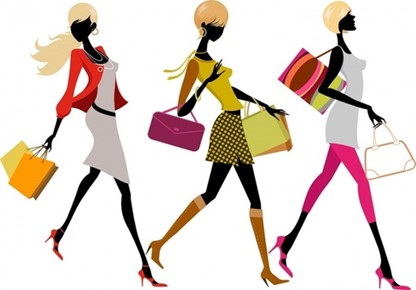 1. Neon Colors
Believe it or not, but neon colors are back in style this season. It has been some time since these colors have played a major role on the market, so it isn't likely that you'll have any in your closet right now. However, this doesn't mean you should go out and purchase all neon clothes. Instead, show a signature piece or two that will help show off your vibrant side. You might also consider checking out a few accessories that are neon in color, so you can add the fashionable vibe with a lot less work. You will also find that many thrift stores will have neon items for sale from the 1980s and 1990s. This can help boost your collection, or at least provide you with items you can upgrade to create your own unique look with.
2. Short/Skirt Suits
If you work in an office, then you probably already have a few work-friendly suits that you incorporate into your weekly attire. However, this season, for women anyway, pants are going to be out. Instead, you might consider shopping for suits with skirts instead. One of the trends is to choose a men's style and alter it to suit your body shape. If you choose a suit with pants, then you can easily alter the trousers to feature a pair of shorts. This requires basic sewing skills but can also be done by a tailor for very cheap. You can even add a men's coat to your look while wearing the women's blouse and skirt. If you have older suits you don't like any more then you can always alter them to add some fun to your look while allowing you to get more out of your wardrobe.
3. White Dresses
Get ready to embrace the color white again, as this spring is going to bring you lots of beautiful white dresses to try on. White dresses can be very simplistic while still allowing you to feel like a goddess. Best of all, white dresses can be worn to special occasions, parties, or as a way to keep cool in the summertime. There really is no rule to the type of white dress that is going to be in style this year. So, you can use what you already have or shop for a look that suits you. You can even find old dresses at the thrift store or make your own from your favorite fabrics. White dresses also make accessorizing easy and will help you show off some of your favorite jackets and shoe options.
4. Vests
Another item making a comeback this spring is vests. Vests are a wonderful way to spice up almost any outfit. In most cases, they won't cost you a lot of money either. If you like to keep things retro, then you can find vests in thrift stores or old boutiques. Many of the styles from the 1960s are certain to help make your fashion sense stand out. Apart from that, you can easily make your own vest. There are free or low-cost patterns all over the place, which can allow you to exercise your creativity. You can also find professional styles for work which can improve your fashion ability even when you don't have complete control over your style.
5. Cut Out Accents
One huge trend this year is accent cuts. These have been seen on many fashion lines already, which might make you want them all the more. If you're not sure where to start with this trend, then you might work with a simple tee. You can cut shapes into the shirt to help suit your favorite accents. One of the best ways to begin with this is having an alternative fabric. Sheer is a great option and will allow you to show off some skin without being exposed. Simply cut the shape you want and sew the fabric in front or behind it. As you grow into the trend, you might find yourself making details into the neckline of your favorite dresses, spicing up hemlines, or even offering torso detailing that will turn heads.
6. Denim
Denim never seems to go out of style. However, this typically refers to jeans. This year, you will find that denim in all shapes and sizes will be making a comeback. For instance, you're going to find a wide assortment of jean styles on the market this year. Gone are the days of skinny jeans dominating the market. The jeans feature so many fun styles that you will have a new look for every day of the week. Apart from jeans, you're going to find a lot of denim jackets, vests, and even overalls on the market. This will help to keep your look fresh and exciting as it is so easy to dress up denim and make it your own. You might want to invest in pins, patches and more to add to the fun of your denim look. You can even go through your closet and bring out some of the vintage looks that you have collecting dust.
7. Boyfriend Shirts
This season, you're going to want to embrace the comfort of boyfriend shirts as often as you can. These shirts are designed to look like a men's shirt, but they are tailored to suit a woman's needs. However, you can easily get away with just wearing a men's shirt if that is the look you prepare. This opens up a lot of money-saving options too. For instance, you can easily shop old shirts at a thrift store. Once you have your boyfriend's shirt, pair it with a skirt, your favorite jeans, or even a pair of overalls. You can style it as you wish, which will give you even more freedom to enjoy your personal fashion sense. Plus, these shirts are great for a variety of temperatures too, so you can dress to suit the weather.
8. Crafted Accents
Accent pieces are a great way to top off your clothes. However, you don't have to go with the looks you find in the store. In fact, crafted accent pieces are going to be a huge trend this year. This is perfect for anyone that likes to be creative. One of the biggest trends will be accents that are crocheted. You can make bags, shawls, or even add them to the top of the dress. You don't have to stop here though as fraying clothes, adding tassels, or evening bringing in some feathers will truly change your look for the better. So, make sure to take advantage of the creativity this year, as it's a good time to let your skills shine.
9. Sheer Outer Layers
Sheer layers are another fun option that is bursting onto the scene this spring. Luckily, sheer layers are incredibly easy to make too. You can place them over most of your clothing or create sheer jackets that will make a dress pop as it belongs on the red carpet. You can find simple patterns to pull off the sheer layer look, too. If you don't want to fuss with layers, then you can easily sew them onto your clothing. For instance, you can drape a sheer layer over the skirt of a dress. This also works great with distressed clothing or other items that need a little extra life to them. Best of all, adding a sheer layer definitely allows you to bring some extra color to your look.
10. Wrapped Ankles
Finally, if you're looking for a great style to bring out your favorite shoes then you might consider the wrapped ankle look. This look actually requires very little effort on your end, too. All you have to do is find a material you like to wrap from your shoe to your ankle. This can be very slimming too, which will make you feel even more confident about your appearance. You can purchase shoes that already have wraps, but if you can't find any that suit your budget then there is no reason to fret as it is easy to add a wrap to almost any shoe you own. This look works especially well with sandals.
Creating the perfect look for spring doesn't have to make you feel like your grasping at straws. There are tons of cool looks that will suit your own fashion sense as well as your budget. These ten options will give you a quick guide to help make shopping a bit easier while also ensuring you have the chance to make your own DIY fashion items before the season officially begins. So, have a little fun with your look and be the trendsetter of your dreams this season.