Planting season is finally here, which means its time to bring some beauty to your home's garden. If you're just beginning your garden, then you might be surprised to find out that you do have a lot of options available to you. Many people are afraid to spend money on plants because they think they have a black thumb and will just waste the money. You might be surprised by how much you are capable of though if you just giving gardening a try. These ten plants will allow you to get your feet wet as you learn the basics without having to worry about what you're capable of. Best of all, they will leave your garden looking amazing while adding a sense of efficiency to your home.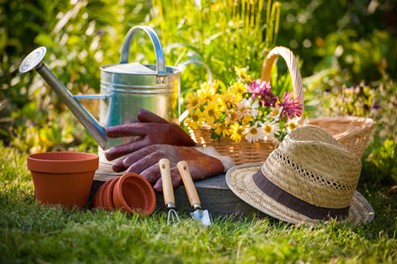 1. Roses
Roses sell for a pretty penny on the market, which makes a lot of people feel like they aren't going to be easy to grow. Roses actually are one of the easiest flowers to grow through. As a matter of fact, in early spring, you can purchase roses that are ready to be planted for just a few dollars. Most roses will take to the soil with ease, so before you know it, you'll have beautiful flowers brightening up your yard. One of the easiest roses to grow are knockout roses, but if these aren't for you then you can probably work with just about any type. Make sure you do a little research before buying, but if you can find roses that are drought resistant then you're going to be good to go. All you'll need to do is plant and prune them to maintain them, which is easy enough. Best of all, roses are great to place in front of windows for a little extra protection as they have plenty of thorns to keep intruders at bay.
2. Tomatoes
If you're looking to bring some fresh produce into the home then tomatoes are an excellent option. It is said that cherry tomatoes are the easiest to grow, but most tomatoes will work out if you know how to care for them properly. One of the easiest ways to go about growing tomatoes is to get a hanging pot for them. This will allow you to grow them without forcing you to build cages or invest in stakes. Of course, these items won't cost you a bundle if your plant does become excessively large and you need to move it. Tomatoes can help you enjoy more products for your home and can even improve your health, which makes them one of the best options, to begin with. Plus, they pretty much do their own thing, so all you really need to worry about is watering them and picking your delicious tomatoes when they're ready.
3. Herbs
Another great thing to consider planting in your garden is herbs. These can be very easy to grow in a wide variety of settings, which is why so many people love to try them out. You don't even have to have an outdoor space to give these plants a shot either. In fact, you can grow them in plastic bottles in your kitchen, if you really want to. The thing about herbs is they just require some soil and water. You can cut off pieces as you need them, which will also enhance the way you cook your meals. Apart from that, having herbs around to suit your needs will save you quite a bit of money when a recipe calls for such a thing. Some herbs will even keep away pests too, so growing them is a win-win situation.
4. Squash
One of the easiest vegetables for many people is actually squash. For most people, all you have to do is plant the seeds at the appropriate times and wait for them to grow. Summer squash is one of the best things to plant during early spring. This will give the vegetables plenty of time to grow so you will have delicious and huge vegetables in the summertime. Of course, you can plant just about any form of squash that you want as long as you plant it during the appropriate times. Squash has a lot of different variations too, so you will be able to enjoy zucchini, spaghetti squash, and so much more. This food can really cut down on your grocery bill too, especially if you're trying to keep things healthy. If you're not sure what to do with squash, then you might be surprised by how many amazing recipes you can find online.
5. Honeysuckle
When it comes to beauty, honeysuckle is going to provide you with so many amazing benefits. This plant is very easy to grow and can be placed on fences, gates and so much more to add a touch of charm to your home. One of the best things about honeysuckle is it smells amazing. As soon as the flowers begin to bloom, you're going to want to spend a lot of time outdoors enjoying the delightful scent of the plant. Of course, you're not the only one that is going to be attracted to the smell. Your yard will attract bees, hummingbirds, and many other birds. Encouraging bees to pollinate is definitely good for the planet and who can resist watching hummingbirds feed? The plant is very easy on the eyes too, which will allow you to enjoy the way your garden looks even if you don't have a lot of other plants to enjoy.
6. Peppers
Another great thing to add to your garden is an assortment of peppers. This food grows fairly easily in a number of settings, which means you won't have to try as hard to keep things going. There is a huge variety of peppers too. You can start with bell peppers, which will help stock your refrigerator for summertime barbecues, or go straight for the hot and spicy stuff. There are so many variations to choose for that you might end up growing a little of everything. This will help add some heat to your recipes while cutting down on the amount of money you spend on produce and spices for your meals.
7. Sunflowers
If you love the hands-off approach to gardening, then sunflowers are definitely going to be a great option for you. These amazing flowers will grow quickly simply by spreading some seeds on the ground where you'd like them to grow. Sunflowers will quickly add to their height which will allow you to enjoy them in a matter of weeks. There are so many benefits to having sunflowers. Apart from having a charming appearance, sunflowers produce seeds that make a great snack. Simply bake them with your favorite seasoning and you'll have a delicious treat that is actually good for you. Sunflowers are great for the soil too as they help get rid of toxins so that you can grow other things with ease.
8. Lavender
Lavender fields look absolutely beautiful. Luckily, you can bring a small piece of this setting to your home by planting your own lavender in your garden. This plant is very easy to handle and will add a soothing aroma to your yard. Apart from its stunning appearance and delightful smell, you'll find that it can be used in the food and a variety of other things too. You can even make your own potpourri or oils out of the lavender you grow. This can save you a small fortune while also allowing you to enjoy honing your gardening skills without breaking a sweat.
9. Pansies
When it comes to adding a whimsical touch to your garden, you truly can't go wrong with pansies. These adorable little flowers come in a wide variety of colors, so you can really spice up the look of your garden with little effort. Pansies can be purchased for fairly cheap too, which makes them a great option for those hoping to stay on a budget. Apart from that, you'll find it takes very little effort to grow them. Simply follow the instructions on the label and you'll be good to go. Pansies look great in window boxes, in the garden, or even in flowerpots placed around the interior and exterior of the home.
10. Local Mixes
If you're looking for one of the easiest options, then you might look up a local mixture for your area. These flowers are native to your climate, so they will easily sprout and grow without a lot of effort. The best way to figure out what mix you should purchase is to look up your region on a gardening website. Of course, many of your local stores will actually purchase these seeds so you can easily find them at a low price. In most cases, all you need to do is to spread the seeds and keep them watered. However, if you're lucky, you might find that some of the natural plants might just begin to grow in your yard, which will help save you time and money.
Beginning your garden can be a whole lot of fun. However, a lot of people feel intimidated by planting and working in the garden. These ten ideas will help you get a start while you build your confidence and your gardening skills. This will help you contribute to the environment while also bringing joy and improved finances to your home.