One of the hardest aspects of winter is finding something to do. There are tons of activities for kids to embrace during the winter months, but if you want some kid-free time then you might find it a bit hard to discover a new activity that won't leave you in the cold. There are actually lots of ways for adults to warm up the cold days of winter though. This doesn't mean you have to spend a fortune either, as these ten ideas will keep you under budget as the holiday season rolls in along with the icy cold weather. So, embrace winter and all of the excitement it can bring to your free time.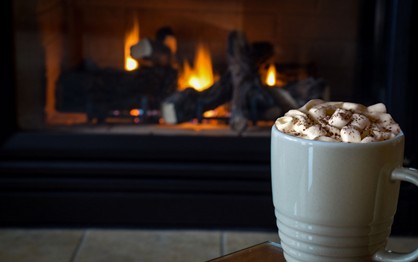 1. Experiment with Warm Drinks
When it comes to killing a bit of time, your kitchen is the best place to start. Nothing says winter quite like curling up with a good book and sipping on a warm drink. However, most people tend to keep their hot beverages to coffee or cocoa. There are so many more options to try out though that can actually spark your interest in the kitchen again. Luckily, there are a boatload of amazing drink recipes online, so you can try as many as you want. Some of the more common options are mulled wine, apple cider and flavored cocoa. However, that is only scratching the surface of all of the amazing options you can try. Best of all, these warm drinks can be savored on their own, or spiked to help you relax during the busy season. During your experimentations, you might discover your new favorite holiday drink.
2. Join a Book Club
Nothing says winter quite like a good book and a cozy blanket. Many people pass up such a great reading opportunity because they're simply not sure what to read. Luckily, in this day and age, you have access to so many book clubs, which can steer you in the right direction. In your own community, you should be able to join a book club from your local library or even the workplace. If not, you might ask around to see if friends are part of a club that is accepting new members. If you don't have the schedule to meet up with a club each month, then consider choosing an online club. You can find one based on the genres you love or simply one that is going to challenge you. If you want a highly popular book club then consider joining celebrity-based club. Generally, most online clubs will offer chatrooms and forums to help you talk about the book. Some will even send the book to you for months for a fee, so you won't even have to worry about shopping.
3. Share Good Tidings
December is actually the national month to write to a friend, which makes it the perfect time for you to share some good tidings with those that you love and miss. Of course, December is also home to National Christmas Card day too, which gives you even more excuses to reconnect with the people in your life that you don't often get to talk to. Sending a letter, postcard, or holiday greeting shouldn't take long at all and is fairly inexpensive. If you're not really one for the written word, then find the time to give your loved ones a phone call or a visit. They will probably appreciate this more than any gift you might otherwise have given them. You might also consider visiting those in a nursing home or hospital to help share good cheer to those who might not see much of it throughout the year.
4. Donate Goods
The holidays can be a tough time for many people. If you find yourself having trouble finding homes for all of your goods, then you might take it upon yourself to go through your items. This will allow you to make space in the home, which can help you avoid clutter straight away. Feel free to go through clothes, books, toys, decorations and more. Then, when you've figured out what you'd like to keep and what is just taking up space, make a donation run. A lot of families will be thankful to have the things they need to celebrate the holidays at an affordable price. If you want to do more than donate your old items, then you can easily find charities for toys, jackets, and food in the community during this time of year. This will certainly help you feel the seasonal spirit while allowing others to enjoy the season too.
5. Bingo
You might not expect it, but Bingo can be a great way to help you kill some time while introducing you to an unlikely activity. Bingo has been popular for generations, but that doesn't mean that you have to be of a certain age to enjoy it. In fact, many Bingo clubs that are popping up now do cater to younger generations. Most Bingo clubs do charge per card to play, which can cost you a bundle if you tend to take on too many cards at once. However, there are also charity Bingos that offer lower prices. You will get what you pay for though in regard to prizes, so keep this in mind when you choose which establishment you want to try out. Best of all, December is National Bingo Month, so you might find some awesome deals while you explore this fun activity.
6. Go Bowling
If you want to get a little workout while staying indoors for warmth, then bowling is a great solution to the problem. Generally, bowling is pretty cheap, which allows you to easily get in a game or two without having to work it into your budget. Bowling is a great activity to share with friends too and can easily be done on a weeknight as it only takes up an hour or so, depending on how many frames you'd like to bowl. You can even split the costs with friends, which will definitely make the activity more than worth it. Best of all, you can usually grab cheap snacks at bowling alleys too, which will make your little gathering even more enjoyable.
7. Make Holiday Crafts
Crafts aren't just for kids as there are so many technical things you can design that will make your home look extraordinary. Crafting over the holiday season can be one of the best ways to blow off some steam too, as it allows you to do a tranquil activity while still ensuring you are utilizing your creativity. Holiday crafting can save you a whole lot of money too. For instance, you will be able to make wreaths, tree ornaments, signs, and an assortment of other crafts that can cost you a small fortune otherwise. If you're feeling ambitious, you can also sell some of your items to earn a little extra income during the spending season. You can also put together crafts that can be given out as holiday gifts to those you love.
8. Window Shopping
Winter is a great time for shopping, but if you want to stick to a budget then you can easily head to the mall for a little window shopping. This activity will allow you to hang out in a warm place while enjoying the seasonal spirit with others. Window shopping can be a great tactic too, as it will allow you to look for items you might want to shop for later on. This will help you understand if sales are truly worth it, so you can maximize your savings over the holiday season.
9. Enjoy Holiday Productions
If you're looking for a cheap form of entertainment, then holiday products are a great value. You can find these productions all over the place too, which will definitely allow you to mix things up a bit and enjoy some exciting things. One of the first places to look for a holiday production is local schools and colleges. Generally, you will find plays, choir concerts and so much more. Best of all, paying the low price of a ticket to one of these productions will benefit the students. You might luck out and find some professional productions, too. However, this will cost you a bit more money. There should also be community events that bring you holiday movies to the big screen or in a park. Holiday tree lightings are also filled with fun carolers and more, so make sure you arrive on time for everything you're interested in.
10. Host a Brunch
Another exciting activity to engage in is brunch. Of course, this doesn't mean you need to go to a restaurant in order to have a nice brunch with friends. Instead, consider hosting a brunch at your own home. Brunch is one of the cheapest meals to make as long as you plan for it carefully. For instance, if you make a lot of dishes using eggs, then you'll be on the right path to a delicious meal that will satisfy everyone for next to nothing. If you're feeling lost or intimated there are lots of great brunch recipes online too. You might also consider making some fun drinks to add to the mix. Brunch can be one of the best ways to get everyone together for some fun though, so make sure to treasure the memories you create. You may even want to make it a monthly or weekly thing with your friends, which can help you enjoy your friendship throughout the year.
Finding warm activities for adults doesn't have to be a challenge. These ten tips will allow you to create a fun winter that will make you feel like you've gained so much from the season. You might even take some of the things you enjoyed during the winter into other seasons to help fulfill your needs.