With November already here, it'll be Thanksgiving before you can even snap your fingers. This can be a huge problem if you don't have the budget planned out for the holiday meal and entertainment. Planning out Thanksgiving can be a bit tricky on a tight budget, but there are a few ways you can make it happen without causing yourself a lot of stress. These ten tips will help you find the assistance you need to make Thanksgiving amazing without having to feel like you can't handle the holiday season. Best of all, these tips will help you save money so you can embrace the start of Black Friday on Thursday evening.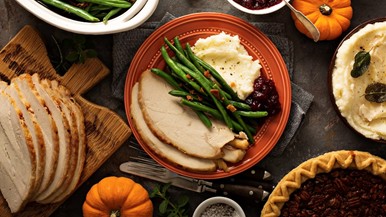 1. Take Inventory
When it comes to holiday shopping, one of the best things you can do is shopping your own pantry first. Make sure you go through and find the items you've already bulked upon. For instance, you might already have vegetables, broths, gravy mixes, cornbread and more just collecting dust in your pantry. If this is the case, then you already have the makings of much of your meal. Make sure you write down what you have before you go shopping or make your list by knocking these items off of it. If you do have to purchase more items, consider buying in bulk so your pantry will have more of the items it commonly uses. Of course, you can also use many of the items for the next holiday meal, which will be less than a month away, in most cases.
2. Consider Food Baskets
If you're really having trouble finding the money for food for the holidays then there is no reason to fret, just yet. There are actually numerous charities that offer free food for the holiday season. One of the most popular charities to check is the Salvation Army. With this charity event, you should receive a main course, sides and more. You might even find coupons to help you get the rest of the items for the meal. Of course, you will also find that some local charities and churches will also offer the same service, so it is important to call around to see where you can find assistance. You might have to qualify for the service, but often times churches will help you even if you've just fallen on hard times temporarily. There will also be many community events where you can get a hot meal for free or for a low cost. Of course, you will have to check out the information in your community to find out specific dates. If you're connected to social media, this should make things a lot easier to plan out.
3. Keep the Meal Simple
A lot of people think they have to go above and beyond in order to create the perfect meal for Thanksgiving. This isn't the case though. There is nothing wrong with having a modest meal for the holidays. You might start by choosing a main dish. If your family rarely ever eats a whole turkey or ham then purchase something smaller, like a turkey breast. This will be cheaper and will ensure you won't waste either. Apart from that, you might choose one or two sides. To make things even better, try to choose items that you might not normally eat. This will make the meal more memorable and exciting. Then, work on one special dessert that the whole family will love. This simplistic meal won't break the bank and will still allow you to enjoy your special dinner.
4. Utilize Recipes
When it comes to making your holiday meal, recipes are going to be your best friend. This will allow you to cook from scratch, which can save you big bucks on your holiday meal. You might start by planning out your recipes with ingredients you already have, this is especially important when it comes to spices as this area can really add to the price tag. Of course, if you're just looking for cheap recipes to try altogether, there are so many recipes available online that will help you find everything that you're looking for. Trying out new recipes is also a great way to improve your cooking skills and find new family favorites that everyone will love.
5. Grocery Shop Slowly
Since there are still a few weeks left before the holiday, you have plenty of time to get your grocery shopping in. When it comes to shopping for Thanksgiving items, your best option is to shop slowly. A lot of people will run into a store and grab everything they need at once. However, if you'd like to save money on your grocery shopping bill, then take your time. Start by searching for sales. Most stores will stagger their sales, so it is wise to shop when you find your item on sale. You might also try multiple stores to find the items you need at the best possible price. As the holidays near, you'll find that you found everything you needed without having to stress over the overcrowded stores.
6. Ask Others to Help
You really don't have to tackle the entire holiday meal yourself. If you have guests coming over then ask them to help out. You might start by asking each attendee or family to bring some food or drinks to help make the event even more exciting. Most people are more than happy to bring a signature dish in order to make the meal feel more like home for them. Doing this will allow you to concentrate on the main course and anything else that your guests might not have been able to bring. Of course, if you're having trouble with the meal entirely, you might see if you can attend Thanksgiving at someone else's home. This will give you a well-deserved break from cooking while enjoying the true meaning of the holiday.
7. Skip the Disposables
It's really easy to fall into using disposables during the holiday season. After all, there are already a ton of dishes to wash from all of the cooking you're doing. However, if you're looking to save money on the event then you might have to throw convenience to the wind. Instead of spending a fortune on paper plates and plastic utensils, just pull out your dishes and serve on those. This will help cut back on the price tag of your meal and can make the meal look a lot better, too. Plus, it might be nice to show a little gratitude to the planet by not filling landfills with even more items that weren't necessarily needed.
8. Cheap Entertainment
Food isn't the only thing you'll need to worry about during your Thanksgiving meal. It can also be really difficult to entertain everyone, especially when you're busy trying to get the meal going. There are many ways you can keep everyone going through, without having to worry about family feuds and so on. One of the easiest options is to turn on the TV. Thanksgiving is known for its iconic parade, dog show, and football games. So, this should take up the job of entertaining some of your guests. You might also bring out a deck of cards and some board games for some of the guests that love to be mentally engaged. Kids are also easy to keep busy with holiday crafts or simple coloring pages that can be printed off the internet for free. Of course, there is also lots of great music to stream if you want to cut back on some of the background noise.
9. Simple Décor
Thanksgiving doesn't require you to go crazy over decorating, so don't spend a fortune on fall décor that you're just going to take down after the holiday is over. You also don't really need specialized Thanksgiving items, either. Instead, consider using crafts as décor. This will add a cute and quaint style to the home, which will make the meal seem even more comfortable. You might also find that using fruits and vegetables, like apples, pumpkins, corn, and gourds can add a lot of fun to the home. This will actually help cut back on clean up, too.
10. Just Go Out
If you're part of a small family or you're alone for the holidays, then your best option might be to just go out to eat. You might be surprised by how many restaurants are actually open for the holiday. Denny's is probably one of the most common restaurants because it is open 24/7 every day of the week. However, there are also lots of other establishments to choose from. There are also a number of local places you might be able to try out too, but you will probably have to call to make sure they are open. Going out for Thanksgiving can actually save money if there aren't many people in your party. This also saves you clean up too, and you won't have to worry about your leftovers going to waste.
Thanksgiving should be fun, so don't let the stress of your meal hinder you from enjoying yourself. These ten tips will allow you to make the most of Thanksgiving, even if you're on a tight budget. So, let the holiday be fun again, as you have many weeks of budget crunching to deal with as the holidays are in full swing.