The gift-giving season is finally here. However, choosing what to purchase for everyone on your list can be a pretty difficult task. If you're on a budget and you have some hard customers to shop for, it could make the holiday season harder than ever. One great thing to concentrate on is a person's needs though. If you have someone on your list that always seems to be on the edge, then you might want to consider some gifts to help with relaxation. These ten ideas should help you stick to your budget while allowing you to find a great gift that could actually improve someone's life. So, this year, make the gift-giving season a little easier by adding some of these items to your list.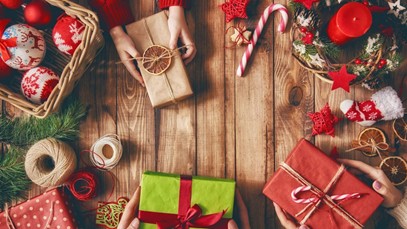 1. DIY Bath Bomb Set
Bath bombs have exploded into popularity lately, which is great if you're looking for a gift for anyone feeling a bit stressed. You can purchase bath bombs in many stores, now, but if you really want to make the gift better then you might look at making the items yourself. You can make DIY bath bombs with only a few ingredients, so you won't have to spend a bundle on them. This will also allow you to customize the bath bombs to suit each individual person you are gifting to. You can even make a bulk batch and dress them up in a pretty basket for the holidays. If you're making bath bombs for kids, then you can easily slip tiny toys inside of them for an extra treat. Of course, if you don't have the time, you might consider purchasing a DIY kit or making your own DIY kit as a gift. This will turn the gift into a craft too, which can definitely help with relaxation.
2. Salt Lamp
A lot of people swear by salt lamps, while others don't feel a difference in the atmosphere when they are on. No matter who you give a salt lamp too, you can't deny that they do look pretty cool. They even have colorful salt lamps now, which are perfect for anyone that loves unique things. Of course, if you do have someone on your list that believes in the healing properties of these lamps, then they're bound to get a lot out of the lamp. The salt lamp can help reduce anxiety while bringing positive vibes to the home. They can also help put moisture from the air during humid seasons. So, if you have someone that loves cool décor, then a salt lamp might be the perfect relaxing gift for them.
3. Sleep Mask
Stress and sleep usually don't go hand in hand, which is why a sleep mask is a great gift for anyone that needs some extra time to relax. A sleep mask helps to block out light, which will allow anyone needing a couple of extra hours of sleep to find them. Sleep masks can be purchased almost anywhere now, too. So, you won't be shy of choices when it comes to picking one for everyone on your list. However, if you're looking to save money or you want a specific look then you'll be pleased to know DIY sleep masks aren't hard to make. This should allow you to exercise some creativity, while also ensuring you have some fun and save money on your gifts.
4. Oil Diffuser
Essential oils are another popular option when it comes to relaxing and reducing stress from the day. So, you might consider an oil diffuser as a holiday gift. There are numerous styles of oil diffusers on the market too, which again allows you to customize the gift to suit the person receiving it. You might also be able to find a diffuser that comes with a few essential oils, which can make your gift even better. Luckily, around the holiday season, there are usually tons of deals on these items because they are so trendy. So, make sure you shop around so you can find a few good options for the people in your life that need to relax. You might also consider adding a book or even just a list of oils that will allow you to share the message about oils designed to improve relaxation and stress reduction.
5. Weighted Blanket
Another major gift to check out is the weighted blanket. These blankets are said to help reduce anxiety and depression while also allowing you to feel more comfortable. Unfortunately, weighted blankets tend to be very expensive throughout the year with some costing over $100 for a smaller option. Luckily, there have been many amazing deals on these blankets lately, and the prices will probably only go down when it comes to Black Friday and Cyber Monday sales. Currently, you can find a weighted blanket for only $20 at Walmart, which is a steal of a deal. Many retailers are also offering weighted blankets for kids too, which will definitely help nervous sleepers get to bed. So, if you know someone facing anxiety and stress, this gift can make a huge difference at a reasonable price.
6. Foot Bath
Without a doubt, a nice footbath on a stressful day can make life seem a little better. Plus, it can greatly improve your health and so much more. That is why a footbath is a great option if you're looking for the perfect gift for someone. Luckily, you can shop for a footbath based on your budget too, so you don't have to worry about this gift idea sending you over budget. There are inflatable footbaths for those living in a smaller space and footbaths designed for people that love all the bells and whistles. If you save a lot of money on the footbath, you might even consider getting some relaxing Epsom salts and more to help take the gift to the next level.
7. Back Massager
Stress can resonate in the body too, which is why many people love to go get a back massage when they have the time and money. However, getting a back massage can actually be incredibly expensive, so you might not go this route when looking for a gift. However, a back massager can be found in a wide range of prices, which makes it a great gift even if you're on a budget. There are many back massagers on the market now, too. You can find awesome chairs that heat and vibrate, or simple manual massagers designed to work out the tension. You can also purchase based on the specific troubled area, which makes it an even more personal gift.
8. Spa Set
Another fun idea is to make your own spa set. This is a great option if you know someone that would love to make time to go to the spa but doesn't actually have the money or time to do so. You can make spa sets in all shapes and sizes too, which will definitely come in handy when you customize your gifts. If you want to go the DIY option then add in bath bombs, facial masks, lip glosses and more. These items can all be made at home without costing you a fortune. You can also purchase beauty supplies in bulk and divvy them up between spa sets. This will definitely allow you to make a gift that is going to have everyone talking.
9. Tea Sampler
Tea is a great way to help relax the body as well, which is why a tea sampler can be the perfect gift for the people in your life. You can purchase samples at most tea shops and online. However, if you want to save money and make the gift even more creative then you might consider making the sampler on your own. This can be exceptionally easy and cheaper than you can imagine. Simply purchase a variety of teas. You might even look around to see which are good for relaxation, as well as stress and anxiety relief. Once you have all of the options set up, then place them in a cute bag and enjoy the responses you get.
10. A Helpful Coupon Book
Of course, life can be very overwhelming at times. That is why a helpful coupon book is the perfect way to help someone out that is going through a stressful time. You might add in coupons for chores around the house, watching their kids, or even a night out on the town together. You don't have to add anything that will cost you too much money though, so make sure you plan it to suit your budget. This book is a great gift for parents or spouses, but it can easily be worked out for friends and more as long as you plan accordingly.
Shopping for the person that needs to relax can be easier than ever if you follow this simple guide. Best of all, it won't leave you spending a fortune on all of your holiday gifts. You might even find something that you love, so you can treat yourself to a holiday treat, as well.