November is known as National Adoption Awareness Month, which makes it a month worth giving even more thanks for. With the month hosting a wide assortment of adoption events, as well as National Adoption Day on November 29, you might feel inspired to finally take the leap into adoption—if you've been considering it. This month is a wonderful time to work on finding the information you need, discovering what adoption entails, and to mentally prepare for the process and all of the ups and downs that it could possibly bring. These ten tips will help you make the most out of your experience, while also allowing you to learn the steps you can take to cut back on the initial costs of the project.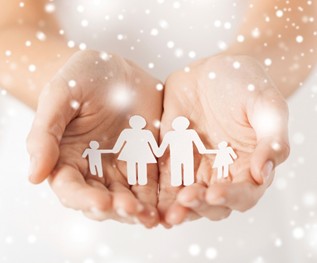 1. Think it Over
Adoption is a big commitment, so it requires a whole lot of thought. If you're considering adoption, the best place to start is all of the online resources available to you. You might also consider making an appointment to talk with a social worker about the prospects of adopting as they can help you with a checklist of everything you'll need to do. If you've been mulling over the process for some time now, then you might consider taking the next steps. This would require you to speak to an agency or foster care service. You might even sign up for parenting classes and get certified to see how you feel about it. Another great way to help with the thought process is to talk with parents that have already adopted. You can find an assortment of groups online or in your community that can help you out. Adoption can be a slow process, but it can also be very pricey. So, if you're not sure you're ready then hold out until you are positive.
2. Consider Foster Care
One of the most efficient ways to adopt is actually going through your local foster care system. When you sign up to be a foster parent, you will undergo classes, background checks and more. All of this will prepare you for adoption, so when the right child comes along you can adopt if possible. Becoming a foster parent also allows you to test the waters to see if adoption is really something you would like to consider. You can take in children in your chosen age group, in most cases. Foster care also gives you the opportunity to adopt siblings, which can be a wonderful journey. There are thousands of kids waiting for a home in foster care and you could be just the right person to give a child in need the loving home they deserve.
3. State Subsidies
When you adopt through foster care, you might be privy to a few state subsidies that can help make the child's transition a lot easier for all of you. Of course, you will have to fill out a lot of paperwork in order to get these subsidies to help you out. You also have to meet certain qualifications to get them. If you're already working with a caseworker, then they might be able to help point you in the right direction, as every state's subsidies are different. If you do qualify for the assistance, you could earn a monthly stipend and your child will receive state-funded medical care. This can be particularly helpful when you are adopting a special needs child.
4. Grants
You might be surprised to find out that there are actually grants available that do help people to adopt. The key to getting these grants is to actually apply for them though, so you might spend quite a bit of your time looking around for these. When you receive the grants it will be well worth the time. Some grants will offer you a few hundred dollars, while some can offer thousands. So, make sure you apply for as many grants as you possibly can. There are lots of resources to help point you in the right direction, but you can also talk with social workers and parents that have already been through the adoptive process for assistance too.
5. Fundraise
These days, you can find a fundraiser for just about everything under the sun. So, why not use the fundraising to your advantage. You can go the old-fashioned way by offering services like a bake sale or a car wash. This should help you make some money to help with some of the initial costs of adoption. Of course, one of the more popular ways to fundraise, and probably one of the most lucrative, is to fundraise through a special website. You can pass your fundraiser around on social media and even share the link via email. This tends to attract people, so you have a greater chance of earning money for the adoption of your dreams.
6. Shop Around For Agencies
If you don't want to go through foster care, then you should consider shopping around for an agency that works for you. You should never go for the first agency you come across out of convenience. This might end up forcing you to receive subpar service or cost you a lot of money in the long run. There are numerous agencies available to you, so make sure you make appointments to talk to as many as you can. You should also look at the information on the company's website and reviews from other clients that have worked with the agency. This will allow you to feel as comfortable as possible throughout the adoption process.
7. Check Out Your Employee Benefits
It might not seem possible, but the company that you work for can actually help you during the adoption process. These days, many companies actually offer grants or assistance programs to help out employees going through the adoption process. Of course, the first step in figuring out this process is to talk to your boss or human resource representative. They should be able to point you in the right direction when it comes to filling out the necessary paperwork. Even if the company isn't willing to help out financially, you might find that many companies will offer paid leave to those adopting. This leave can consist of parental bonding time when you do take custody of your child or travel time if you are adopting a child from a different area. Of course, you will also need time off for court dates, so make sure you are open and honest with your company, as this might help make the process a lot less stressful.
8. Tax Credit
After you've gone through the adoption process, you can actually get some of the money you spent back. There is a tax credit that allows you to submit your expenses that went into the adoption process. This includes travel, medical expenditures and more. You can also get a tax credit for adoption, which, on top of the child credit, can help you cut back on the expenses you occurred. Of course, the key here is to talk with a tax expert about the adoption. This is very important because they will allow you to find all of the available assistance you can receive for your tax returns.
9. Shop Second Hand
A lot of people only seem to consider the initial price of adoption, which includes travel expenses, medical fees, legal fees and so on. However, you also have to keep in mind that your child will have to have all of the basics already, or else you will not be able to receive custody of them. This includes items like a bed and clothing. Of course, you will most likely want to supply personal belongings like toys, books, and electronics too. This can really add up, especially since you will have to purchase the items all at once. In order to do this frugally, you might choose to shop second hand. There are many great stores that can provide you with items that are practically new. This will allow you to cut back on the amount of money you spend, while still working to pay the necessary fees for adoption.
10. Speak with Lawyers
Another important aspect of adoption is to have a good lawyer. If you're going through foster care then you might not need a lawyer, but there are some instances where you might need a lawyer, so it is best to be prepared. This is especially true if you are trying to adopt a family member. Finding a lawyer can be a lot of hard work too, so you might look around for a good match for you before you even engage in the process. If you're low on money, then you may also consider pro bono lawyers, as this will ensure you have the legal aid you need at hand. However, you might not be able to secure a pro bono lawyer in advance, so it is best to have a list of many lawyers that do offer pro bono on hand.
National Adoption Awareness Month is the perfect time to learn about adoption, especially if you're considering going through the process. These ten tips will help you begin the process or at least help you mull over the idea of adopting. With any luck, you'll find a solution that will help you maintain a frugal and mildly stress-free experience.