Although the weather might be a bit on the hot side still, autumn is just a few weeks ago. So, as you can imagine, autumn fashion trends are starting to make their debut. This year is a lot different than years past due to coronavirus, so it will be a bit harder to catch some of the biggest trends. You might also find yourself showing off your trends at home alone. However, if you're a lover of fashion, then these ten trends will have you looking your best this autumn and beyond. So, grab your craft supplies and get ready to make the styles your own in order to save some major money.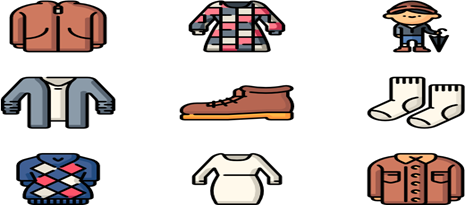 1. Metals
Metallic looks will be all the more eye-popping this autumn as they dominate the runways and stores. Metallic looks are a bit hard to achieve at home, but if you can find some metallic fabric in your favorite store or online, then you'll be all set to make some major accessories and more. Some of the biggest metallic styles tend to be in tops and dresses though. However, you can also add metal touches to your look when it comes to accessories. If you're still having trouble getting in the metallic look then go for sequences or other appliques that can help you achieve the look for a lot less.
2. Preppy School Style
If you went to a prep school, or you're currently enrolled in one, then you're going to have a leg up in this fashion phenomenon. This season, there have been a lot of preppy styles surfacing, which makes a change from some of the edgier looks in past seasons. One of the biggest trends is going to be argyle on almost anything. Even the classic argyle sweater vest is going to be in, so grab a few to keep you warm this autumn. Another style you're going to see a lot is plaid skirts. These will mostly be longer styles and will have more prep school-friendly plaids, like blues with brown mixes. Of course, you'll want to pair these with Mary Janes and other shoes that you'd typically wear in a prep school environment.
3. Caped Styles
Cosplayers and fantasy fans are going to love this trend this season. Anything that looks like a cape is going to keep you fashion-savvy all season long. The best thing about capes is you're also going to find yourself feeling nice and comfortable on the coldest and wettest days of autumn. Of course, you're going to have numerous looks to choose from when it comes to these styles. The most common is probably going to be tunics and coats inspired by capes. So, you might skip out on looks with sleeves this season. There are also a few tops on the market that offer a long cut and cape-like appearance. You might have to do some searching or pay more than you'd expect for these though. However, if sewing is a hobby of yours then you're well on your way to looking fabulous.
4. Plaid
As mentioned before, plaid skirts are going to be really big this season. However, you'll also be able to push past the classic plaids and shoot for edgier styles. For instance, you might look for a more punk-inspired style when it comes to incorporating plaids into your look. These plaids are largely going to be in red and black, but you're bound to find some other options to choose from too. Of course, the edgy element will come from the way the style is sewn or overall presented to the world. This means plaid shoes, purses, and other accessories are definitely going to be a must here. Since punk style is very DIY oriented, you'll be able to save some big bucks when planning around this fashion trend as long as you can sew or create clothing in new and innovative ways.
5. Patchwork
Patchwork clothes have been in fashion for some time now and this season is going to be no different. There are going to be lots of patchwork styles hitting the market, including those with mixed media looks in the high fashion scene. One of the major places you're going to see patchwork is in the denim section though. Denim patchwork on denim clothing is going to be one of the most popular routes, as well. Patchwork is very easy to create at home though. You can make patchwork out of old clothes or fabric that shows off your favorite prints, characters, and more. So, have some fun with your favorite looks without spending a fortune on new clothing to keep you in style.
6. Lingerie Inspiration
If you like to keep things on the sexier side of the spectrum, then this trend is probably going to speak to you. The trend comes straight out of the 90s but offers a little more pizzazz and a little less of the obvious lingerie style. One way to pull this look off is to wear your favorite decked out a bra with a sheer top, which is very retro. However, you can also shop based on your favorite lingerie styles. Currently, many designers are creating looks inspired by lingerie. For instance, there is a good number of designers creating dresses based on classic teddy styles. Some are also making jackets that offer a corset-inspired look. There are many other styles you can choose from, so have some fun with your look and embrace your feminine beauty.
7. Victorian Styles
There are usually a few retro styles every season, but this season we're going back in time to the Victorian era. You're going to find a lot of styles that feature high necklines, ruffles, and so much more. You can easily recreate these looks with a sewing machine and the right material. Victorian styles tend to keep it to solid colors or floral prints, but you can easily make it your own and still be stylish. Apart from that, you can easily find patterns for these items in craft stores. If you want to stand out, you might transform some of the items to suit your own needs. For instance, you can easily transform the top of a dress pattern into a chic skirt that you can wear with jeans or leggings. Your imagination will definitely play a major role when you're working on your wardrobe with this trend.
8. Fringe
Believe it or not, but fringe is still going to be in fashion this season. Fringe items include a wide range of things as well, which will allow you to truly be creative while working on your wardrobe. You can actually make your own fringe at home too, so there is no real reason to spend hundreds of dollars on it in-store. You can also show off the fringe on almost anything. Some of the most common items are fringe on jackets and shirts, as this tends to create a wing look that is truly inspiring. However, some people are adding fringe to skirts and shorts, but these items will be less commonly worn as the weather begins to grow chilly.
9. Bring on the Sparkle
When it comes down to it, sparkle is always going to get you some compliments this season. You'll find that a little sparkle can truly make you stand out while showing the world that you really know what it takes to be fashionable. Sparkle is very easy to find in stores, but if you're in the market to upcycle your old clothing then you'll be good to go, too. For starters, you can add sequences to almost anything to add a fun accent that is definitely something that will change the way any garment looks. You can also purchase glitter that is designed specifically to go on your clothing. This makes it a cinch to really bring on the accents that will earn you props wherever you go.
10. Geometric Prints
When it comes to shopping around for prints, you're definitely going to find some awesome geometric prints this season. Not only are you going to see some of the classic prints like simple shapes, but you will find some that have a comic-inspired look, as well as those that are made to truly pop. You will find these prints on numerous items too. For instance, you will be able to choose from leggings, shirts, or even shoes. If you love making your own items then you can also purchase fabric that can be used to make your own fashion pieces and accessories.
This fashion season might be a little weird, but you're definitely going to be able to have some fun with everything. You will find that even though life is a little different, looking trendy can actually give you a sense of normalcy to help you get through the pandemic. Apart from that, you will find that you can easily accessorize with a fashionable face mask if you're really trying to cut back on your spending this season.