This Labor Day might not look exactly like it has in the past. With most people trying to stay home, the sales won't be as widely seen in store windows and advertisements. However, rest assured, most stores will still host their Labor Day sales and some will offer deals that are even greater than normal. It is important to keep an eye out on your favorite websites in order to cash in on the deals. Many will offer emails to help customers know what will be on sale, while some sites will be a little quieter than normal. No matter what you're shopping for, these ten websites are bound to offer you some exceptional deals.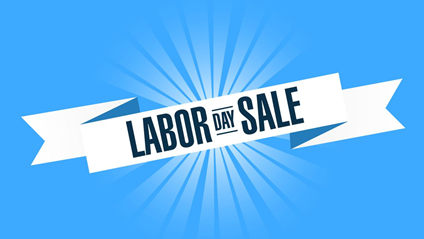 1. Amazon
With the pandemic going on, it seems like Amazon might have skipped out on its annual Prime Day, as there have been no updates on the gigantic sale. Due to this, Amazon may be making up for the lack of sale with some of their Labor Day deals. It is rumored that Amazon is going to have some phenomenal deals on Back to School items. So, if you're still missing some things for your child or you're holding out for the items until a good enough sale arrives, then you might be in luck here. This sale will also consist of learning technology like tablets and laptops, as well as some STEM items. Of course, you will also find that there will be many other items online as Amazon will try to compete with most other competitors hosting sales. So, make sure to take the time to price check as much as you can before you commit to one sale.
2. Walmart
Most Labor Days, Walmart really tries to sell the idea of tires to their customers. So, if you're in the market for new tires, you might hop on the Walmart website and have a look. You can also check out their sister store, Sam's Club, as they tend to offer the same deals on tires. Of course, Walmart will also be trying to ditch all of their Back to School supplies so they can use the space in the upcoming holiday season. Thus, you'll find great deals on most basic school supplies. You might even find some deals on tech too. Walmart will also be trying to clear out their summer section, so you're going to find some awesome deals on grills, patio furniture, and so much more.
3. Mattress Firm
There is no surprise that you'll find some major deals on mattresses during Labor Day. As a matter of fact, this holiday is one of the top sales days for mattresses, coming in just after Memorial Day. So, if you're in need of something new and comfortable then you'll definitely want to grab one of these mattresses to improve on your life. You will find everything from memory foam to classic mattresses at Mattress Firm. You may even luck out and find a fair amount of accessories to help make your new mattress all the more rewarding. It is important to do your research on mattresses though, so you'll know what your body needs before you shop.
4. Old Navy
If you're ready for some big savings on clothes then Old Navy is going to be a great place to stop and shop while you're enjoying Labor day sales As of right now, the rumor is that Old Navy will be offering their jeans at 50% off. Old Navy is known for having a fit for everyone, so if you currently don't have a favorite pair of jeans, you might find them at this sale. Old Navy's clothing isn't exactly pricey, to begin with, so you'll definitely leave the store, or online shopping cart, feeling like you got a spectacular deal. Of course, you will be able to stock up on other aspects of your wardrobe too. Most likely, Back to School sales will still be offered, which will help you save all the more on things your kids need.
5. Macys
When it comes to variety, Macy's has you covered. This store offers a wide assortment of merchandise, so you'll see sales in many departments too. Usually, Macy's has a great sale on clothing during this time. You will find name brand jeans, shirts, shoes, and more on sale. Apart from that, you will even be able to stock up on winter jackets in some locations and online. If you're looking for Back to School supplies, then you'll definitely find some amazing prices on backpacks and more. You may even be able to find some deals on home goods if you're in the market for something incredible.
6. Lowes
If you're hoping to get some jobs around the house accomplished, then Lowes is going to be a great option for you. They will have a lot of their home improvement items on the market, which will certainly help you finally save on some of the big projects that you want to get done. Apart from home improvement items, you will find some great deals on patio and grilling options. Like Walmart, Lowes is going to want to clear this section out so they can concentrate on seasonal items. With new appliances coming out, you'll also find that there will be an abundance of sales on old appliances too. So, make sure to shop around to find the best possible deals on these items.
7. Best Buy
You're not going to want to miss out on Best Buy's deals this season. When it comes to some of the most sought out items, Best Buy is going to help you find some of the best possible prices. Best Buy will definitely be competing with Amazon when it comes to the best TV deals this season. So, make sure to be diligent when waiting for deals and know what the average price is before you hit the buy now button. Apart from televisions, Best Buy will have lingering Back to School sales. So, you'll find laptops, tablets, headphones, and more on sale. Best Buy is also known for having quite a few appliance deals during this time, which can definitely help you save big on your home's needs.
8. Apple
Apple fans shouldn't sit back this Labor Day if they want to save on some major Apple items. In fact, this might be one of the best sales to stock up on holiday gifts, if you plan on going that route. This year, most of the deals haven't been released yet, so make sure to stay tuned. However, you can purchase a 2020 Macbook Airplus and headphones, and you'll receive a free pair of Airpods to make your life so much better.
9. Home Depot
Much like Lowes, Home Depot is going to be pushing their patio and grilling supplies. You'll also see a jump in sales around home improvement items like faucets, sinks, fans, and items of that nature. This is great for home improvement projects that you might not be able to save with when it comes to Lowes. Home Depot is also selling their cabinetry at a reduced price, which could create a nice rainy day project that will truly add so much value to your home. Apart from that, you'll see prices on appliances drop up to 40%, which can save you huge if you don't mind buying last year's model.
10. Dell
If you're in the market for a new laptop, then you definitely shouldn't disregard Dell. This website will be bringing lots of amazing deals to you on some basic models as well as some major league gaming options. For instance, you will be able to save up to $700 on an Alienware laptop, which is designed to make gaming a blast. Of course, there will be plenty of affordable options that is going to be perfect for your child's schooling needs or basic computing for the household. Make sure you shop carefully though, so you get everything you want out of a computer.
Labor Day is the last big sales day before the holiday season, so make sure you have some fun and spend your money wisely. If you're lucky, you'll find the items you need to stay comfortable and functional during this holiday season. Of course, the deals will continue to show up before the holiday arrives, so make sure to subscribe to your favorite websites for the latest information on the holiday deals.