There is a lot of buzz surrounding the New Year, and adults all over the world try to rush to get a head start on improving their life. Children can also greatly benefit from a fresh start, even though it often isn't thought of. So, this year, you might consider working with your children on improving their own skills or meeting a new set of goals. You should start working with kids on this through their winter break holidays, so they can feel at peace and ready to take on any new challenges that are thrown their way. These simple ideas will set kids off on a good path while helping the family to bond.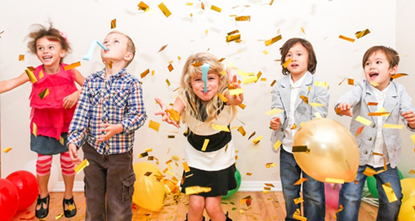 1. Go Over Skills
One of the best places to begin is to go over the skills your child has learned. May they be in preschool or high school, it is imperative to sit down together and go over the things they have picked up over the last year or two. This is especially good for subjects that they might otherwise struggle with. Going over skills one day a week can actually allow students to progress faster than they normally would and can even build confidence in areas that they may also be struggling in. Doing this can also give you an idea of whether or not your child may need to see a tutor. Sometimes, when we aren't working with children, things can go unnoticed, so this should help you spot problem areas so you can get your child the best possible start. If you need resources to help improve your child's skills, there are so many options online that you should be able to find everything that you need for free.
2. Play Dates
Socialization is important for little ones, which is why scheduling playdates can be very crucial for their growth. During winter break, you might make sure to take a few moments to schedule a playlist or two throughout the time that they are home. This will allow children to maintain friendships or build new relationships. Unfortunately, we live in troubling times and socialization isn't always safe. There are a few ways we can navigate around this though. For instance, if you know people with children in your children's age groups and you trust them to be careful about their social outings, then you might consider adding these people to your bubble. This will allow your child to socialize without taking as big of a risk. You can also consider video chats or allowing children to play video games with their friends in order to connect with people their own age.
3. Outside Time
Getting outside is incredibly important for everyone. We need sunlight and fresh air to be healthy, both physically and mentally. Of course, for children, getting outside is even more important. Outside play is not only great for a child's health, but it can also allow kids to learn in many new ways. For instance, getting outside with the kids will allow them to explore the world around them and use problem-solving skills that they wouldn't typically use in the house. This can help children gain confidence as they grow that will stick with them for the rest of their lives. Going outside can also teach children to see the good in life, even when things aren't to their liking, such as the heat, wind, or cold. Of course, if the weather is terrible, you should stay inside for safety reasons.
4. Read Together
There is nothing quite as rewarding as reading together. From the time children are very young to their preschool days, reading to your child can be incredibly important. Not only does it give them a jump start so they can learn to love reading, but it will help them to become fascinated with reading too. This can lead to early literacy. As children grow and improve their reading skills, they will still need encouragement to enjoy books. So, reading with them or making time to read as a family will help to harvest a love of reading. Setting aside time on weekends for reading can be crucial and will help children to learn that there is more to life than gadgets. They might not seem to enjoy it when they're young, but it will pay off as they grow into young adults.
5. Develop a Schedule
Children thrive on routine, even as they enter their teen years. However, many families are stuck in a cycle of winging it because they have too much going on or simply never learned the importance of routines. As the new year arrives, one of the best things you can do is sit down and plan out a schedule. You should try to make a schedule that is fairly strict, but don't forget to add in some wiggle room for changes in school routines or extracurricular activities. This will allow you all to enjoy day-to-day life with minimal breakdowns. After you get used to your schedule, you will also be able to find ways to shorten the time you spend on chores or new ways to fit in small chores so that you can have more free time too.
6. Cook Together
Creating homemade meals for the family is incredibly important. One way to help children excel is to actually bring them into the kitchen to work too. Kids can take on a variety of cooking and cleaning tasks based on their age. There are numerous lists online to help you choose the right options for your child. However, you should always base your tasks on your child's maturity level as well. Spending time in the kitchen with your children is a great bonding experience, but it is also a time for them to learn the importance of cooking and eating healthy foods. Children that spend time in the kitchen are more likely to try the food they helped prepare, which will allow them to choose healthier options. Cooking is a life skill everyone should know, so it will help children start out right in life while also allowing them to choose fast food less when they are out on their own. Cooking can even be critical in improving math skills.
7. Enjoy the Little Things
In this day and age, a lot of focus is placed on materialism. It can be tough raising children in a world where children are taught to want more and more. So, whenever you can, you should help your children to enjoy the small things in life. One easy way to do this is to go outside and play in the snow during the winter or pick flowers during the spring. A night out under the stars can also help kids to appreciate the small things, as well. Other than that, you might consider doing small activities, like time at the park or going for a walk. Even simple moments with family can help children see the brightness in life. Consider making crafts together or telling stories. The more you do together, the more your kids will find joy in the small things.
8. Make Relaxation Time
Another major problem with the world we live in is the fact that we are always on the go. This isn't the best example for children, especially as the world grows more demanding. Not taking time to relax can be detrimental to your health, so it is important to share with kids that taking time to relax and pamper yourself is especially important. So, take some time to read a book, or watch a movie with each other. You can also plan staycations when there is no time or money for vacations. Teach children the small ways they can take time to unwind in life, so they will learn to take the moments when they can. Other than that, you might consider taking up meditation and helping them learn as well because this can be one of the ultimate ways to relax when stress is high.
9. Field Trips
Getting out and viewing the world is one of the best ways for children to learn and grow. That is why taking a field trip can truly help your child get a great start to life. When you plan your field trip, you might consider the price of the activity. There are numerous options that are free or low cost, so you don't have to worry about it damaging your budget as long as you shop around a bit. You can also find some options that do have a free day, which will allow you to plan accordingly. If you are struggling to find low-cost activities, then you might just consider your local library, as they often offer activities that will keep little ones engaged. In some areas, Covid-19 might still put a halt to activities outside of the home. In these cases, you may want to consider virtual events. Many zoos, aquariums, and even science centers offer online tours and other amazing activities so kids can still enjoy the activities.
10. Talk
No matter how you choose to spend the new year, the best thing you can do to help your children succeed is to talk with them. You should talk about everything you possibly can, may it be things they are interested in. You should make sure to ask them about their lives, so you know what is going on with them. It is important to start talking with them when they are little, so you can grow into conversations as they become teenagers. It won't always be easy, but by doing this your child will know you are present in their life which will allow them to turn to you whenever they need something as they grow older.
Your children can gain a lot from a fresh start and these ideas can help them excel quickly as the year progresses. You may find that implementing these ideas into your new year won't just help your child feel better, but it can also help the entire family thrive together.