Spring isn't quite here, but the 2023 Spring Fashion lines are already making the headlines. If you're looking to be on par with the trends this year, then you might consider getting a head start on all of the fun. These ten fashion trends are going to be all over the place this spring, which makes them the perfect items to invest in now. Before the warmer weather even arrives, you'll feel like a trendsetter that is ready to embrace everything that the season has to offer.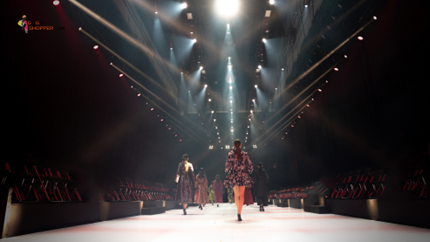 1. Baggy Jeans
This year, skinny jeans are still out, but you'll be able to make the most out of baggy jeans. These jeans will be taking over the fashion lines in so many different styles that you can actually show off a new look every single day of the season. Baggy jeans are great because they look wonderful with almost any top you pair with them. So, you can keep it fun when you're out with friends, or dress it up a little for a casual date. Baggy jeans also pair well with your favorite sneakers or boots to help keep your look fresh and exciting.
2. Unique Hem Lines
Journey back to the early 2000s with unique hemlines that will definitely make you feel like a fashionista. These hems are typically sewn on denim and go in various directions to create a look that offers plenty of movement. These hems will be seen on pants, jackets, and shirts, so you can find the perfect look for you. However, one of the best things about this trend is you can easily create the look yourself. Sewing a hem isn't overly complicated and there are plenty of tutorials online to help you along the way.
3. Sequins
There is no doubt about it, sequins are going to be a big deal this spring. You'll find sequins on everything from tops and bottoms to shoes and accessories, which will help you truly sparkle all season long. Sequins are great items to add to your fashion sense because they are easy to pair with almost anything too. Apart from that, these little accessories are easy to add to your clothing. If you're new to sewing, then you can easily find tutorials to help you on your way. So, you can put sequins on anything you own to help your fashion sense truly pop this spring.
4. Bubble Skirts
Another fashion piece that you won't want to be without this spring is a bubble skirt. This skirt is flirty and fun, so you can feel bubbly and in your element any time you wear it. The bubble skirt comes in a lot of variety as well. You can purchase it in almost any color, as well as an assortment of lengths. You'll find that you can even find bubble skirts that are made to look good in professional settings. On top of that, these skirts aren't hard to make. So, if you find a fabric you love, you can create a skirt that looks and feels amazing without forcing you to spend a small fortune.
5. Tailored Clothing
This season, you're going to find that tailored clothing is going to be the way to go. This is especially true when it comes to professional outfits. Tailored clothing can mean a lot of different things, so you have a lot of variety to choose from here. You want to think of crisp lines and tapered cuts that flatter your body. Creases in pants and any style that looks particularly neat will work wonders for you. Clothes that also have a touch of the vintage while maintaining a traditional professional vibe are bound to take you far.
6. Drop Waist Skirt
Drop waist skirts are going to be incredibly big this year, which is great news if you're looking for something comfortable to wear. These skirts can be found on actual skirts as well as the skirt of a dress, which gives you more options to work with. Drop waist skirts offer a simple look that pairs well with casual attire or blouses you'd like to wear in professional settings. They do add more character than your typical skirt and the lower waist is comfortable while slimming the body down. Although you'll be able to spot these skirts anywhere, you'll find they're incredibly easy to make on your own too.
7. Blazers
If you're a fan of lightweight jackets during the spring months, then it might be time to replace this look with a baggy blazer. Blazers are going to be all over the place during the upcoming months, which makes them a great option for professional settings as well as casual outings. Baggy blazers will give you more of a vintage look to work with but are also great for layering. If you don't want to spend a fortune for something baggy then you can always look at your local thrift store. You can even repurpose a man's blazer to help make the trend stand out all the more.
8. Metal
Metal has been a trend over the last couple of years, but it has been primarily gold taking the spotlight. This year, you'll find gold and silver options that will make you feel like a million bucks. As far as the metal style goes, you'll find it in tops, bottoms, swimsuits, accessories, and shoes. The sky is the limit for this trend, so make sure to have fun with it if you're a fan of gold. If you like to make your own fashion pieces, most fabric stores will have metallic options to work with. If not, there is an abundance of online fabric stores to check out too.
9. Cobweb Knits
Channel your inner gothic fashionista, when you add some cobweb knits to your style. These special knits offer a spiderweb vibe while looking great over some of your favorite tops. These knits pair well with solid colors and can be worn as a top or as a stocking replacement. With the release of Wednesday on Netflix, gothic-inspired clothing will be more prevalent this fashion season, so you're bound to find this look in a variety of places. You can also make your own cobweb knits using tutorials that you find online.
10. Green
In true green fashion, the color green is going to be all over the place this spring. This will allow you to utilize some of your favorite green looks which will definitely make choosing your fashion favorite a breeze. You'll find green popping up in every single style in the upcoming months, as well as shoes and accessories. If you don't want to spend a fortune on green clothing then you might consider sewing green patches to clothing, dying clothing green, or simply accessorizing with green.
There is a lot to look forward to this spring. These ten fashion pieces are just scratching the surface of what spring fashion will look like in the upcoming months. With a little shopping, repurposing, and DIY, you'll be able to make a wardrobe that suits your fashionista lifestyle with ease.