Super Bowl Sunday is on its way! If you don't want to find yourself scrambling to find the perfect deals for the big day, then you might want to start planning ahead now. Whether you're planning on watching the game at a restaurant or bar, or you'd like to find the perfect takeout option for your guests, you can bank on some great deals for the big game. Although many restaurants have not advertised their current deals, we can begin to plan based on some of the big deals from last year and the years prior. Here are some of the top ten deals from years past to help you choose the best option for your epic Super Bowl Sunday.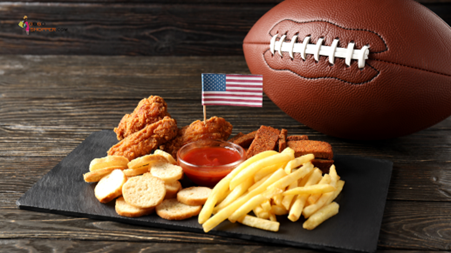 1. Buffalo Wild Wings
Over the last decade, Buffalo Wild Wings has become one of the top restaurants to hang out at during sporting events. The Super Bowl is no exception. This restaurant provides a comfortable atmosphere, plenty of drinks on tap, and food that caters to the sports environment. If you intend to stay at the restaurant during the game, you'll probably find a variety of deals on drinks and food. The chain also offers lots of bundle deals and may even offer a Super Bowl special to help you feed more people. If you look back to previous game days, then you may find that there will be deals even after the game. In fact, just last year, Buffalo Wild Wings offered free wings to everyone in the United States if the Super Bowl went into overtime. So, even if you choose not to hang out at Buffalo Wild Wings on game day, you should keep an eye on the restaurant to get some freebies.
2. Panda Express
If you're looking for something a little different for your game day treats, then Panda Express is the way to go. Panda Express offers family meals that can stretch to feed a lot of people. In fact, if you buy a couple of these deals, you'll probably end up saving money on the food you provide your guests. These meals come with sides like noodles and rice, but also easy-to-eat foods like orange chicken. Panda Express also has vegetarian options to help provide all guests with something special. Last year, panda Express offered free delivery on game day, which can add to the savings if you don't want to miss a moment of the game.
3. IHOP
You may not consider IHOP to be a go-to option when it comes to the Super Bowl; however, you may be surprised to know that the pancake house offers some pretty exciting deals for game day. When it comes to IHOP, you'll find that some of their family deals are incredible to begin with and are offered year-round, so you don't have to wait until the game day arrives. However, there are specific deals that are perfect for game day. For instance, last year, IHOP dropped its Game Day Family Feast Deal for the Superbowl. This deal included 18 chicken strips, fries, and your choice of sauce for $30. They haven't released what this year's deal will be, but it's bound to suit your budget so make sure you follow IHOP on social media to keep up to date.
4. Carrabba's Italian Grill
Carrabba's Italian Grill is also a great option if you're planning on staying at home during the Super Bowl. The restaurant offers plenty of Italian classics to appetize everyone, which will definitely help you feel like you can find a little something for everyone. Their family packs are some of the best deal options though. You'll find that one pack has enough food to feed five adults, which is great if you're keeping your party small. If your local restaurant has a bar, then there is a good chance the bar will be playing the game as well. So, if you're looking for a quieter atmosphere to enjoy during the game, then this may be the right place to do it. The restaurant mind offers drink deals closer to the actual game day to ensure you're prepared to save enough money as possible.
5. Logan's Roadhouse
If steak is what you're craving on game day then Logan's Roadhouse might be a great place to start. This restaurant typically has a bar inside, which will most likely play the game. However, it tends to be a quieter environment, so make sure you're okay with this before you commit to spending time there. Logan's Roadhouse really shines when it comes to their takeout special for the Super Bowl. Last year, the steakhouse offered a buy two get one free Roadhouse Tailgate Special. This special was $49.99 and had enough food to feed 6 to 8 people. So, for just under $100, you'll have enough food for 16 to 24 people, which is a great party size for a Super Bowl event.
6. 7-Eleven
When it comes to bringing home food for the Super Bowl, you might not have thought about 7-Eleven since it is a convenience store. However, 7-Eleven has decent food to help feed your guests' appetites without forcing you to spend a small fortune. You'll find everything from whole pizzas to corn dogs and burritos that are hot and ready to go. Of course, you can purchase all of your other snack needs as well including chips, beer, and other necessities. On top of that, 7-Eleven tends to be incredibly cheap and a quick way to get everything that you need in one place. Last year, 7-Eleven also offered a free pizza to anyone that ordered on the app, which adds even more convenience to your everyday needs.
7. Red Lobster
Another restaurant you might not think to visit for the Super Bowl is Red Lobster. This restaurant is all about offering family meal deals to go, which is a great way to get tasty food to eat that isn't the same unhealthy snacks that you'd typically enjoy. These family meal deals can stretch pretty far and are a reasonable price for seafood. Apart from that, you'll find that Red Lobster may have Super Bowl-friendly deals to help make the most out of your party.
8. Chilis
Chilis is another restaurant that is known for its atmosphere, which might make it a great place to enjoy some food while watching the game. Typically, if you sit in the bar you'll have access to some games. However, you might want to call ahead to see if this is something that will be facilitated before you make a plan. Chilis will most likely have Super Bowl deals on drinks, but this is usually not announced until closer to the big day. If you don't want to eat at Chilis, you'll find plenty of deals on the to-go menu items that can make it much easier for you to plan out snacks. Last year, the establishment also offered free wings, which might be something else to entice you to enjoy a little Chilis during the Super Bowl.
9. Dave and Buster's
Dave and Buster's is a symbol of a good time with their amazing bar and entrancing games. However, you can also turn it into a great game-watching experience. During the Super Bowl, you'll find their monitors will most likely be playing the game. If you're worried, you can always check in to see. If you choose to hang out during the game, you may find some great drink deals or deals on appetizers. You should stay tuned because they may also offer some excellent food or game deals as well. This will allow you to get up and move around during commercials or halftime.
10. Dominos
Dominos hasn't offered many Super Bowl deals in the last couple of years, but that doesn't mean they won't this year. However, they do offer many deals that make it incredibly easy to feed a large number of guests without breaking the bank. Their Mix and Match deal gives you the option of feeding several people pizza, specialty bread, salads, chicken wings, and sandwiches for less. If you choose to pick up your order, you'll save even more, which can definitely make things easier and more satisfying for you.
The Super Bowl doesn't have to leave you feeling broke. Instead, you can catch the game and eat well when you embrace these restaurants. Whether you're eating at the establishment or bringing it home, you're certain to enjoy the big game.