With so many people getting back to their pre-Covid life, birthday parties outside of the home have become all the more popular. If you're looking to host your child's birthday party at a venue this year, then you might be interested to know there are some affordable options to help you create the birthday party everyone has been missing out on over the last few years. These ten options will help you find affordability while allowing you to feel confident that your child is going to have a birthday to remember.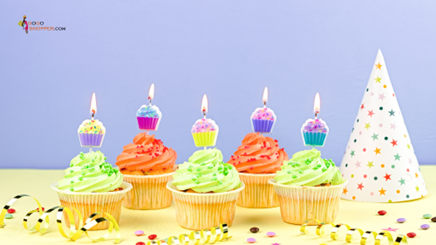 1. Local Park
One of your most frugal options to host a party is a local park. Typically, you need to contact the Parks and Recreation department in your community to either get permission or a permit to do this. Usually, it takes just a few minutes, so you won't have to worry about blocking out a lot of time to secure this. In most cases, reserving a day is totally free, which can make life even easier. Parks are great because they already have entertainment available, and most will have covered seating areas. However, if you're still not certain how to plan your party, there are lots of great activities you can add to your party itinerary. When you're finished with your party, make sure you clean up everything as you can be fined if you do not.
2. Ice Cream Shop
If you want to keep the party simple, then an ice cream shop is going to be the right route to take. Most ice cream shops are happy to host a party, but make sure you call ahead as you will have a lot of orders for their servers to make. This venue is typically great for smaller parties, so if you're planning to invite your child's entire class then it might not be the right match for your needs. Shops with a patio area are typically a better choice as well because they do allow children to have a bit more fun. If you're planning a party at an ice cream shop, make sure to plan for a few activities that can be done in a small area. Coloring pages and table games are two of the easiest options to choose from.
3. Arcade
Without a doubt, one of the best ways to keep children occupied is to present them with games. If you can present them with games and food, then you're well on your way to a successful party. Many restaurants will now combine an arcade with their restaurant. If you have an establishment like this in your community, then you'll probably find that they do offer party packages. These packages usually come with the food needed for the party as well as tokens for a select number of guests. You typically also get a special room, which makes it much easier for everyone to have a good time. These party packages can also save you a lot of money in the long run.
4. Zoo
If the weather permits, then a trip to the zoo might be the best way to go for a party. The zoo is a great party place because you don't really need to bring anything more than yourself. Most zoos will allow you to rent a party room and may even offer discounted discounts, so make sure to check with the zoo before you make any plans. Most of the party can be spent looking at the animals and enjoying the educational activities that the zoo has to offer. This means you won't have to worry about entertaining guests, with the exception of refreshments and a place to cool down. Some zoos will even offer a host to help make the party even more exceptional for everyone.
5. Arts and Crafts Store
If your child loves to be creative then hanging out at an arts and crafts store is the way to go. Many of these stores offer little classrooms that are perfect for a party, so you might want to ask around to see which store has the best opportunity for you. Many of these stores will even provide crafts for a specific number of children, which can make your purchase go even further. Of course, you don't have to look specifically at stores that largely rely on retail like Hobby Lobby and Michael's Craft Store. There are many venues that allow you to sit down and paint pottery or canvas, mold clay, and so much more. Some of these stores will also provide special snacks, so make sure to call ahead to find out what their party options are. You may need to reserve a time, especially if the store is small.
6. Trampoline Center
What is a better way to help children burn off a lot of energy than an afternoon full of jumping around? Trampoline centers are one of the best places to have a birthday party because they allow kids to play in a safe environment. You can enjoy a wide variety of games on the trampolines, but most kids are simply happy bouncing around. These centers typically have party rooms as well, so you can bring food, drinks, presents, and so on. It's also a great place to rest. Usually, these centers will have deals to help you get more for your money so you can plan your guest list around the center's party plans.
7. Swimming Pool
A pool party is another great hit with kids and is usually a cheaper option when it comes to planning a party. If the weather allows, you may be able to strike up a deal with a community pool. Sometimes, the pools will even shut down so your party can swim without outside interference. If you know someone with a pool that would be willing to host your party then this could be even better, especially if it saves you money. This also gives you a bit more control over the environment, so you won't have to worry about paying for venue food. An outdoor pool might also be a great option. If you don't have one in your community, then you might see if a local hotel would offer you a deal. Swimming is usually fun enough on its own, but you might bring some inflatable balls and other pool toys to entertain.
8. Movie Theater
If your child has been looking forward to the release of a movie, then heading to the movie theater might be a great way to celebrate. Many of the major theater brands do offer party packages, so make sure to plan ahead to see where you can find the best possible deal. Many of these theaters also offer sensory-friendly rooms which will help make everyone's experience all the better. Of course, you will have to purchase food and drink from the venue, which can cost you quite a bit of money. If this detours you from hosting the party at the theater, then you might consider rerouting the party after the movie is over. You can also take advantage of the arcade games and other entertainment features that the movie theater offers, which can help with planning.
9. Bowling Alley
One simple place to enjoy a birthday party is a bowling alley. Most bowling alleys are happy to book parties, especially during quieter periods of the day. Bowling alleys tend to have everything on hand to cater to the needs of children as well. So, you'll be able to get lighter bowling balls, smaller shoes, and bumpers for younger children. Many bowling alleys will have food available to purchase at a reasonable price too. However, if you call ahead, most establishments shouldn't have a problem with you bringing in a birthday cake for the celebration. Many bowling alleys also have arcades and other attractions too, which will help you to offer even more entertainment to your guests.
10. Home
If your options feel limited due to your budget, then there is always one place that can easily be afforded. Your home is one of the best places to have a party. You'll have everything you need to entertain your guests, and you'll have fewer restrictions on your guest list. Apart from that, you can order food or make it yourself to keep things all the more frugal. You also won't have to worry about amenities to ensure guests are comfortable. All in all, you'll find that many of the themes you'd enjoy outside of the home can also be recreated inside of the home. You can set up a small bowling alley, game center, and even a movie theater complete with snacks.
As you plan your child's party, keep in mind that you do have options. However, your best option is to call up the venues you're interested in to see if they can make you an even better deal than what is offered on the website. This will help you save the most money while feeling confident that your child's party will be amazing.