If your resolution is to get your home organized in 2023 then you might be worried about spending too much money on the products that you need to get your home in order. Luckily, there are actually quite a few different products that you can enjoy to help create more space and convenience in the home. These ten products will help you get more out of your space, while also allowing you to save some money. Some of the items can even be made at home from items on hand, which will make them all the more frugal. So, get ready to make your resolutions come true as these tips are bound to get you on the right path.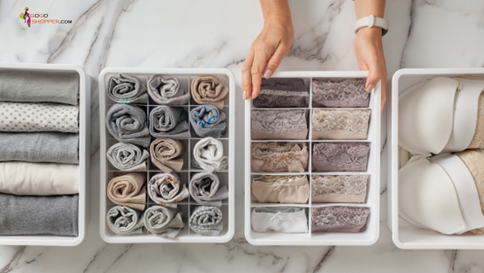 1. Drawer Organizers
Without a doubt, drawers can be one of the worst things to organize. Whether the drawers are stuffed with clothes, or they're filled with junk, getting things in order and keeping them that way can be painstaking. Drawer organizers are a great way to combat this. There are lots of drawer organizers on the market, so you can find one for your particular problem. However, drawer organizers are remarkably easy to make at home too. You can easily make them from recycling or other items lying around the house which will ensure you save money while getting organized. There are plenty of tutorials to guide you through the process, so have fun with it.
2. Plastic Shoe Boxes
You would be surprised by how helpful shoe boxes can be, especially when you're organizing small objects. These boxes are fairly cheap and can be ordered in bulk to help you get even more for your money's worth. One of the best things you can do with shoe bins is organize toys. They're perfect for placing your craft supplies as well, which can help you prevent these supplies from ending up everywhere. If you don't have a lot of storage space, then you can also store papers, or anything else that needs a home. Of course, you can also use the bins for what they're made for, shoes. This is especially helpful for shoes that you're putting up for the season or may not wear out often.
3. Mason Jars
Chances are, if you keep up with trends, then you probably already have a large selection of mason jars in your home. Even if you don't, then you can buy a bulk container of mason jars for fairly cheap. Mason jars can be used for a wide variety of different things. For instance, larger jars are perfect for storing baking items like flour and sugar. Even if it doesn't fit an entire bag, you can store the bulk product in a large container elsewhere and leave the jar in an easy to reach location. Apart from that, you can also use the jars to store things you'd typically keep in the refrigerator, such as juice or homemade pickles. Other than that, it makes great storage for snacks like candy or crackers.
4. Lazy Susan
Getting organized is incredibly easy when you have a Lazy Susan on your side. This organizational trick can truly help you to make the most of the space you have. One of the best places to put your Lazy Susan is in the corner of a pantry. This will allow you to stack items and still be able to get to what you need. You can also use it in your refrigerator for easy access to your condiments and cooking essentials. Apart from that, it can be placed anywhere that you need a little extra help keeping things organized. After adding a couple of these items to your home, you're bound to find there is so much more convenience to enjoy.
5. Metal Stands
A lot of cabinets have a lot of excess space, which goes to waste. When you add metal stands to your cabinets you create more space to help you stay even more organized. These shelves are perfect for helping you to add more canned goods to a space, keep cups organized, or allow you to stack even more storage items. This will help you to hide away many of the items you want out of sight too, which can help you feel more at peace in your surroundings.
6. Closet Shoe Hanger
A closet door shoe hanger can go a long way when it comes to organizing your home. These special devices hang over the door, so it won't take up any extra space in your home. The thing is, these organizers don't always have to be used for shoes. If your child has a lot of toys, then these containers are perfect for small plushes, dolls, action figures, cars, and even craft supplies. You can also find these organizers for spices, which is great for adding to a pantry. Another option is to place beauty supplies in the organizer. Of course, this is only scratching the surface as there are so many unique ways to use shoe hangers to organize your home.
7. Storage Ottoman
Your living spaces tend to quickly gather clutter, which can be hard for anyone that is struggling to keep their home organized. One of the best ways to cut back on clutter is to invest in a storage ottoman. These ottomans open up to reveal extra storage space, which is perfect for pillows and blankets. Another great option is to place storage bins inside of the ottoman. This will help you to hide some of the items you don't want out or to store excess toys, craft supplies, or even house essentials like excess tissue. These ottomans are functional too, so you'll get your money's worth out of the investment.
8. Broom Holder
Cleaning supplies can be one of the trickiest things to organize. Luckily, a broom organizer is one of the best ways to help you keep these items in check. There are many broom holders on the market, which simply screw into the wall. However, you can also build your own if you're hoping to save a little money. There are tutorials to help you out with this. Once you choose which holder you'd like to buy or make, all you do is fasten it to your wall. Then, you can easily hang up your broom, mops, dusters, and anything else that might be in your way.
9. Paper Organizer
Mail tends to pile up in every nook and cranny of a home. On top of that, there's paperwork for almost everything you do, which can also take up a lot of space. If you're not on top of everything, then there are numerous clutter hazards that can pile up. Paper organizers are easy to come by though, which makes it simple to get your space cleared up. There are so many ways that you can make your own paper organizer with items that you find around your own home. These can help you keep papers in order, so you don't have to spend your free time going through the stacks that have piled up around the home.
10. Small Bins
You shouldn't disregard how amazing having small bins around can be. You can purchase a wide assortment of these bins, which can help you suit your own personal style as well as your organizational needs. Little bins are perfect for tossing in random toys, getting rid of eye sores on your desk, and keeping your bathroom neat and tidy. Apart from that, you can place them almost anywhere to discreetly hide them or show them off. Your imagination is the limit when it comes to how you choose to store these items.
When it comes to making your organizational resolutions come true, these tips won't fail to please you. The tips won't just suit your budget, but will help you find interesting ways to get more out of your space while helping you to feel confident that you can get and stay organized in 2023.