School is back in session, which for most households means it's time to grab fresh school supplies. As school has progressed, there have been quite a few great advancements in the school supplies on offer. With so many cool things to check out, you might be wondering which can help you save money while helping your student to make the most of their final term of the school year. These ten supplies are an absolute must for most ages and can change the way your student studies, so the school year can be even more incredible.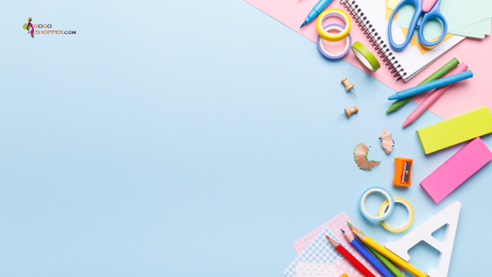 1. Planner
A planner is one of the best things you can purchase for a student. Planners are designed to help students keep track of their deadlines, important appointments, activities, and more. Many planners are also designed to be more of a journal, which can also help students process what they're learning in school while also helping them to write down important things that happen to them in school. You can choose from a wide variety of styles and designs now, which will help suit your child's personality and individual planning style. Planners are great for most students that read and write, which means you can begin teaching your child to use a planner in elementary school.
2. Planner Markers
Although planners are huge sensations right now, so are planner markers. These markers are specifically designed to help make a planner or a journal all the more appealing. These markers often come with stamps at the end, which creates shapes so students can take notes more efficiently. On top of that, the markers tend to come with a finer tip, so they're great for writing, but also for doodling and accenting important notes. Many planners come with glitter or scents too. These markers can help make the art of planning, which can be boring for many students, a lot more fun.
3. Push Pin Board
Organization can be important, especially as we push toward the end of the school year. One of the best ways to help students get organized is a push-pin board. These boards make it easy to place small notes with deadlines or important details. They're also great for pinning up high-quality work for inspiration. Of course, one of the best things about pinboards is they're customizable so your student can make it totally unique. With a board they love to play with, you'll find they're able to keep track of more.
4. Erasable Highlighters
Highlighters have always been an asset when it comes to studying. However, if you make a mistake, you're stuck with a neon mark that is always going to distract you. Now, this problem is no more because there are erasable highlighters. These highlighters work like your typical marker but come with a special eraser that takes away the color without a problem. With erasable markers, you can help your child improve their notetaking capabilities. This is perfect for color coding as well, as students can erase and change colors as they see fit.
5. Locker Organizer
If you have a middle school or high school student, then you probably know their locker at school is most likely a hazard. A locker organizer can change this and help you feel more confident that they're not losing their school supplies in the mess. Locker organizers tend to hang securely in the locker and offer more space for stacking books and papers without taking away space for necessities like extra clothing or a first aid kit. You can find locker organizers in a variety of different styles too, which will allow you to find one that suits your student's personality so they will actually want to show off their organizer.
6. Dry Erase Board
You might not think that a dry-erase board is a great school supply, but if your student is constantly going through the paper while working on homework, then it might be a great option. Dry-erase boards are especially great for children that are learning arithmetic and spelling. This is because they can practice writing letters, numbers, words, equations, and so much more without using lots of paper. Plus, it gives them the opportunity to have more fun with the learning process as they can use a variety of colors. Even older students can utilize the board as they work to memorize formulas, the vocabulary of foreign languages, and so much more.
7. Water Bottle
Water bottles have become commonplace for most households. However, a new water bottle for the second semester might be a great way to offer a fresh start. New water bottles can help show off new interests or just offer a fresher feeling when used. Water bottles are important for students because many students simply wouldn't be hydrated enough if they did not carry one. Many water fountains aren't exactly the healthiest thing to use, and some schools don't allow a lot of time between classes anyway.
8. Headphones
You might not consider headphones a school supply, but many of today's students need them to function well. Many classes use online resources to help improve their students' knowledge of the curriculum, so it is imperative that these students have a headset that allows them to hear the content that is offered. Headphones can also offer the chance to block out background noise as students try to study in busy areas. Of course, headphones can also help students unwind from the day, which is also incredibly important.
9. Heated Lunch Box
School cafeterias aren't known for their delicious meals. In fact, many students end up consuming junk food whenever they eat at school. In order to combat this problem, you might consider getting a heated lunch box. These are designed to keep food nice and warm so students can get the hot meal they deserve and aren't overindulging in junk food. Some of these lunch boxes maintain the food's heat throughout the day, while others have a timer that begins warming the food right around lunchtime. There are so many options to choose from, so make sure you find the right option for your student before you purchase.
10. Backpack
Backpacks tend to be one of the pricier school supplies, but swapping them out for a new one can really change a student's look at the new term. For other students, backpacks might sustain a lot of wear and tear over the school year anyway, because many students carry around numerous textbooks at once. Purchasing a new backpack can be tricky, but if you check out reviews then you might find one that is durable and stylish. Having more than one backpack can also be helpful for students that have alternating schedules, as they can keep one day's worth of books in one bag, and the other day's in a separate bag.
This term can be exceptional for your student. With these ten school supplies, your student can definitely go far in the new term while enjoying the experience. Best of all, these supplies won't cost you a bundle, which will ensure you can freshen up their supplies cheaply.