The Year of the Rabbit is almost upon us, which means it is time to get ready to celebrate. The Chinese New Year, if you fully immerse yourself in the holiday, can be pricey if you're not careful. There are quite a few things you can do to help make the holiday incredible without spending a pretty penny. These ten ideas will allow you to have a lot of fun while getting the most out of the holiday. You may even find a few traditions to help you embrace the holiday in the future.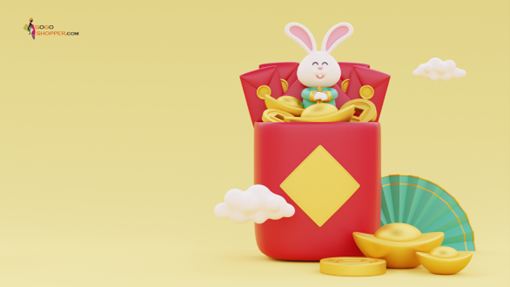 1. Go Red
During the Chinese New Year, red is the color to wear. A lot of people feel that white may bring them luck, but this isn't the case with the Chinese New Year. You should pull out all of your favorite red attire to wear throughout the celebration. This will help you to feel more connected to the holiday, even when you're not enjoying an activity. Some fashion designers will even release a special line of clothing for the holiday, so you might look around to see what is on offer. Of course, red doesn't have to speak only to your clothing. You can wear red accessories, like necklaces, scarves, or hats. You can also use red hair chalk or anything else that gives you a burst of red to help show off your holiday spirit.
2. Watch a Parade
Chinese New Year is actually a popular holiday celebrated across the globe. Although it may not be celebrated to the same extent as it is in many countries across Asia, a lot of major cities across the globe will offer fun celebrations like a parade. This can be a lot of fun to see and won't cost you anything other than the price of travel, and possibly parking fees. If you don't have a parade happening near you, then there are plenty of parades you can watch online. Many will even stream live so you can fully embrace them when they are happening while seeing how other cultures celebrate the holiday.
3. Embrace Your Inner Rabbit
People born during the year of the rabbit tend to be honest, hardworking, and reserved. These are only a few of the traits that individuals born during the Year of the Rabbit are said to exhibit. So, for this year, you might enjoy some activities that may appeal to those that were born during the year. A quiet activity might be a great option, so consider spending a day reading, giving meditation a try, or simply listening to peaceful music while you move through your day. You may also want to put in some elbow grease on a volunteer activity to help cater to your inner rabbit. Even if you weren't born in the year of the rabbit, it can help you get in touch with the new year.
4. Look for Community Activities
As with parades, many communities will offer quite a few activities during this holiday. You might look to Asian culture centers to see if anything is planned that you can enjoy. Sometimes, the community will host an entire fair to celebrate, while smaller communities might have a craft or food prepared to help make the holiday special. If your community isn't hosting anything, you might look to outside communities. If you can find activities, it can help you to learn more about the culture of the holiday while mingling with others.
5. Discover Chinese Culture
One amazing thing about the Chinese New Year is it opens up doors to learn more about Chinese culture. You can spend the week embracing all sorts of exciting things that originated in China. For instance, you can try out paper-cutting, make delicious and authentic Chinese foods, and learn how to do the Lion Dance. Some communities may even offer calligraphy or language lessons to help you gain even more knowledge. You don't have to stop at Chinese culture though. You might also feel curious about other countries that celebrate the Lunar New Year, so let your curiosity thrive.
6. Make Dumplings
If you're looking to dive into a traditional meal for the holiday, then dumplings are a great way to go. Dumplings may feel intimidating to make, but there are numerous tutorials and recipes online that can help you create dumplings that you will absolutely love. The great thing about dumplings is you can use a wide variety of ingredients. This can help you cater to your own family's taste buds while also allowing you to use ingredients that you already have on hand.
7. Rabbit Crafts
With the Year of the Rabbit to celebrate, you might want to embrace some fun rabbit-inspired crafts. There are a lot of great crafts that you can check online. You'll find everything from rabbit-inspired paper lanterns to rabbit puppets that will ensure you have plenty of fun. With the number of crafts to choose from, you'll be able to plan crafts for every age in your family. You should also be able to plan around craft supplies you already have on hand. These arts and crafts can also make for great gifts throughout the holiday, which can save you a lot of money.
8. Lanterns
One tradition that is a lot of fun for the whole family is paper lanterns. These are easy to make and come in a variety of shapes and sizes to help you choose an option that works best for you. Paper lanterns can be made with a variety of different materials too, which can help you create lanterns from items you may already have. Some paper lanterns can be lit and let into the sky or placed in a stream to help make the celebration even more spectacular.
9. Visit Elders
One major part of the Chinese New Year is paying tribute to your ancestors. Although this is an important element of the holiday, you should also take the time to pay respect to those that are still with us. So, you might consider visiting with your elders if you possibly can. This will open up the holiday for more family time, which is great for everyone. If your elders live far away and traveling isn't an option, then you might plan out a video chat or something similar. This will allow you to still get to spend time with them, so you can share the joy you feel. Of course, you should also try to get together with other family members as well, because this is the perfect time to have fun together and celebrate new beginnings.
10. Give Gifts
Gift-giving is a big part of the holiday tradition. However, that doesn't mean that you have to go all out. In fact, red envelopes are traditionally for children, and these can be filled with small amounts of money. However, this isn't a requirement. Rather, you can give your crafts, food, or anything else you please. Gifting homemade food to those in need is always a great option too, but you can also drop off food to the elders in your community.
When it comes to the Chinese New Year, you should definitely focus on the fun and educational experience of the holiday, as opposed to worrying about your budget. With these ten ideas, you should be able to find a few ways to bring the holiday into your home, so you can welcome it in a new year.