The holiday season is already almost over, can you believe it? New Year's is the last celebration of the year and can be one of the most important for so many people. If you're hoping to really get into the holiday, but don't want to stretch your budget any further, then there are many great ways you can embrace the day. These ten ideas can help you feel great about the upcoming year, while also leaving you feeling financially sound without having to sacrifice the holiday.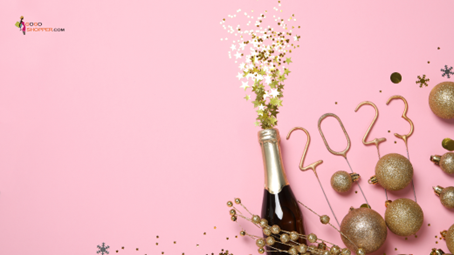 1. Make a Game Plan for Your Goals
The New Year is all about resolutions, right? So, instead of making a big production of the day, stay in and work on choosing a resolution that you'll actually want to stick with in 2023. Making a goal that you want to stick with is definitely a hard thing to do, which is why you need to spend a bit more time on it than just verbalizing what you'd like to do. On New Year's Eve or New Year's Day, sit down and make out a game plan. You can plan out activities that will help you reach your goal for each day, week, month, and season of the year. This will help you feel confident about the goal while ensuring you have the tools needed to actually make it happen.
2. Clean House
Beginning the year with a clean house can do so much for you. Cleaning the house might not seem like an ideal thing to do on a holiday, but once you're done, you'll have a home that is sparkling clean which can feel like a gift in itself. Beginning the year with a clean home is great for your mental health and your time, as you won't have to spend hours getting it in order after dealing with the holiday season. Other than that, it will allow you to feel like you have less on your plate when it is time to get back to work. In some cultures, cleaning house on New Year's is also said to bring good luck, which is never a bad thing.
3. Arts and Crafts Night
Start the year out by letting your creative juices flow. An arts and crafts night with friends or family is a great option to help you celebrate while having a lot of fun. As you wait for the clock to strike midnight, create a project that sums up your 2022, or one that shows your aspirations for 2023. If this doesn't sound appealing, then you might consider just getting together to create art that makes you happy. This will allow you to feel creative as the New Year arrives while giving you something new to hang in the home. If you want to save money you can use supplies that you already have on hand. You can also ask others to bring supplies, so you can pool them together to make the evening even more creative.
4. Digital Wine Party
If you want to embrace the drinking aspect of the New Year, but don't want to spend a lot of money or leave the house, then a digital wine party is the way to go. Not only will you be able to embrace the fun of having some of your favorite wines, but you'll also get to enjoy the company of friends. All you really need for your wine party is the wine of your choice and a device with an internet connection. Simply start a chat in your favorite virtual chat software and you're ready to go. You can come up with games, chat, snacks, and anything else that you'd do at a typical party. You can even take turns choosing music as you dance until midnight. If you're not sure how to plan out your wine party, there are lots of ideas online to choose from.
5. Spa Night
Another great way to help enjoy the New Year is to take some time to pamper yourself. A spa day is a great way to truly embrace the new year and start out feeling fresh and rejuvenated. You don't have to go crazy with spending when it comes to your spa day either. In fact, you can easily use the supplies you have at home. You also might consider using homemade items, which can often be crafted from items you already have at home. You can find recipes for these online if you haven't made them before. No matter what you choose to use, you'll definitely be able to rest when you embrace your spa day while waiting for the ball to drop.
6. Reconnect with Loved Ones
Sometimes, it's hard to meet up with all of your loved ones during the holiday season. Things get really busy for everyone, so coordinating schedules isn't always possible. One way to help make the New Year special is to get in one last gathering for 2022. May it be having a small family reunion to get together with the people you can or meeting up with friends for coffee. If you'd prefer to wait until the year is over, then you can always make it one of your first activities for the New Year. Of course, seeing everyone might not be possible, so you might consider making dates for video chats if you can't get together with the people you want to.
7. Explore Museums
Spend time learning on the last or the first day of the year, by visiting museums that you might not have time to see during the rest of the year. It doesn't matter if you're spending the day looking at the past or embracing the science of the future. A museum of any type can help stimulate the mind and show you all of the amazing things that have been accomplished over the past several centuries. This can also help you hope for amazing things in the future.
8. Game Night
If you want to have a simple night in without spending a lot of money, then a game night is definitely the answer. A game night will help you bond with those you love while ensuring everyone is engaged and having a good time. Game nights will also help you to kill time as things tend to go by quickly when you are engaged in an activity. Apart from that, games will help to keep the night cheap, especially if you use what you already have on hand. You can also find trivia games online to help you further your fun. If you invite guests over, you can always ask them to bring their favorite games or drinks and snacks to help cut the burden of the cost.
9. Enjoy the Outdoors
Nothing will boost your spirits quite like getting outside and enjoying a little fresh air. There are so many ways you can embrace the day on New Year's Eve and New Year's Day. One of the easiest options is to get outside and take a walk. This will help you to clear your head, enjoy Mother Nature, and feel confident that you're going to enter 2023 feeling healthier and happier. There are usually plenty of other outdoor activities to enjoy as well. For instance, you might consider going ice skating while it is still cold out. This will allow you to have a bit of seasonal fun that might not be available in the upcoming months. A hike, if the weather allows, can also give you a bit of clarity while helping you to focus on what 2022 has meant to you.
10. Community Activity
When it comes down to it, one of the things you might consider is joining the community for the holiday. Most communities will have some sort of gathering to help make the holiday special. For instance, some communities will host a firework show to help ring in the New Year. Often, these shows will offer food, concerts, and other activities to help keep everyone entertained. If you don't want to go out, you may be able to enjoy the firework show from your own home. Most communities will post about these activities on social media or their websites so you might keep your eye peeled. If your community isn't offering any entertainment, then some communities will broadcast their fun so you can enjoy it from the comfort of your home.
Enjoying New Year's doesn't have to cost you a small fortune. These ten ideas will help improve your mindset while allowing you to have plenty of fun as you prepare for 2023. Best of all, none of the ideas will cost you a lot of money, so you won't have to add to your holiday expenses.