The holiday season is upon us, which means it's time to start decorating for the festive season. With the first of December bringing National Christmas Light Day, it's the perfect time to think of some great décor to help the exterior of your home. You don't have to spend a small fortune on this because there are lots of great things you can make from home with supplies that you may already have on hand. These ten ideas are just scratching the surface but are a great way to add some fun to your home to bring joy to the neighborhood.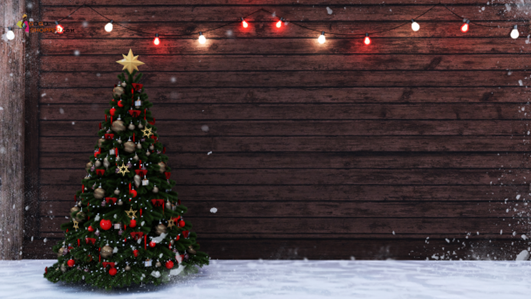 1. Upcycled Snowman
If you've still got your plastic pumpkins from Halloween handy, then you have the perfect way to decorate for the upcoming holiday. Simply flip the pumpkins upside down and glue three of them together to create a snowman. If the pumpkins aren't already white, then you might have a little painting to do. Once your pumpkins are painted and dried then you can decorate them to suit your personal tastes. These snowmen can be secured outside or placed inside, which gives you the freedom to decorate any way you please.
2. Reindeer Logs
If you can't resist a cute reindeer, then you'll definitely want to check out this DIY tip. You can really customize this set to suit your unique needs too. All you need is a few scrap logs that you might not want to use for firewood. From there, you can attach them to metal or plastic to connect each body part and to create the legs. You can also use sticks if you can find sticks thick enough to hold the weight. From there, you can finish the body off with pinecones and sticks to create tails and antlers. When the body is complete, add the final touches like a scarf or bow and you're ready to set it out for all to admire.
3. Wood Pallet Christmas Tree
If you love the idea of having a Christmas tree outside, then a pallet Christmas Tree is the way to go. All you really need for this craft is a pallet, which can be purchased at most lumber stores. However, if you ask a retailer if they have any that they can spare many will allow you to take it for free. Once you have your pallet, simply paint a tree on it and then decorate it with garland and ornaments. There are a lot of ways to approach this craft though, so don't feel like you have to keep it as simple as this. If you're looking for ideas, then there are plenty of tutorials online to check out as well.
4. Front Door Gift
One of the easiest ways to get festive this holiday season is to transform your front door into a holiday gift. You can have a lot of fun with this to show off your unique personality throughout the holiday season. If your door doesn't have a glass door to protect it from the elements, then you might consider using a ribbon to line the door like a gift. You can also add a bow to top off the look. If there is a protective door, then you might consider wrapping the door in wrapping paper. You can choose whichever form you like to ensure you show off your holiday spirit. You can even change up the door to suit your preferences if need be.
5. Star Luminaries
Star Luminaries will bring such a beautiful touch of magic to your home that you may want to leave them out all year. This craft might take a little more time and patience to complete, but once you finish up your first luminary you'll want to make more straight away. If you want to keep things easy, you can purchase the stars from your favorite hobby shop. However, you can also make them using paper or plastic that you can melt. If you choose to use paper, you'll need to place wax on it to help the luminary hold up to the elements. Once you have your stars ready to go, you can stuff them with lights and hang them up for all to see.
6. Oversized Christmas Ornaments
If you want to have a little fun this holiday season, then you're definitely going to want to make these oversized Christmas ornaments. These ornaments are incredibly cheap to make and won't leave you feeling flustered with the project because it is truly a cinch. All you need is a bouncy ball, some paint, and an old container. The container should preferably be something that can hold up to the elements, but even an oatmeal container will do the trick. After you paint the container and let it dry, attach it to the ball using sturdy glue. A hot glue gun will not work for this as it poses the risk of making the ball pop. After allowing this to dry for a couple of hours, you should be ready to hang the ornament up anywhere you please.
7. Wreath
A wreath is a classic way to add a touch of festivity to your day. You will find that there are many ways that you can make a wreath that will suit your budget and may even be possible to make with the supplies you currently have in the home. For instance, you make a wreath using candy canes or ornaments that you don't plan to use. You can also go wild and make one that shows off your favorite theme. There are so many tutorials online to help you choose the perfect option for your needs, so you can have fun during the holiday season. You might even consider making wreaths for others to give as gifts.
8. LED Lightball
Illuminate your home when you create a light ball for next to nothing. All you need to create the light ball is something round, some chicken wire, and lights. You start by wrapping chicken wire around the round object, but make sure you don't wrap it too tightly as you will have to remove the object. Once you're finished removing the object, add lights around the ball. Then, you simply plug in and enjoy. You can place the light balls in the yard or hang them up to create a magical effect. If you're feeling lost with this craft, then you'll find a variety of tutorials to help you along the way.
9. Lighted Gift Boxes
Another fun idea is to create lighted gift boxes that you can place on the lawn. You can take the long route for this and build your gift box frame out of wood and then wrap it in chicken wire before adding lights and the finishing touches. However, if you're in a hurry, you can simply find a semi-transparent plastic container to get you started. From there, add your decorative pieces and lights to the interior. This is simple to do in a hurry and will allow you to create something that looks festive for less than you'd purchase in a store. Whether you want to take the long route or the short one, you'll find that a tutorial can help you along the way.
10. Decorate a Tree
If you already have a tree in your front yard, then this is one of the easiest ways to add a touch of joy to your home's exterior. It doesn't matter the type of tree you have outside, as you can easily add a few finishing touches to make it look like a holiday tree. You should also consider using ornaments that you already have on hand. Plastic ornaments aren't always the best because they're more likely to blow away. You can also find old ornaments at thrift stores if you don't want to part with any of the ornaments you typically use inside. Of course, you can always keep it simple by just using lights. You can also string together items that birds might want to eat so your décor is environmentally friendly.
Decorating the exterior of your home can be a lot of fun. It doesn't have to be expensive either, as these ten ideas won't cost you a lot of money. They can also create a fun bonding activity for the whole family, which can bring even more magic to the holiday season.