Veterans Day is coming up, which means there will be a lot of freebies offered for veterans to enjoy. If you have a veteran in your life, then you might help celebrate them by reminding them of all of the freebies they can choose from or take them out for a meal or two. These ten major chains have some great things to celebrate veterans at no cost to them. If you plan accordingly, you can enjoy a free meal all day long, as well as a couple of pick-me-ups and snacks. Of course, this list is only scratching the surface, so make sure you ask around to see what local stores are also offering.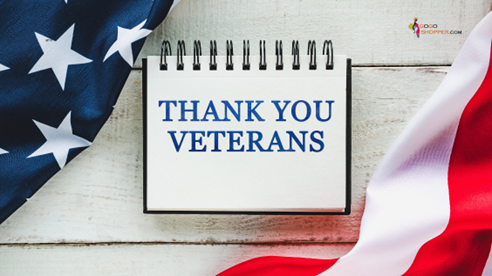 1. Starbucks
Starbucks is one of the leading coffee chains in the United States and around the world. The company often has rumors surrounding it about how they don't help the military, but these are often squashed with evidence of the contrary. Many military bases also have a Starbucks for service members to enjoy, which makes it incredibly easy to take advantage of its Veterans Day freebie. This year, Starbucks is offering a free tall drip coffee or iced coffee, which provides veterans with a little more choice than previous years. This offer is guaranteed to service members, veterans, and military spouses, so you can make it one of your first stops of the day or save your freebie for a pick-me-up in the afternoon.
2. Peet's Coffee
If you're looking for a little more caffeine on Veteran's Day, then you might consider heading to Peet's Coffee. This venue isn't all over the nation, but you'll find it in many cities. Peet's Coffee is offering a free small cup of drip coffee or tea all day long. This makes it a great breakfast or afternoon stop, especially if you're out shopping. Peet's coffee is also offering 30% off subscriptions if you prefer to brew at home or you don't have a Peet's coffee near you.
3. Dunkin Donuts
If you're a fan of starting your day off with a little something sweet, then a stop at Dunkin Donuts is bound to do you a world of good. Dunkin Donuts is known for doing quite a bit for the military community, which is why so many service members frequent the donut hot spot. This year, Dunkin Donuts is offering a free donut to all veterans that can provide a valid ID. On top of that, Dunkin Donuts offers a regular 10% off all purchases made by a service member, so if you'd like more than one donut or a coffee to pair with it, then you'll be saving even more.
4. Krispy Kreme
When it comes to donuts, you'll be living the good life this Veteran's Day. Krispy Kreme is offering one of its iconic donuts for free, as well as a small cup of coffee. This is a great option for a quick breakfast and is certain to satisfy. All you need to get the free deal is a valid ID that shows your veteran status. Of course, if you don't want to deal with the lines, you can enjoy cheaper Krispy Kreme any time of the year. Service members that come to the venue in uniform will receive 50% off of their order, while veterans not in uniform can receive a 10% discount with a valid ID. This offer also extends to all emergency personnel.
5. Denny's
Denny's is a common place to celebrate any occasion because it is open 24/7 and serves a wide variety of comfort foods. This year, like every year, Denny's is offering something special to veterans to honor their service. This year, veterans can enjoy a Build Your Own Grand Slam for free. This is for dine-in only, as you do need to provide a valid ID when cashing out. Of course, Denny's tends to honor veterans all year round with a 10-20% discount depending on location. This offer is available all year long, so if you don't want to deal with the crowd you won't have to give up on the savings.
6. IHOP
Another great spot to grab some comfort food is IHOP. There, you'll find everything from burgers to stacks of pancakes. However, if you're looking for a freebie on Veterans Day then you'll be excited to know that you can get a stack of Red, White & Blueberry Pancakes. This sweet treat will definitely help you to satisfy your cravings while filling you up. IHOP also offers a 20% military discount, so you can add to your meal without spending a fortune. This discount is always available with a valid ID, so you can enjoy a homey meal whenever you're craving it.
7. Buffalo Wild Wings
If you'd like a quick lunch that will leave you feeling satisfied, then Buffalo Wild Wings is offering 10 boneless wings and fires for free. The website doesn't specify if you can choose any coating, but most likely this is the case. This is typically on the lunch menu, so it is enough to fill you up for some time. Buffalo Wild Wings also offers a 10% discount at participating stores, so you might check in to see if this deal is available to you. With many game nights coming up this discount can really go far.
8. Red Robin
Red Robin has become a national favorite, largely because of its bottomless fries. However, this November, the chain is giving back to veterans. From November 1st to November 14th, veterans can pick up a free Red's Tavern Double burger. This allows veterans to cash in on the deal whenever it is convenient for them. Veterans will need proof of service to cash in on the deal and they'll also need to be a member of the Red Robin's Royalty Program. This is totally free and will even give you points toward food purchases in the future.
9. Applebee's
Applebee's is a great place to take a break from your long day and grab some dinner. On November 11th, you can score a complimentary full-size entrée from an exclusive menu when dining in at the restaurant. You will have to prove your service, but this will allow you to enjoy a 10% discount on the rest of your food as well. Veterans will also receive a $5 bounce-back card to redeem on any dine-in, to-go, or deliver purchase within a three-week span after the holiday. Of course, the 10% discount is available all year long, so you'll get more out of every trip to Applebee's.
10. Hard Rock Café
Another great place to grab something for lunch or dinner is the Hard Rock Café. This year, the café is offering an original Legendary Steak Burger topped with applewood bacon, cheddar cheese, a crispy onion ring, leaf lettuce, and vine-ripened tomato for free. Veterans can also enjoy 15% off their entire purchase all year long, so you can stretch your meal even further if you're hungry. While you're at the café, you can admire all of the histories it offers, which makes for an inspiring trip.
Veterans Day is a great day for freebies, so make sure you don't miss out on all of the options available to you. These ten chains will cater to most of the nation, so you can feel assured that you'll have plenty of freebies to choose from. However, there are so many other restaurants to choose from, so if you don't see your favorite place on this list, their website or social media page should let you know their offerings.