The Fourth of July is heading our way and if you haven't made plans then this is your reminder. Finding budget-friendly and safe ways to enjoy the holiday with the whole family can be pretty difficult. With the holiday largely based around fireworks and enjoying drinks with friends, there are still many ways you can have plenty of fun with everyone. These ten ideas are simple and will help you cater to the needs of your household without having to pass up on the fun that the holiday offers.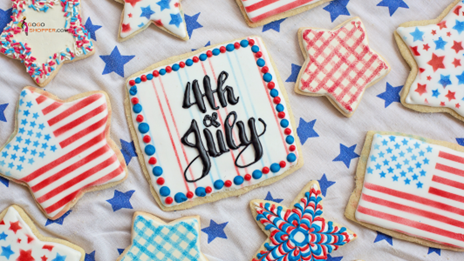 1. Projector Fireworks
Fireworks are one of the most popular ways to celebrate the holiday. Unfortunately, for many areas, there may be burn bans, which makes fireworks illegal and dangerous. Some families also worry about the safety of their small children with fireworks. If you're looking for an alternative option, then all you really need is a projector. You can light up the neighborhood with a firework show on your garage door or fence. Simply stream firework shows from around the nation and enjoy the beauty projected before your very eyes. If you don't have a projector, then you can easily make one using your phone. There are lots of tutorials online to help you get started with this.
2. Visit a Fair
Summer and fairs go hand in hand, which is why it is a great outing for the Fourth of July. More often than not, fairs will have special events happening on the Fourth of July, so you'll be able to get even more out of the experience. A fair shouldn't be tough to find either, as they tend to be very common. At the fair you should find rides, summer-inspired fair foods, games, shows, and so much more. The price of admittance should keep the whole family busy for the entire day if that is something that you'd like to do. Best of all, if you're in an area where fireworks are legal, you should be able to enjoy a firework show from the fair.
3. Watch a Parade
The Fourth of July is one of the best times to catch a parade. Most communities will have small parades that you can check out, which tend to involve classic cars, local organizations, bands, and more. Your local community should have all of the details on the parade in your local area. Often, the parade leads to other activities too, which can help you plan out your day efficiently. If you don't have a parade in your community, or you'd like to see something even more exciting, then you can catch some of the big city parades on TV or streaming online.
4. Hike
Getting outside and enjoying everything that the country has to offer can be a great way to enjoy the holiday. One of the best ways to enjoy the great outdoors is to go for a hike. Choose a trail with lots of great paths to take on to truly embrace the great outdoors. Kids will love finding rocks, sticks, plants, and animals while the whole family gets the exercise they need to thrive. You can even pack snacks or a picnic to add some fun to the hike.
5. Spend Time with Loved Ones
Any holiday is a great time to spend a bit of your time with loved ones. With restrictions loosened in most places, getting together with others will be easier than ever. If you're looking for a cheap way to embrace your loved ones, then consider hosting or attending a potluck. This will take the pressure off of your budget and your time, as you won't have to do everything. If you're not interested in eating with others, then consider hosting a competition or having people come over to play some games. You can also attend parties you're invited to if you don't want to do any of the planning on your own. If your plan is to enjoy the company of your loved ones, then you won't have to stretch too far to make this happen.
6. Cook Out
Cooking out is one of the most timeless ways to enjoy the Fourth of July. With summer in full force and everyone enjoying the summer rays, a cookout is a great way to bring people together. However, you can also plan a meal for just your family, which can help improve the bonding experience. Cooking out can be incredibly cheap, especially if you choose your meals well. If you're not sure what to purchase there are many guides and recipes online to help guide you along the way.
7. Craft time
Another easy way to make the holiday fun for everyone is to enjoy some craft time. There are so many exciting things you can do to help entice the imagination while enjoying a Fourth of July theme. For starters, you might consider making fireworks in a jar, which is perfect for children not yet old enough to participate. Another fun option is Uncle Sam hats, which suit the theme perfectly. You will also find that there are many crafts to choose from that involve flags, fireworks, and other patriotic options. You can find it online if you're having trouble choosing what would work best for you.
8. Patriotic Desserts
There's nothing quite like a sweet treat to make the holiday even more enjoyable for the whole family. Patriotic desserts are one of the easiest ways to have a little fun for the holiday while treating everyone to something special. Luckily, there are so many red, white, and blue recipes to choose from that you might have to make a few different desserts. One easy option is patriotic fruit salad which can be made with strawberries, blueberries, and bananas, or any other red, white, and blue combinations you can think of. Another option is Jell-O, which just requires you to layer the different flavors. Patriotic cheesecake can be lots of fun too and just requires you to add some berries to the top of the cake. Of course, there are so many more options to choose from, so check out some recipes to see what speaks to your sweet tooth.
9. Camp Out
The summer months are the perfect time to get outside and enjoy the fresh air. Camping out is a great way for the entire family to appreciate nature. More often than not, you will find that many campsites will offer discounts during this time. Some may also open up for free, but you might have to look around or even call and ask for discounts if you're really committed to camping out. Of course, you can always just camp out in your own backyard, which can help make kids feel more secure and comfortable. No matter how you choose to camp, make sure you pack the essentials including supplies for smores and other campground classics.
10. Share the Meaning of the Holiday
One of the best ways to celebrate the holiday is to actually share the meaning of it. Many children won't know what the holiday means until later in their childhood. So, there is no time better than now to answer all of their questions. You might also look for resources to help you along the way. Books can be a great asset and there are many written for children. There are also plenty of songs and movies to choose from. Of course, word-of-mouth stories are also a good way to help pique your child's interests. There are lots of recommendations online to help you find your way.
The Fourth of July is a great time to bond as a family. With these fun tips, you'll easily be able to enjoy the holiday on a budget while still catering to every age group in the household. This should help make the occasion more relaxed, so you can easily have fun with the family.