With social gatherings starting up again, many people are excited to engage in fun activities like gender reveal parties. If you're planning a gender reveal, but you're worried about spending the money on a party before your baby shower, then there are so many simple ways for you to create a fun party on the cheap. These ten gender reveal ideas will help to suit your little family's personality while allowing you to budget your money in other areas of the party.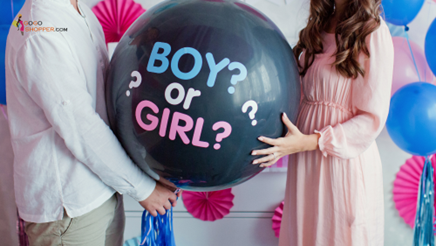 1. Cupcakes
Cupcakes are probably one of the trendiest ways to enjoy a gender reveal party. A lot of people pass on the gender of their baby to a baker to pull this off, but there's no need to do this if you have a friend or family member that can keep it a secret. There are many recipes online so you can quickly create cupcakes and fill them with frosting boasting the gender of the child. If you want to add to the fun of the party, you can make all of the cupcakes plain with the exception of one that will contain the gender reveal. Each guest can take a bite of their cupcake revealing the inside until the guest that received the gender reveal cupcake takes a bit and reveals the interior frosting.
2. Homerun Reveal
Another classic option, which is great for families that love sports is the homerun reveal. For this reveal, all you need is a bag that won't reveal the interior contents but will burst on impact. There are lots of tutorials online for these, so you can shop around to find what works for you. You can also purchase the baseballs if you want to keep things simple. Guests can easily show up in their favorite jerseys or sport a jersey showing off the gender they think the baby is. When you're ready for the big show, have someone pitch the ball to mom or dad and stand back as the baseball reveals what the baby will be. This reveal theme opens up many options for baseball-themed refreshments, decor, and games to keep your budget low.
3. Balloon Release
Another cheap option that is incredibly easy to do is a balloon release. If you don't know the gender of the baby, then have someone you trust place blue or pink balloons in a box. When the time is right, open the box and let the baby's gender be known. You can even add to this by allowing multiple people to have boxes. Each can take turns to see which box reveals the gender. If you do this inside, it will help keep the reveal environmentally friendly. It will also allow you to keep the kids attending the party entertained. Since balloons are so cheap, you will spend next to nothing on this gender reveal, even if you choose to use a lot of balloons.
4. Drink Packets
Save some money on entertainment and refreshments for the party when you combine the two. Simply choose a powdered drink that makes both pink and blue beverages. Then, place the mixture in a white container for your guests to mix into their water when the time comes. You can give everyone the same powder for a gender reveal that will light up the room with your child's color, or you can have guests pour their powder in one at a time until someone reveals a pink or blue cup. If you have multiples, then you can really bring some fun with this activity.
5. Silly String
Another great way to keep everyone entertained is a silly string fight. Simply place covers over the labels of the string so no one can see the color of the string container. For this activity, you can keep the string the same color or you can give everyone different colors, so the gender isn't revealed until the silly string fight completely breaks out. This will allow everyone to have plenty of fun while helping you to celebrate your bundle of joy.
6. Water Balloons
If the gender reveal is happening on a warm day, then water balloons are a great way to entertain everyone, keep them cool, and reveal the gender of your child. If you want to go the water balloon route, you're going to need to find dark-colored balloons so as not to give a peek of the water inside of them. If you're struggling with this, then you can always double up on one balloon, which can be the reveal balloon. Covering this balloon in tissue paper or anything else can also help out. If you can find the right balloons to hide the water, then simply add a few drops of food coloring to each balloon. You can even keep the reveal color to a minimum and add alternative colors, so it takes a bit longer for people to figure out the gender. Ask guests to wear white shirts, so when the water balloon fight begins, everyone's clothing will show the results. Guests can also just throw the balloon at the father of the child who is wearing a white shirt. This makes a great keepsake too.
7. Balloon Pop
Balloons tend to be one of the easiest ways to reveal gender, so you don't want to overlook the balloon pop method. For this, all you have to do is fill up a balloon with something and then pop it to see what color is revealed. You can have a lot of fun with this. For instance, the person that fills the balloon might not reveal what is inside. It could be anything from confetti to colored shaving cream or slime. You can also fill multiple balloons with items and continue popping them until you find just what you're looking for.
8. Art Reveal
Using art to reveal your baby can be a lot of fun and can also ensure you have a fun keepsake for your little one. One easy way to do this, especially if you know ahead of time, is to have a maternity photograph taken. Apart from your classic maternity photos, you can add an extra in that shows the gender of the baby or the parents wearing specific colors. This can be revealed in a covered framed image or in the back of a photo book. Another way to do this is to have an older sibling paint pink and blue handprints, then reveal which handprint is the winner at the party. Of course, if you're an artist you can really go wild with the way you choose to express this special moment using art.
9. Goody Bags
If you like to host parties and keep people on their toes, then revealing the gender at the end of the party can be a lot of fun. You can fill the goody bags with colored candies and treats so that when people peek inside they are given the answer to their burning questions. If you already know the gender, then you can pass out the bags at the end of the party, so people are discovering the gender on their way home. Of course, it can also be a lot of fun to see how long it takes for the news to spread after the first person has left. You can also mix things up by handing out goody bags with only one option sharing the gender. Guests can peek into their bags one at a time until someone finally comes across the reveal bag.
10. Pinata
A pinata is a great way to bring some tradition to a party and can help make revealing the gender a lot of fun. You can purchase a pinata for very cheap especially if you're not interested in working with a theme. However, you can also get one custom-made. If you really want to get hands-on or save some money then you might also considermaking one of your own. There are a lot of tutorials online to help you out here. When you fill the pinata, make sure the bottom has candies that are gender-neutral, so it takes a little more work to get to the candy that is going to give everyone the answer they're looking for.
Gender reveal parties can be a great start to parenthood. Although so many of these parties seem to cost an arm and a leg, there are ways to keep it simple and on budget. These ten ideas are not only cheap and easy to pull off, they'll allow you to spend the party celebrating your future child instead of worrying about the budget.