The New Year is a fun and exciting time for most people. However, if you have kids then you might be wondering how you can bring excitement to their level. After all, most celebrations are designed for adults, so enjoying an event with children around can attend is next to impossible in many places. On top of that, many kids can't make it to midnight, which might leave them wondering what they missed out on. Luckily, there are numerous things you can do to help your children have a blast for New Year. These ten ideas can help kids have fun while ensuring you stay on a budget for the holiday.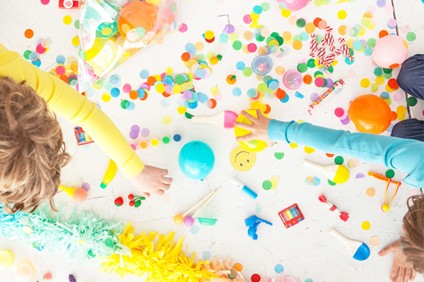 1. Mock Countdown
One of the biggest aspects of the holiday is the iconic countdown to midnight. People all over the world participate in this part of the holiday, which helps to unite us all. However, if your children can't seem to make it to midnight then there are many alternatives. On the contrary, if you don't want your children to make it until midnight, but you still want them to feel like they did, then these alternatives will help you too. Many subscription services and kids' networks offer a fake countdown which features all of their favorite characters. When it is time for bed, all you have to do is access the countdown and enjoy it with your little ones. Then, send them off to bed for the night. It allows for a win-win situation.
2. Watch a Different Time Zone
Another way to add to the fun of the countdown is to check out what other countries are doing. You can find countdowns from all over the world every hour, which will allow the entire family to countdown with the rest of the world. These count downs can be found on the internet with ease and can help the family see a wide variety of different cultures celebrating. You can also locate a countdown from a different time zone if you want to give the illusion of it being midnight. If you aren't in the Eastern time zone, then you can catch New York's iconic countdown early, which will help provide the illusion you desire.
3. Create Fun Snacks
Adults get to indulge in some pretty awesome things over the New Year holiday. From drinks decked out to impress to appetizers that you'll crave all year long, the snacks are definitely something to talk about. However, there isn't a whole lot of wow-factor when it comes to kids' snacks. This year, you might want to look up some fun snacks for the kids that look just as elegant as the adult snacks. There are actually way more items that you would come to expect, so have fun with the task. Apart from that, you can always stick with some of the classics. This will appease kids as they stay up late while making sure the holiday feels special.
4. Dance Party
With all of the sugar and treats around the home for the celebration, you might find that your kids are bouncing off the wall. So, it is important to provide them with activities that will help keep their energy levels at a rate that won't cause chaos within the home. One of the easiest and cheapest ways to do this is to have a dance party. Kids can show off their moves in dance battles or simply just put on their favorite songs and groove to them. You can find free streaming playlists online to ensure everyone has fun with the dance party too. If you don't want to let them wing it, then power up a dancing video game to keep them active for quite some time. This should help keep things a bit calmer until the ball drops and might even prevent boredom from setting in during the long night.
5. Dress Up
Dressing up can be a fun part of the holiday. Many adults love to show off some swagger as they ring in the New Year, so let the kids do so too. This doesn't mean you have to go out and purchase swanky dresses and tuxes. Instead, let the kids come up with their own fun wardrobe using the items they already have. This will help them exercise creativity, while also teaching them to work with what they have instead of just going out to buy new things. You don't have to dress up to celebrate though. You might consider starting the tradition of wearing wacky pajamas, which will allow the kids to get the bed faster once the celebration is finally over.
6. Holiday Crackers
Firecrackers aren't always an option when it comes to New Year's Day. In fact, if you have little ones then they might not be an option no matter the season. That is why holiday crackers will add a fun touch to your holiday celebration. These items don't really make a lot of noise, so they won't scare younger children. However, they do create a lot of colors as they can pop out confetti, pom poms, or whatever else you choose to fill them with. These crackers are very easy to make too. All you need is the cardboard from toilet rolls, items to fill the crackers with, glue, colorful papers, and so on. There are many tutorials online to choose from too, so you can find one that suits your family's needs.
7. Photoshoot
Like many adults, kids love to take pictures, which makes New Year a great time to set up a photobooth. You can easily purchase a kit for this, which will include a variety of New Year items, as well as some themed items, like top hats and more. However, you don't have to splurge on this as many of the items can simply be printed and glued onto cardboard. Of course, you don't have to do a photo booth at all. Kids might have just as much fun taking pictures of the celebration around them. You can have the kids enjoy a fashion show where they can take fun pictures of one another.
8. Work on Resolutions
One of the biggest aspects of the holiday is the New Year resolution. However, most kids won't understand what this is all about, and those that are old enough to might not fully understand how to work on their goal. So, you might want to sit down with your kids and have them thoroughly think over a resolution that will work for them. You might have to explain what a resolution is and why they are made on New Year's. For older children, it might be wise to work with them on their resolution. First, have them write it down. Then, have them think of ways that the goal can be achieved. When they come up with ideas, have them write each down. This will help them to plan on a way to reach their goal, which will help them immensely in the future.
9. Community Event
Another way to allow kids to have some fun on the big day is to join in on a community event. May it be a firework show or a special party designed to help everyone celebrate, a community event is a great way to support the desires of the whole family. Of course, some community events will cost money, so you might be on the lookout for a few options that are free of charge. Many communities will host special dinners and so on, so make sure you check to make sure the event is entirely family-friendly too. Some places even plan their winter festival around the New Year, which can add all the more fun to celebrating the upcoming year. Of course, if there isn't a community event to speak of, you might find something to do within the community. For instance, you might consider starting a tradition of going ice skating or taking in a movie on New Year's Eve.
10. Offer Toasts
Toasting can be a great thing to do during New Year's. Most kids won't have experience with toasting though, which makes this year the perfect time to teach them. Toasting is incredibly simple to do, too, so you might actually have some fun doing it. You might start by making a toast highlighting the year and then toast the New Year. Another fun thing to do is make a small toast about everyone at your gathering. Kids will have fun coming up with things to say, as well as clinking their glasses for a chance to speak. Of course, you might want to consider offering glasses that can't break so there aren't any accidents.
New Year's can be a great time for kids even if there aren't a lot of activities based around them. These ten ideas can help make your child's holiday amazing though, which will help everyone start the year off on a good foot. So, have a little fun with the kids this year, especially if you plan on staying in to save some money.