This year, Hanukkah begins on December 22, which means there isn't a lot of time to get all of your shopping done. However, if you're looking for a few gifts that will suit most people on your list then you're in luck. These ten ideas will help keep you on budget while providing a fun gift that people will love. Best of all, the items on this list are simple to get in a hurry, so you won't find yourself having to wait for a delivery service to bring them to your door. With any luck, you'll be prepared for every day of gift-giving the holiday brings, so you can truly enjoy the spirit of the occasion.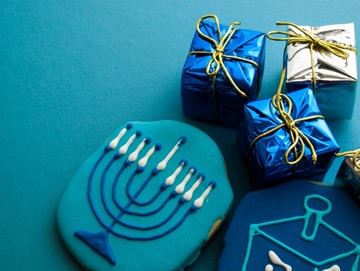 1. Movie Tickets
When it comes to gift-giving, there are so many things to choose from that will work for a variety of people. However, movie tickets will suit almost anyone on your list. Most people love taking a break from their hectic lives to take in a movie. However, it isn't always feasible to fit it into the budget, especially during the holiday months. So, this year, you might consider offering movie tickets for the holidays. There are actually quite a few ways to go about this. One way is to order a gift certificate, which can be redeemed at the movie theater in your area. Each theater has a variety of deals too, so make sure to shop around. However, if the people aren't from your area you might check in to see what they have in their area, so you don't purchase something they can't use. If you want them to see a specific movie then you can simply purchase the tickets in advance. This is a great option for parents, especially if you want to add babysitting to the gift. Of course, this gift does work well for kids and adults alike.
2. Cozy Socks
By the time Hanukkah arrives, winter will practically be here. What says comfort during the winter months better than a pair of cozy socks? In this day and age, you can find just about any type of sock to suit your needs too, which can really make it fun to shop for everyone on your list. They have fuzzy socks, colorful socks, character socks, and even socks that feature works of art on them. Best of all, many of these socks won't cost you an arm and a leg. If you're worried about buying a gift that won't serve a purpose, you won't have to worry about this one. Everyone can use a new pair of socks, especially if they help make the winter months more bearable.
3. A Book
One gift that keeps on giving books. However, most people don't think to ask for books because their schedule doesn't afford the time. If you end up giving someone a book, you're also giving them the opportunity to take some time for themselves in most cases. Books can be a fun way to help others expand their minds too. You might start by asking around to see if the person on your list has any preferred genres. If not, then it might be wise to check out the bestseller list for the year to see if there is anything that seems to suit the person's personality. Luckily, around this time of the year, you'll find there are a lot of sales on books, so you won't have to spend a bundle. If you feel like you're having no luck on the book front, then offer a gift card for their preferred electronic reading device.
4. A Game
These days, a lot of people don't think about board games. With phones around, it is easy to fall into the slump of just using our mobile phone to play the games we used to enjoy with others. By offering a board game or a card game for the holidays, you're helping others make the time to socialize and have some fun without a screen in front of their faces. These games don't have to cost a bundle either. In fact, some are just $10 or less, which will help you take a step away from blowing your budget. You might even convince the person to play the game during the day you spend together, which can add even more fun to one of your days of celebration.
5. Special Mug
If you're looking for an easy way to please an adult, then a special mug is one way to do so. These days, there are so many mugs to choose from, so finding one for every personality on your list won't be hard at all. You can even order custom mugs, which will definitely make you feel excited to see the recipient unwrap what you have picked out. If you're crafty, then you might even be able to make your own customized mug, which can save you a bit of money in the long run. You should also consider adding a few different items to the mug, like packets of tea, hot cocoa and more. This will add even more fun to the gift.
6. Chocolates
Without a doubt, chocolate can be one of the best ways to give during the holiday season. Not only can you find chocolate just about anywhere, but it can also be a wonderful treat for children and adults alike. If you have adults on your list, you might stick with items you know they will love. Some people prefer dark chocolates while others like milk or white. You can even purchase bulk bags and mix together different chocolates to help you save money. This will accommodate many gifts at once. When it comes to children, you might want to stick with a traditional item. That is chocolate gelt. It often aims to please and will allow children to play some of their favorite holiday games longer.
7. Candle
The gift of comfort is a great present for the holidays. One item that truly says comfort is a candle. This product can be ordered in a wide assortment of scents, which will allow you to purchase each item based on the recipient. Candles come in all shapes and sizes too, so you can shop around your budget as well. It is best to shop for these items if you find a sale though, so you don't end up spending too much on the gifts. If you're crafty then you can always try making your own candles. This might even allow you to make them even more festive, which can add some fun to the gift-giving process.
8. Baked Goods
If you're looking to make a gift from the heart on short notice, then you might consider baking a few items for the people on your list. You can bake almost anything and have it be loved too, as these gifts tend to bring excitement and nostalgia to the holiday. One of the easiest options to make is homemade cookies. You can make so many different kinds that you'll suit everyone on your list. You can even make a variety and split them evenly into festive bags that you can distribute to multiple people. Bread is another great option and can go hand in hand with the holiday. Of course, the sky is the limit here, so make sure to have some fun with your baking options.
9. Handmade Items
Another great gift that comes from the heart is anything you make with your hands. If you're a crafty person then you might consider taking some time to make some fun items for the people on your gifting list. If you're at a loss where to begin then you might start by choosing items that have to do with the holiday. One idea is to knit a scarf in the holiday colors. You might also consider making a dreidel that can help keep everyone busy throughout the day. Of course, you can do any craft that suits your talents. You can even write poems, compose songs, and so on.
10. Traditional gifts
Another great way to save money while still getting an amazing gift is to simply go traditional. So, you might want to stock up on items like dreidels for the kids. If you're looking for adults then a new menorah might be a nice treat, as would candle for the menorah. You can also shop around for décor to make the holiday great for others. This idea might not be as fun to shop for, but it will help you save money while offering practical gifts that people will love.
Hanukkah doesn't have to be a time for stress when it comes to shopping around. These ten ideas will help you to save money on some of your holiday shopping while making it easier to come up with fun ideas that will truly bring happiness to others. This should help make the holiday even more enjoyable.