Summer can be a trying time if you're on a tight budget. However, if you live near the beach or have already planned a beach vacation, there are so many things that you can do that will cost you next to nothing. These tips will help you feel the gap in your budget, so that everyone still has a great time without forcing you to spend a fortune. These beach time ideas will help you to find the relaxation that you deserve, so you can get the vacation you need to refresh without having to struggle with payments on your credit card for months to come.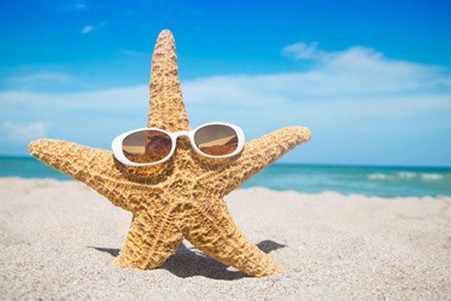 1. Read a Book
When it comes to reading, there simply isn't enough hours in the day to help you find the time to engage in your favorite stories. So, when you hit the beach, you might want to pack a book to help you catch up while relaxing in the sun. Reading on the beach can be a very therapeutic activity, as the story and the waves will combine to help transport you to whole new worlds. If you don't want to pack books in your carry on, then you might consider visiting a used bookstore when you arrive. You can even donate the book after you've read it. Of course, you might also look around for a free library, which are popping up all over the place. This will help make the activity cheaper than ever.
2. Sandcastles
One of the most timeless activities you can enjoy is making sandcastles. It doesn't matter if you're with the kids or by yourself, building a sandcastle can be a whole lot of fun. Of course, you can always use shovels, molds and more for your sandcastles. However, the beauty of the art is that all you really need is your hands and some sand. You can go all out and build more than just a castle though. There are some incredible designs you can take inspiration from too or you can just use your imagination. You may even consider entering a competition, which can actually add to the memories you make while hanging out on the beach. You might even walk away from it with a bit of extra money on your side.
3. Volleyball
If you're looking to stay active during your beach trip, then a game of volleyball would really keep you on your toes. Enjoying volleyball is one of the healthiest activities you can enjoy too. All you need is a ball and a net to enjoy the sport too. Luckily, you'll find many of these items already at the beach. Many beaches will have several volleyball courts set up, so you might not even have to wait in line to get in a game or two. However, if there are others playing then you'll be on the right track to meet new friends and have even more fun. Best of all, volleyball can be played by most members of the family and you can enjoy the cool breeze on you, so the heat won't be an issue as you enjoy the sport. Of course, you will need to make sure you have plenty of sun protection just to make sure you don't burn in the sun.
4. Sift For Collectibles
When it comes to hanging out on the beach, there are plenty of ways to stay occupied. One of the easiest ways is to comb the beach for collectibles. The beach has so many wonderful items to enjoy too. For instance, you can look for seashells and sea glass to transform into beautiful crafts later on. This will allow you to get even more out of your beach trip, because there will be fun ways to add elements of the trip to your home. You might even consider giving some of the items that you find as a gift. You can even add them to gift baskets, frames and so on to make the gift even more impressive. Of course, if you live close to the beach, you might take a metal detector to see what you can discover. In some locations, you might even be able to rent such a device, which will make your beach adventure even more exciting.
5. Enjoy the Waves
Without a doubt, one of the best ways to enjoy the beach is take on the waves. This is one of the cheapest forms of entertainment, which will make you want to spend most of your time in the water. There are so many things you can do in the waves, but simply jumping into the crashing waves or going for a swim can keep you occupied for hours. If you don't want to spend a lot of money, then a boogie board might be the best alternative to surfing and is even a great activity for little ones. If you do want to give surfing a shot though, then you might look for a groupon or discounted lessons. This will allow you to get a taste of the activity without forcing you to rent equipment, which can be very pricey.
6. Fly a Kite
The beach is known for having some pretty awesome gentle breezes to take advantage of. So, you might want to take advantage of grabbing a kite and enjoying some fun. You can find kites just about anywhere for cheap, which is bound to make your trip even cheaper. You can even find them at dollar stores with fun characters for the kids. If you really want to get crafty then you can always make your own kit. There are lots of DIY tutorials to choose from online, so you can get as complicated as you like. This is also a great bonding experience for the whole family. Kites can keep everyone activite and entertained for long periods of time too, so you won't have to worry about boredom settling in.
7. Look for Marine Life
The ocean is filled with wonderful creatures for you to enjoy from a distance. So, you might spend some of your beach time looking for marine life. One of the best things to do is dig for crabs. This can actually take quite some time, which will mean the kids will be busy for hours. Of course, if you do find a crab, you should leave it be as to not disturb the creature. If you are on a beach with sea turtles' eggs then you can admire them from a distance or watch the baby sea turtles hatch and run to the ocean. You can also see a wide variety of fish and other sea life without even going into the depths of the ocean. If you can afford an adventure, then you might consider snorkeling. This won't cost a fortune if you already have snorkeling gear and strong swimming skills. However, if you do want to invest some money then you can also look into scuba diving to ensure you can see a wide assortment of marine life.
8. Workout
When it comes to vacations, it is very easy to stray from your routine, especially when it comes to working out. So, instead of putting your physical fitness on hold, you might want to consider working out on the beach. Running is one of the easiest activities to take on. As a matter of fact, you can even run barefoot if you so choose. Running on the beach will test your endurance while strengthening your body. You can also try out yoga on the beach. This activity will help you find the tranquility you desire while also strengthening your poses and balance. Of course, you can make just about any form of exercise work out for you, so have some fun with planning your workout routine around your vacation.
9. Picnic
There's no doubt about it, food sold on the beach and even the restaurants surrounding the area are going to cost you a small fortune. So, one of your best options is to pack a picnic. This will allow you to enjoy a free meal that won't leave you feeling sick. If you're on vacation, you might consider picking up bread, peanut butter, lunch meats, fruits and so on. This will allow you to eat well without forcing you to take away time from your beach experience. You can also graze on the food all day, which will help replenish energy as your family stays active. One of the most important things to pack is lots of water though as this will be especially pricey in local shops. Whatever you bring to the beach should be thrown away properly though, so you don't leave a mess in such a beautiful setting.
10. Bonfire
Bonfires are probably the most iconic things to enjoy at a beach. So, if you want to have some fun then you might gather some beach wood and enjoy one for yourself. Of course, you can also join one that is already going on, especially if it is a public bonfire. A bonfire will offer a great opportunity for making smores or roasting food too, which will save you on restaurant prices. Other than, you should make sure to look into the rules of having a bonfire, as some beaches may require permits while some outlaw them entirely.
A trip to the beach can be one of the best experiences, especially if you're feeling burned out. These ten tips will help to make the most out of your beach trip while keeping your budget happy. Even if you live near the beach, you might find these tips helpful when it comes to saving money and enjoying your free time.