Summer is the perfect time to enjoy some outdoor grilling. On top of that adding lots of flavor to your food by grilling can be incredibly convenient and fun. Unfortunately, grilling out can often cost an arm and a leg because of the options available. If you're not careful, you might find yourself tempted by steaks, high priced chicken and more. Luckily, there are tons of great recipes out there that will help you keep your spending down while you enjoy grilling all summer long. These ten ideas just scratch the service when it comes to budget friendly grilling.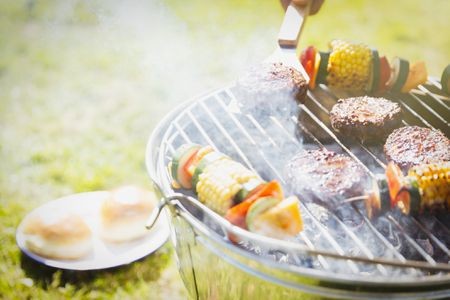 1. Grilled Vegetables
If you're looking for a quick and easy way to make a meal or side dish, then grilling vegetables is right up your alley. There are so many delightful recipes you can try out for this too. If you're looking for a side dish then you might stick with grilled onions, green peppers and even tomatoes. These vegetables go well with just about everything and will certainly help keep the family healthy for cheap. Corn is another great option that can be complemented with a wide variety of toppings. Of course, if you're looking for a main course then you might consider grilled eggplant with a special sauce or mushroom steaks that work great as sandwiches or on their own. You can even create a combination of veggies to put on a kebab.
2. Hot Dogs
Hot dogs are one of the best things to make when you need to feed a whole lot of people. Of course, if you have younger children then they're a great option for a cheap dinner too. You can do a whole lot with hot dogs, so this meal will stretch you quite a bit. For starters, you can make classic hot dogs with plenty of condiments like sauerkraut, chili, onions, cheese and so on. This will make the meal exciting and will allow people to customize as they please. Of course, If you get sick of just hot dogs then you can use them with other dishes. For instance, if you grill the hot dogs and place them in some beans, you will be taking your beanies and weenies to a whole new level. The same can be said of hot dogs and mac n cheese. So, use your creativity and your family's dietary needs to create fun meals with this cheap food.
3. Casseroles
Setting up the perfect barbecue doesn't have to force you to rely solely on the grill. Instead, you might consider making your side dishes more filling, so you don't have to cook as much meat. There are so many casseroles that work wonderfully with grilling out too. For instance, you can whip up a macaroni salad with light ingredients like cucumber and tomato to keep things healthier. You can also go with the classic macaroni salad, as well as potato salad and egg salad. Of course, there are so many more unique casseroles that can keep your guests fuller for longer. You might want to dig deep into your family's recipes for items like tater tot casserole or come up with a few ideas of your own.
4. Baked Potatoes
Baked potatoes can be a meal in themselves, which will set you up for some cheap eats at your party or for dinner ideas. The best thing about potatoes is they're totally easy to make on the grill. Simply wrap them in tin foil and let them go. You can add condiments like sour cream, chives, chili, cheese and so much more to make them better. Of course, if you don't want to just eat potato then this dish makes an incredibly cheap side dish, so you can splurge on the main course. You will also be able to suit everyone's dietary restrictions, especially since you can alternate sweet potato for some of your guests.
5. Ice Cream
There's no doubt about it, ice cream is one of the biggest joys of summer for most people. So, if you're planning a barbecue for a lot of people, you might add in some ice cream to help make the fun last even longer. Luckily, you can buy a huge tub of ice cream for a reasonable price. This should feed just about everyone at your party and then some. Although ice cream cones or simple scoops of ice cream are always an easy option, you can also spice things up. You might consider making milkshakes or ice cream floats to help stretch your beverage budget. This will allow people to have a drink and dessert in one go, which is bound to save you some money.
6. Grilled Pizza
Another great way to appease everyone while grilling is to make some awesome pizza. Believe it or not, but grilled pizza is growing in popularity because it tastes incredible and is one of the best ways to make pizza without a pizza oven. There are many ways to make grilled pizza, so you can cater to your own personal needs. One way is to whip up your own dough to add to the fun. This doesn't take a lot of effort, so you should be able to make several doughs for next to nothing in cost. You can also use flat breads to shorten the cooking experience and make your life easier. Toppings can range in items, so you can shop based on price if you want to. If you're making pizza for the family, kids will love making their own. You might even find that guests get a kick out of making their personal pizza too, which can help reduce the entertainment budget of your party.
7. Cheap Meats
One problem that many people face is finding the right kind of meat to purchase when grilling. A lot of people feel that you have to go out of your way to buy expensive cuts. However, grilling gives you the opportunity to make lots of different cuts taste amazing. For instance, you can purchase chicken legs and thighs to grill, which offers lots of marinating options. Once you have a great match, your chicken will be the talk of the block. Of course, there are many other cheap meats to try out. Your best option is to check out the local butcher shop or grocery store to see what is on sale. If worse comes to worse then you might stick with ground beef, which tends to be one of the cheapest options around.
8. Salad
When you're trying to keep a meal heathier without spending a small fortune, then salad is always the way to go. Best of all, when summer rolls around, many of the popular staples for salad are in season. For instance, you can use romaine lettuce, iceberg lettuce or even cabbage to start the salad off. Then, tomatoes, cucumbers, squash, carrots, radishes and so on can all be found for next to nothing. After you whip up the basics of the salad, all you need is a light dressing to make it the perfect addition to your meal. Best of all, you'll always have a vegetarian option on hand to suit anyone refraining from certain types of meat.
9. Beans
If you're looking for a side dish that can feed an army then you won't have to search any further than some beans. The best thing about beans is you can buy quite a few dried beans for next to nothing. Beans can be transformed by family recipes or new tricks to create a dish that is appeasing to most people. The best thing about beans is you can toss them in a crock pot and forget all about them. This will definitely make your life easier if you're planning a party. If you have leftover meat and beans after your barbecue then toss them together and add some tortillas for an easy meal that won't cause you to break a sweat.
10. Drinks
Beverages are always a major part of a barbeque, especially since the weather is hot. One of the best things you can do is stick to simple items. For instance, keeping water close by is a great option as most people prefer it when they are hot. However, you might also consider offering infused water, which can be a bit more refreshing. Another great option is brewing large batches of tea for people to drink iced. You can even add food to the mix to improve on this beverage. If you plan on serving mixed drinks, then stick with what you already have in the house or items that you can make for cheap. You can also utilize your other beverages like, making a long island iced tea or a rum and coke. No matter how you plan the drinks, just be careful not to overdo it so your budget won't suffer.
Summer is the perfect season to fire up the grill and enjoy some of the tastiest food of the year. Whether you're just feeding your family, or you have a block party going on, these tips should help you feed everyone on the cheap. This should help your summer budget stretch while allowing you to maximize your joy.