Summer is here, which means hot days that are going to leave the kids sprawled out across the sofa. There are quite a few things that you can do to help get your kids to be more active during the summer months though. One of the most efficient ways is to turn your yard into a miniature water park. These ten tips will show you that making your own water park is certainly easier and cheaper than you could have ever thought possible. So, instead of allowing your kids to soak up the heat, you might consider utilizing a few of these ideas to truly help you make the most of the fun days of summer.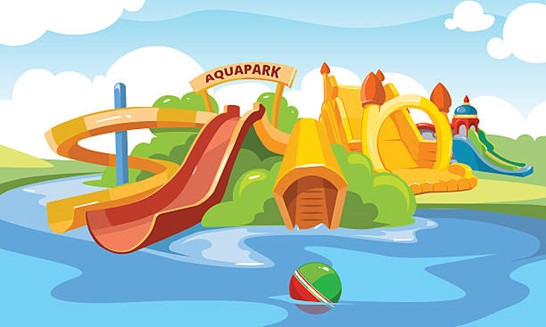 1. Water Blob
One of the quickest and easiest ways to get more out of the summer months is to make a blob. Water blobs have been quite popular over the last couple of years, so you should be able to find ideas all over the place. The best thing about water blobs is they are the perfect option for toddlers. You can whip up a blob and let a toddler roll around without having to worry about the potential of drowning. Older children will get a kick out of this activity too, as it can often mimic the feeling of waves, which can be fun with a boogie board or other accessories. It doesn't take a lot of materials to make a water blob either, so you should have one up and running in no time. If you want to get more out of the activity, you can insert water toys, especially those that resemble animals, on both sides of the screen.
2. Slip n Slide
Another fun way to transform the backyard into your own personal park is to add a slip n slide or three. These items are so simple but can be transformed into a wide variety of designs. For starters, you can take a basic slip n slide and add it to a hill to help kids pick up the speed. You can also have the slide end in a swimming pool or area filled with bubbles. Another fun idea is to add some water balloons to the landing dock or even the slide itself. You can even place a sprinkler in the area. If you don't want to purchase a water slide, then this is an easy activity to make as there are numerous tutorials online.
3. Bucket Dump
Nothing says fun quite like drenching a friend or family member with one single throw. So, if you want to add to the fun of your DIY water park then you might add a bucket drop to the mix. This can be one of the easiest things to set up as all you really need is something to stand the bucket on, a bucket, a target and a few supplies to engineer the drop. If you're not entirely sure how to make the bucket drop, then look for some DIY tips online. You definitely won't be disappointed. You should also consider height when creating the drop as you don't want the bucket to hit anyone in the head when it does drop, so keep this in consideration when choosing the type of drop you will make. Once everything is set up, kids can throw water balloons or pool balls, shoot nerf balls and so on at the target to drench the person sitting beneath it.
4. Mister
Mist can be one of the most efficient ways to keep kids cool. It is also one of the easiest things to set up. Best of all, a mister can help water your plants without forcing you to go out at all hours. One of the most efficient misters for kids to play under involves using a PVC pipe. All you have to do is place three pipes together, so they stand up in a U shape. Then, cut holes in the pipe, so water sprays out. The larger the holes, the more water you'll get. You can even turn this nifty device into a kid's car wash. Of course, you can run the PVC pipe just about anywhere in the yard, so you can have water going all over the place if you so choose.
5. Water Balloon Pinata
Another easy way to help the kids have some fun is to make a pinata out of water balloons. This can be as easy as attaching a large portion of water balloons together, or as difficult as actually forming a shape to create a character. Water balloon pinatas can be burst in a wide variety of ways too. For instance, you can have kids throw darts at them for a nontraditional way of bursting it. You can also have kids go after it with a bat. If you want the pinata to last a bit longer then you might consider using a foam bat instead. If you choose to use softer items, like pool balls, to throw at the pinata then kids can also sit under it until it bursts. No matter how you choose to work with your water balloon pinata, it is going to spray water everywhere when it finally does burst.
6. Pool Noodle Obstacle Course
You can do so much with pool noodles, so you should definitely incorporate them into your DIY water park wherever possible. One of the best ways to use these amazing toys is to transform them into an obstacle course for kids. You can shape them in all sorts of ways and can even attach them to other items with ease. Thus, you can come up with a pretty sturdy obstacle course that will suit everyone. Once your course is built, poke holes in the obstacle course and run water through it. The water will splash the kids as they run through the obstacle course. You might not be able to get your kids out of this fun toy as the summer heat rises.
7. Sponge Battle Station
There's no doubt about it, tensions run high during the summer months. Between the heat and siblings spending more and more time together, there is bound to be a bit of fighting. So, you might find it imperative to add a sponge battle station to your home waterpark. This is probably one of the easiest things to set up as all you really need is a bucket of water and some sponges. Of course, you can also cut the sponges into shapes or make special balls out of them to improve the battle region. You might also find it fun to add a few places for the kids to hide and use their stealth to make their water fight even more appealing.
8. DIY Water Slide
Water slides are one of the most popular ways for kids to have some fun during the summer months. However, buying a water slide can be incredibly expensive. So, you might want to consider making your own. There are so many fun ways to make a water slide though. If you have an inground pool, you have many options to consider to, which can make the process even more fun. One of the easiest ways is to use a cement dome and some tarp. However, you will find so many tutorials online that it will definitely make your head spin. You might also consider adding some misters to the side or above the pool so that the kids will be sprayed as they slide into the pool.
9. DIY waterfall
A waterfall can be one of the most refreshing things to add to your landscaping. However, it is also a great addition to your DIY waterpark. Kids will love standing under your waterfall and getting drenched on a hot day. You have many options when it comes to waterfalls too. If you have a pool then this might be the best area to place the waterfall, as it will allow you to use the pool water. Of course, you can always place it in a separate area if you don't mind putting in a little more elbow grease. You can also use solar power to help you power your pump, which will save you a lot of money in energy costs each day.
10. Concession Stand
Nothing says water park quite like a concession stand. Luckily, this will probably be one of the easiest things to set up in your DIY waterpark. You can easily set up a small booth using old wood, used furniture and so on. From there, consider painting it to look the part. You can add all sorts of cold drinks, hot dogs, and snow cones to the area too. There are lots of ways to make your own snow cone machine too, so you don't have to add to the cost. You can also make your own hot dog roller with ease. If you want to keep things simple though, then all you need is a bag of chips, a jar of large pickles and a cooler with soft drinks to appease the kids when they work up an appetite.
Waterparks are such a fun part of summer, but the price to get into one can be astronomical. These tips will help you build your own waterpark with ease, which is bound to keep the kids busy all summer long. This should help cut down on the price tag of summer fun while also helping kids burn off some energy while cooling down on a hot day.