The weather will soon be getting crisper, which means its time to pull out all of that fall décor and get to work on making your home cozy for the upcoming cold months. With so much uncertainty going on in the world, many people are actually turning to décor in order to help cheer them up. Luckily, there are some pretty fun autumn décor trends that won't set you back a lot of money. These ideas will help you create a wonderful look in your home while ensuring you have some fun decorating. Many of these trends can even be DIY'd to ensure you save some money.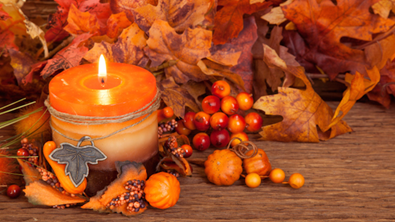 1. Add some nature
Nothing says autumn charm quite like a little nature. This season, you're going to find nature in almost everything that you see. One of the biggest trends this season is going to be accents of wheat, especially behind glass. Of course, you can also go for some of the more popular options too. For instance, it is extremely easy to create decorative items out of leaves. You can even get the kids in on a fun project involving leaves. You'll find that rustic styles will definitely help you stay trendy this season too, which can easily be accomplished with a variety of leaf projects. When it comes to staying trendy though, you'll definitely want to keep with warmer hues, which might be harder to find if you're going entirely natural.
2. Textures
Flat is going to be a little boring if you're trying to stay on trend this season. If you're working with fabrics, then you're definitely going to want to explore textures. There are so many different options to choose from here, which will allow you to have a lot of fun. You can find fabrics for cheap too, which will also help you save quite a bit of money as you search for cool new fabrics for your pillow and blanket décor. When it comes to colors here, try to think muted or warm colors. You can also use texture when it comes to art, which will make it a lot more fun to plan out your style or create fun new pieces to display.
3. Monochromatic
This year, lots of colors are definitely not something you're going to want if you're trying to make things trendy. Rather, you should concentrate on keeping things monochromatic. You don't have to follow this trend with autumn colors though. For instance, if you have a blue couch then complement your look with blue pillows and blankets. You can also add in some blue artwork to make these even better. Of course, this works with any color so pick one that you're not going to get tired of. If you don't want to go all out on one color, then you can still easily add in some whites and creams to offset the color a bit.
4. Layers
Just like your clothing, you're going to want to move into layers if you plan to keep things fashionable this year. This can be a lot of fun though and will allow you to use even more of your favorite decorative items to keep up with your fashion desires. When it comes to layers, there is no limit to the fashion madness. If you look in decorative magazines this season, you're going to find everything from layered decorative blankets to layered rugs. This can be a lot of fun though as it will allow you to combine elements that you may not have otherwise combined. You can also add in more artwork to suit your needs as it will be easy to layer things here. Even furniture and fixtures aren't off-limits when it comes to your layering fun. So, let your imagination run wild and design a space that shows off layers of love.
5. Metallic Finishes
Metallic finishes never seem to go out of style. One of the most common metal finishes you'll find this season is in furniture. So, you're probably already set for success when it comes to showing off your fashion skills here. However, you can branch a bit further than metal furniture. For instance, one fun metal item to add to the home is a piece of artwork. May it be a special message to guests, your family's name, or a genuine work of art, your certain to love its fashionable style. You might also consider using metallic based fabrics as accent pieces. These are wonderful for pillows or even pieces for a custom quilt. Of course, small metal accents are also a must. For instance, you might add in some metal leaves or other autumn-inspired looks that can make a coffee table shine.
6. Vintage Accents
Old school is definitely going to keep you feeling trendy this season. You will be able to find vintage accents almost anywhere, but your best and cheapest option will always be the thrift store. One of the easiest ways to get the old school effect for cheap is to start with some vintage tins. These make amazing flowerpots that can be displayed indoors or outdoors. There is more than just flower tins to consider though. Instead, you might prefer to use some old school prints. This can range from Rosie the Riveter to classic American styles. Anything goes here. If you really want to dedicate yourself to vintage style, you might look around for old furniture at thrift stores to see what you can find.
7. Corner Seating
This season, corner seating is a must-have. This isn't a hard thing to do either. Sure, you might have to do a little rearranging, but you'll find this might be rewarding too. All you need for a corner seating area is a corner and something to put in it. You can use a signature chair, a hanging chair, an ottoman, a bean bag chair, or even just a cushion. Once you have this setup, then consider decorating around it. You might want to add some lighting or blankets and pillows. Another option is to hang blankets on the wall to create a cozier setting. No matter what you choose to do, everyone is going to want to hang out in your corner nook.
8. Highlight the Exterior
Autumn is all about the magic inside of the house because it is where you're going to go to stay warm and cozy. However, you shouldn't forget about the exterior of your home either. In most places, the weather is still nice enough for you to hang out and enjoy the seasonal beauty outside. So, instead of focusing primarily on the inside, you might want to consider putting some outdoor décor out. Nature is in so think pumpkins, sunflowers, hay bales, and more. You can also put up some string lights to add to the fun. This will help create a comfortable setting that is perfect for entertaining or reading a book on your own.
9. Modern Rugs
Modern rugs have been a big hit for several years now, but they're going to be very hyped up this season. These rugs typically feature authentic styles from the Middle East, so when you're shopping for rugs make sure the item you plan to purchase is made abroad. This isn't a requirement, but if you're keeping fashion in mind then this will offer you the best options. It doesn't matter what colors you choose when it comes to your rug either, as long as it looks good in your home. Generally, you should be able to find a good deal on a rug like this online, but make sure to look around thrift stores and other vendors locally.
10. Halloween Décor
After the year we've had, you shouldn't be surprised to see Halloween décor up in early September. Many people are taking to the movement of decorating for holidays whenever they feel like it. This is actually known to help boost happiness, so if you're feeling the need to bust out the skeletons and zombies then go for it. It doesn't seem like COVID-19 is putting a stop to Halloween stores this season, but if you don't want to shop in-store there will be plenty of deals online to choose from. You might also consider making some of your own as a fun project while you quarantine.
Decorating for autumn this season might bring you all the more joy. That is why it is important to feel confident in your design choices and save some money. These tips will help you create a wonderful fall environment so you can feel cozier in your surroundings.