Creating gingerbread houses is a classic way to have some fun with your whole family while celebrating the holiday season. You can really have a lot of fun making a gingerbread house, but if you're not careful it can really drain your budget. There are lots of ways to keep your gingerbread house on the frugal end of the spectrum though. This should help you have a lot more fun with your family project while making the activity carefree. You may even want to make this a family tradition, so you can enjoy the fun year after year. These ten tips will help you save money and enjoy your gingerbread construction a little more, so get ready to show off your creative side!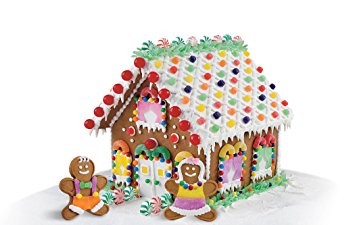 1. Ditch the Kit
During the holiday season, you can find gingerbread kits in just about any department or grocery store that you go in. Kits are pretty convenient and will give you everything you need to get started on the process. They may even be an enticing option for first time builders. However, you can easily make your own items from scratch for the price that you would pay for a kit. This will allow you to also make healthier choices when it comes to your gingerbread house as you won't have to use items with preservatives or an overabundance of sugar and sodium. Kits tend to be filled with items that won't be eaten too, which is a waste of money. You're better off choosing your own candy and working with your own dough and icing if you can. This will also give you more freedom to explore your creative instincts as you work without a set guide.
2. Scratch Made Ingredients
Buying premade ingredients for your gingerbread house may seem faster and easier, but you will get a lot more out of the process if you make your own items. When it comes down to dimes and nickels, making your items from scratch will end up saving you money. It will also show your children that you can make delicious items without reaching for a packet of premade dough or a jar of icing. This can be a very valuable lesson, especially if you are teaching healthy eating habits. If you're worried about making dough from scratch, then you'll be relieved to know there are many simple recipes online to choose from. You can even look for more advanced options later as you begin to perfect your craft. You can even alter your recipe to suit the desires of the household. Homemade icing is also a cinch to make and will allow you to create different colors, levels of thickness and more. Making your own ingredients gives you lots of wiggle room to work with too, which will make the activity a lot more relaxed.
3. Use Scraps
When you use your own dough and other supplies then there's no reason to toss all of the scraps that you have leftover. Sure, the gingerbread house is the main show, but you can easily construct extra items to bring the design to life. If you have dough leftover, then you're in for a lot of fun. For instance, you can make gingerbread men to go along with the house using a simple cookie cutter. You can also turn this classic design around to make reindeer. You might also consider making some gingerbread trees to add even more flavor. You can also turn cooked pieces into rocks and other decor with just a little icing work. You can also use the extra icing to help secure these items or to make rocks and other fine details. You can really have fun with this and it may take your original design in an entirely different direction, so just go with it and have some fun.
4. Leftover Candy
You don't have to go out and spend a bundle on candy for your design either. Luckily, the holiday season is filled with occasions that kids receive an abundance of candy. Instead of using new candy, then grab a few items leftover from the Halloween stash and use them to decorate. Usually candy is fine at this age, but if you're worried you can always freeze it to help it stay decent until gingerbread season rolls around. You might also hold onto some of last year's Christmas candy. If you don't plan on eating the gingerbread house, or at least the candy decor, then this won't inhibit the design at all and will help cut back on money substantially.
5. Ditch the Gingerbread
If you're not a fan of gingerbread, or you simply don't want to dedicate a lot of time baking, then there's lots of other options you can use. For instance, you can use simple supplies like paper bags, regular paper or cardboard to build a faux gingerbread house that you won't have to worry about spoiling. This can be a great tradition for the whole family as you can build a gingerbread village that grows a little every winter. All you need is simple craft supplies like straws, glue, paper, pom poms or anything else that you think will make your gingerbread house look incredible. You will be surprised by what your kids come up with as they work with these supplies. You might find that ditching the gingerbread will give the household more creative freedom. Plus, you have more room to work with if a mistake is made.
6. Think Outside of the Box
There's no rule saying that your gingerbread house actually has to be a house. Instead, you can always come up with ideas that will suit the interests of your household. For instance, some parents with younger children might consider creating a Thomas the Tank Engine gingerbread house. You can print out templates online to construct the train, so all you'll have to do is work on painting the face with icing. Of course, you can also channel your inner fandom. Some fans have recreated the Death Star, TARDIS and so much more. You don't even have to travel too far from the holiday theme as a large gingerbread tree is both fun and easy to make with your whole family. Your imagination is the limit here, but don't be afraid to make mistakes as these items will be harder to make in most cases. However, if you're up for the challenge, you'll get more for your money if you decide to make the project even more fun and exciting for the whole family.
7. Enter a Competition
If you want to get more out of your gingerbread house experience, then share your creation with a competition. Some local communities will actually host these, but if you're not lucky enough to have one nearby then you can always enter a competition online. There are some free competitions if you want to keep things on the frugal side, but if you have a lot of faith in your gingerbread house then you can always pay an entry fee in hopes of winning a larger prize. There are some major competitions that you can enjoy too. These are great to check out even if you don't want to enter one of the competitions with your own gingerbread house.
8. Give as a Gift
Your gingerbread house doesn't have to take away from your holiday gift giving budget as the house itself can actually be presented as a gift to someone special. Most people will love to see the hard work you put into their gift, plus it will provide a delicious treat for snacking on for quite some time. By giving the gingerbread house as a gift, you will get to experience the fun of decorating your home while allowing yourself to share your creativity with others. If you really want to save money while sharing some gingerbread with loved ones, then consider making littler gingerbread houses. These can be passed out to neighbors or taken to a nursing home for an extra special treat during the lonely season.
9. Bake Sale
Another way to make your gingerbread house experience frugal is to present your creations to a bake sale. During this time of the year, many communities, schools, churches and more love to put on bake sales to help earn money with all of the delicious holiday treats. If you join in on this bake sale you can always earn your money back for the price of supplies and maybe even a little more. Of course, you can also donate your gingerbread house so that it can earn some money for a charity. Either way, you will have a little more fun with the experience and will be able to earn some money back on your project.
10. Eat the House
Of course, one of the best ways to get your money's worth out of your gingerbread house is to actually eat your creation. You might want to give it a day or two to enjoy the decor, but if you can't hold your horses then go ahead and eat it. The gingerbread makes a nice delicious treat during this time of the year and the kids are certain to love all of the icing and candy. Of course, you might want to save your creation for a family gathering so that everyone can enjoy your handy work as well as the delicious flavor.
Making a gingerbread house can be a great experience to share with your loved ones. With all of the creativity and fun involved, you're sure to find this project one of your favorite aspects of winter. These ten tips will not only keep your gingerbread house frugal, but will also allow you to get a little more out of the experience.